As part of our Blended Family Friday series, each week we spotlight a different stepfamily to learn how they've worked to bring their two families together. Our hope is that by telling their stories, we'll bring you closer to blended family bliss in your own life!
After their separation, Ben Rollman and his ex-wife decided to remain in the same home so they could continue to raise their kids together. When his ex fell in love with her new partner, the household gained a new member.
"It's all three parents and two kids under one roof," Rollman, who lives in Austin, Texas, told The Huffington Post. "People actually get on me for not writing a book about this but I keep telling them it'd be a really boring book about how everyone gets along."
Below, Rollman tells us more about his family's unique living arrangement.
Hi Ben. Please introduce us to your family.
There's five of us: Myself, my ex-wife, her new wife and our kids who are 14 and 11.

How long were you married to your ex? What was it like for you when she moved on with her new partner?
We were married nine years before she officially said she couldn't live as a straight woman any longer. (When I met her, she was dating a woman so I already knew she was bisexual.) We agreed to stay together to raise the kids. We finalized our divorce about four years after our split and she's been with her wife now for five years. The divorce and moving on was a little rough at first because it's the end of a relationship, but my ex and I were still friends. Keeping that relationship going was important and helped us both get past the end of the romantic part of it.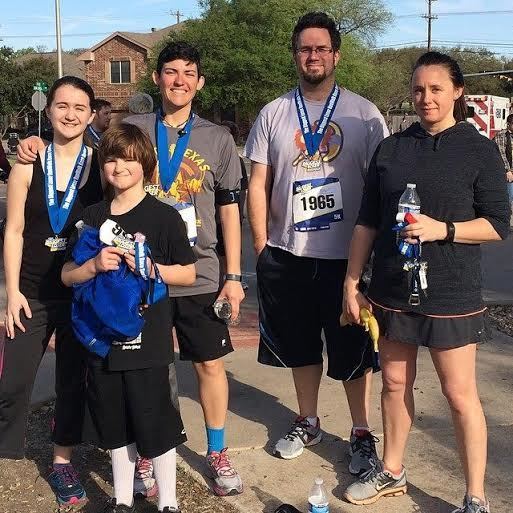 (Photo courtesy of Ben Rollman)
What went into the decision to move in together -- and how have you made it work as parents?
When my ex-wife and I decided to split up, I was worried I'd have to lose my kids. My parents are divorced and I didn't want to put my kids through the same thing my brother and I went through. My dad would see us twice a week and then every other weekend and I just hated it. I love my dad and the shuttling back and forth wasn't something I wanted to subject my kids to. Luckily, we had extra room so we decided to just remain co-parents.
Then my ex met her new partner. They were married in New York a few years ago and my ex's new wife actually bought the house we all live in now. For us, this is just a matter of doing the same things all parents do. We make it work like anyone else: You wake up, you work, you go to school, you buy groceries, you go to movies. Family life isn't much different than it is for other families -- we just raise the kids with three parents.
That's what it's been like for the last five years. I'm actually moving in with my girlfriend this weekend, but we found a house just a few houses down from where I was. We're setting things up so the kids can come over anytime!
What have been some of the biggest challenges of living together?
One of the problems was dating again. When my ex and I began dating other people, we made sure serious partners knew and understood our parenting relationship. But as much as people say our situation is very positive and unique, it was hard finding someone to date. It's a great setup for the kids but not a lot of people want to be instantly added to a large family. (Interestingly enough, my longest relationship up to this point was with the sister of a woman my ex dated for a while.)
Another issue we have to deal with is how we introduce ourselves to our children's friends and their parents. Austin is pretty open-minded but we're still in Texas. That means a lot of testing people out before letting them know more about us.
Then of course, there's the usual problems: The kids try to play parents off one another, as kids tend to do, but it becomes a little more complicated with three parents. We have constant meetings to make sure the kids aren't trying to get away with something and that nothing is overlooked!
What's the best thing about being part of a blended family? What makes you proudest of your family?
For the most part, I like coming home. There's always someone there, there's always someone to talk to or be with. I think we are a stronger and more tolerant group because of how we live. I'm proud of us all for doing it as long as we have, but I'm mostly proud of my kids. They are wonderful, smart, caring, talented individuals who I feel have it better because we stayed together.
What advice do you have for other blended families who feel like a peaceful family dynamic is out of reach?
I sometimes feel that anyone in any type of family who cares at all is doing the right thing. Any focus you give you kids or your partner or your co-parents is better than nothing. For us, the trick has just been to get through each day and recognize that we're going through the same challenges that any other family faces.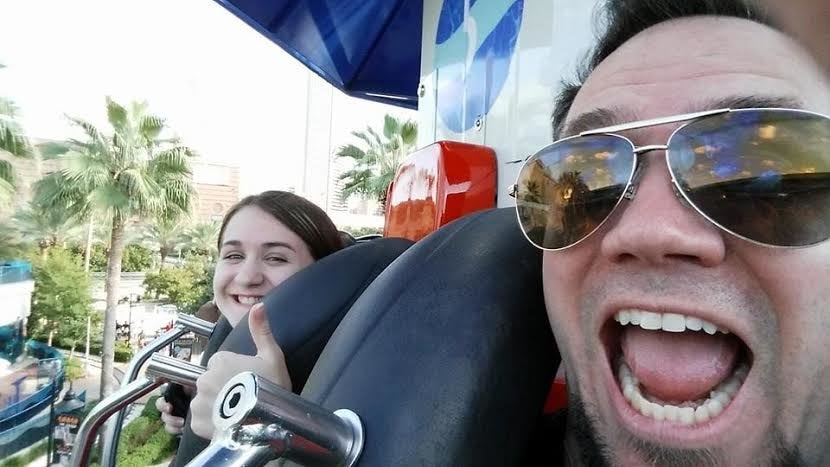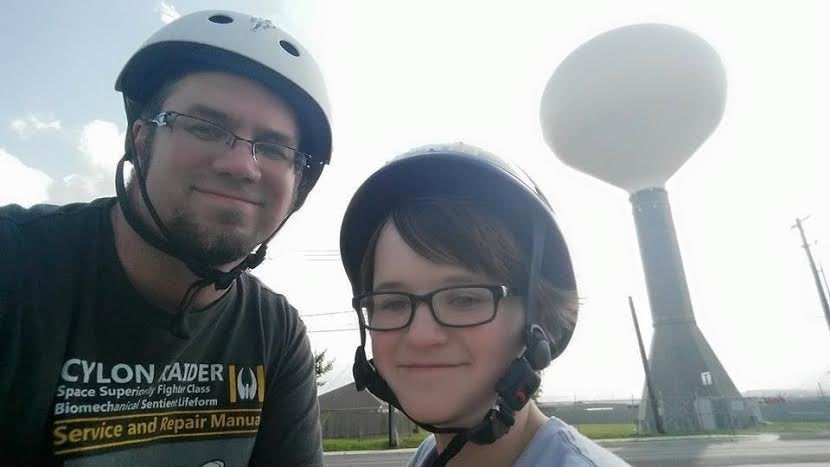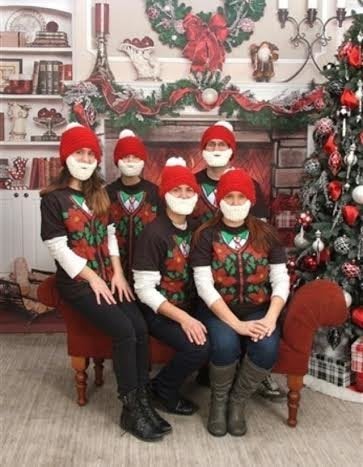 Keep in touch! Check out HuffPost Divorce on Facebook.