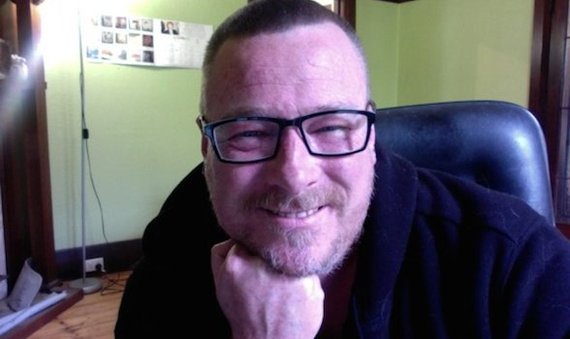 On first meeting with 42-year-old Rich McLean in inner city Melbourne, I was struck by two things. If the old adage is true, that you can tell a good man by the kindness and sincerity in their eyes, then Rich must be one of the best. His vast and infinite wisdom is remarkable, and I have no qualms in saying Richard McLean is a man before his time. Meeting him amidst the hustle and bustle of inner city Melbourne was perfect, because he felt an affinity with the venue that was at the centrepiece of his many stories. Melbourne's inner city, his "second home," has provided the backdrop for much of his early artwork.
Rich is gay and describes himself as "an open book." He was the emo kid in high school. Something which leads me to believe Rich lives ahead of his time is the fact that he wrote a letter to his adult self as a 15-year-old. He stapled it closed a hundred times to ensure the contents would not be read by prying eyes. Little did 15-year-old Rich know that unassuming letter would one day be the catalyst for a children's story book (written and illustrated) by his adult self. Rich obtained what he described as his "license to draw" from the Victorian College of the Arts where he studied a Bachelor of Fine Arts and has been busily creating ever since.
When the Internet was first taking off, Rich uploaded some of his art and was head hunted to commence work as an artist and illustrator for one of the major metropolitan newspapers in Melbourne, The Herald Sun. He then went on to work for Fairfax's The Age (for around five years). He shouldn't have been surprised when publishers Allen and Unwin approached Rich to write a book on his lived experience with mental illness.
Within six months, Rich had completed his manuscript for "Recovered Not Cured, A Journey Through Schizophrenia." The now successful book is a poignant, personal and matter of fact account which culminates from a sum of lived experiences including youthful experimentation involving sex (with both men and women), drugs and rock 'n' roll on top of psychiatric illness.
It was remarkable results in a Masters of Education which prompted his decision to undertake a Ph.D., which he believes is a process that both helps him to create content and stay holistically well. Having accepted an offer from Victoria University for a scholarship to undertake his Ph.D., Rich is both excited and a tad nervous about what the future brings. His dissertation is on "artificial intelligence and the technological singularity." In simplified terms, this is a question about when computers become as smart, or smarter than people; will it be a good, bad or indifferent way forward for human society?
Obviously bright, Rich has a vast breadth of creativity which he describes as "making life bearable" by giving him an outlet to express himself. He also speculated that his creativity is in spite of (rather than because of) his schizophrenia. He adds that, "people need to stop pathologizing people or art, because as a society, we get too bogged down in labels, rather than thinking about things holistically." As Rich and I connected on all manner of things he had learned from the school of life (complete with some hard knocks and all), his musings throughout the interview were passionate.
He touched on everything from his concerns over the plights of refugees and Australia's Indigenous communities, to his days fronting a rock band named Bruvura and his previous work as a mental health advocate. His lived experiences have been vast. He delights that he has been fortunate enough to travel the world but readily acknowledges he did so while psychotic (before such time as he was diagnosed as having schizophrenia).
It was during his Masters in Education that Rich rediscovered the letter he had written as a 15-year-old to his adult self. He responded to the letter as a 40-year-old by authoring and illustrating a new creative work. Grogan the monster is the main character in the book. "What do you love?" is a book Rich describes as, "honoring his inner child." The book is mindful and reinforces a love of self and society, and is a celebration of diversity, gender equality and humor. Rich states that Grogan can be, "a bit gross" but reinforces that he is, "psychologically helpful" and believes in, "equality for all."
Grogan is the antithesis of Rich's other works which are "generally dark." Rich is giving 25 percent of proceeds from the sale of "What do you love?" to the (Melbourne) Royal Children's Hospital's Banksia Unit which assists young people being treated for a range of mental and psychological disorders. The book is available for purchase via Amazon.
Rich has solid points to make about deconstructing and untangling labels which he believes is required for people to find, "their own versions of truth." He is of the opinion that it is always beneficial to analyse which lenses you are looking through at any given time. Rich states that this is vital to finding what he describes as, "the true authentic self." A state in which he believes a person is at their most calm and generous.
Rich makes the point that in some parts of the world mental illness is viewed differently.
In Western Post-industrial society, people with mental health issues are more isolated than in some other communities. Rich's opinion is that that there are some healing qualities beginning to be recognised by those who have lived experience. He adds, "You go through something in three phases. You are confronted by it, you learn about it, and then you become an educator." Rich makes the case, and is indeed living proof that, "if you follow your passions you can be wealthy in many ways, and you can achieve things despite your obstacles."
Reflecting on our various conversations, I was also struck by Rich's generosity; his willingness to share his story, his art and his feelings, as well as his profits from his book with children who are unwell. As we bid one another farewell and parted ways, I observed Rich in his "second home" as he stopped to get a copy of The Big Issue from a street vendor to read (after having a pint). I couldn't help but feel that the world could do with a few more men like Rich McLean.
Popular in the Community