I was only 20 when I experienced the quick onset of psychosis and began hearing voices and having visual hallucinations, which left me completely confused.
Initially I was put under the care of a young adults' early interventions team, where I received talking therapies, family support and was medicated with antipsychotics. I was subsequently diagnosed with schizophrenia, which came as a shock to me and my family and friends. The stigma surrounding the diagnosis brought up a fear amongst those closest to me that I may become angry, violent or scary.
Despite having a clinical label attached to me, I found it hard to cope and to express how I felt to my family and friends. Feelings of "dishonouring" the voices I was hearing stopped me from expressing how I felt.
At that time, and still to this day, I struggle with how I perceive the outside world. I battle against feelings of mistrust and suspicion in every situation that I am in. I drew on these experiences when deciding the makeup to portray how I think people perceive people with schizophrenia.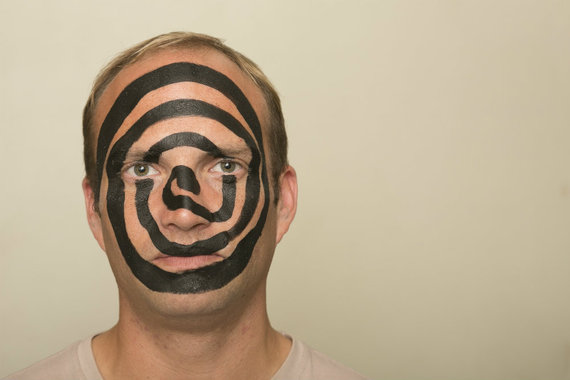 My design for Rethink Mental Illness' Schizophrenia Awareness Week campaign film is a black hole, which represents the fact that for most people the illness is still very much unknown and scary, and something that is stigmatised by the media.
Like a black hole in space, schizophrenia draws in everything -- most of it negative -- but there are people like me who want to try to help raise awareness of what it is like to live with the illness, despite the gravity of stigma that surrounds it.
Through my lived experience of this illness I want to reach out from behind the black hole to help people and shock them into realising that people with schizophrenia are just the same as other people, and underneath the illness is a normal person.
More recently I have been through a difficult phase in my recovery journey following a relationship breakdown. I felt vulnerable and alone despite having supportive friends and family around me, and I could see they struggled watching me try to cope with everything that was going on in my life coupled with the illness.
When experiencing difficulties I use mindfulness techniques that I have been taught and I enjoy physical exercise with allows me to release energy that builds up. I find it very difficult when people say I look so physically healthy and tell people that I wish my mind was as fit as how I physically look.
I now work in mental health as a trained Peer Support Worker, which I love. I have gained valuable skills and it has given me the ability to help others through mutual empathy. When talking about my own experiences I find people start to understand and relax a little bit more knowing that someone else has been in a very similar situation, even though every person's life experience is completely unique to them.
When supporting others I try to help them set aside a label that by clinical definition has a very negative effect on a persons life and try to empower people with all of the positives that make them who they are to achieve there hopes and dreams.
Watch Paul's story via this short film:
Schizophrenia can affect anyone at any time. Rethink Mental Illness is fighting to help thousands of people like Paul get the right support when they need it. You can help by making a donation and supporting our online campaign.
If you have a story about living with mental illness that you'd like to share with HuffPost readers, email us at strongertogether@huffingtonpost.com. Please be sure to include your name and phone number.