 The Amish are the rage among America's reality TV viewers. First, "Breaking Amish: Burning Bridges," became TLC's most popular new series, with an average of 3.2 million viewers. It films youngsters renouncing their religion to fulfill long-held dreams such as driving a car or becoming a model. Then, the Discovery Channel's premiere of Amish Mafia captured an audience of 3.64 million. It chronicles the plain-peoples' alleged underworld of bribes, illicit activity and gun violence.
Commentators are speculating over the public's obsession with Hollywood's arguably dubious and prejudicial storylines. They acknowledge that people have always had a romantic attachment to a seemingly less complicated and peaceful Amish life. Others assert that viewers enjoy extreme rule-breaking and seeing folk be liberated from a restrictive religion.
Clearly, the decentralized nature of Amish society makes it impossible to generalize. But after living on an Amish dairy farm for a year, I agree with those who argue that the reality programs reflect a lack of knowledge of the plain folk. In contrast, the Amish community I associated with had an intimate and sensible relationship to the mainstream world. The beauty is how they managed it.
I rented a modern cottage 20 short steps from the main house and barn of a young Amish couple and their many children. They formed part of a community of 15 Amish families. For me, it was like being on an exchange program. Although bilingual, the younger kids spiced their English with Pennsylvania Dutch.
One of my fondest memories is waking up to the sound of animals snorting and of hooves shuffling. When I looked outside my bedroom window, I could see over a dozen horses harnessed to the family-sized buggies in front of my cottage. Church services rotated between families. That Sunday, it was in my landlord's barn.
The families looked, lived and dressed old-fashioned. They used kerosene lanterns in their homes, buttons and clasps on their clothes and hand-milked their cows.
But due to my ignorance of Amish culture, I began to judge my hosts as rule breakers. When moving into the cottage, for example, I discovered my refrigerator packed with their food. The grandparents across the way had an outdoor phone. And on weekends, Amish women crowded into my car for flea market shopping.
Sarah, the mother, explained that it was a Bishop 55 miles away who laid down the law. I found further clarification on the Amish Studies website of Elizabethtown College. It states that the Amish don't view technology as inherently bad. Instead they aim to limit assimilation into the modern world and to strengthen local ties.
Under Amish logic, riding in a car is thus considered harmless. But owning one would allow constant travel which could generate community breakdown. In addition, the Amish also cannot plug into the public utility system or use radios, television or computers. And while they can travel on trains, boats and busses, they can not fly.
Farm life was just as confusing as Amish culture. One day, I was walking across a field when I noticed a large, fierce-looking animal out of the corner of my eye. I froze while the family bull ran full speed toward me. Then, I forced myself to turn around and leap back over the fence.
This narrow escape endeared me to my Amish hosts. Since I was so ignorant about their life, they felt comfortable expressing their curiosity about mine. One day, while sitting in their living room, the family asked what it was like to travel in a plane. Having flown to Asia, I described the claustrophobic nature of the long journey; that if one flew from Asia at the right time, one could catch a breathtakingly long sunset; and that bad weather could turn a craft into a roller-coaster.
My Amish family allowed me to live on the farm because they were used to outsiders. As youngsters, Sarah and her sister had legitimately left the church with their parents. They had even attended elementary school for a year. But the experience so shocked the two sisters that they returned to live with their grandparents. While their mother sometimes came to visit, they never left the Amish community again.
Other policies further prevented assimilation. For example, the children attended their own one-room schoolhouse across the way. Due to an exception crafted by the Supreme Court in 1972, they finished school early, at age 14.
The family also practiced community self-help rather than accepting government support. At another living room session, they showed me a drawer full of uncashed checks in the form of tax rebates. I should have asked to donate the money to charity.
Contact with the outside world was further limited by the prohibition on mass media. A news junkie myself, I enjoyed talking politics. Once, I mentioned the fall of the Berlin Wall. They were mystified. I brought up East and West Germany. To no avail. Then, I asked if they knew about the rivalry between the former USSR and the United States. This rung a bell.
Some would call the lack of political knowledge shocking and the restrictions oppressive. Yet given that modernity is constantly knocking at their door, I believe that this particular community mediated its relationship brilliantly. Before becoming officially baptized into the church as adults, the curious could flirt with and even venture into the outside world. As another example, the local minister, who married Sarah's sister, had lived with Amish communities in Latin America for two years.
The minister had a large map of the world hung in his living room. I enjoyed discussing the places we had lived and those we longed to visit. Having more in common with him than the others, I developed a small crush.
Frankly, the minister's perspective was so different that I wondered why he had not been ostracized. Sarah explained that the church leader was selected by writing the names of all eligible men on slips of paper and drawing one. God had selected him.
One could criticize the community for being fatalistic. But I found their acceptance and support for their minister inspiring. Amish family values include tolerance, nonviolence and turning the other cheek. Such practices are hard to condemn.
By now I knew that the Amish community I lived with broke some rules. That year, the only illicit activity resembling reality TV was drunk-driving arrests. Meanwhile, an acquaintance perused newspapers for coupons. Still another took birth control pills. But by then I had stopped judging and started respecting. After all, we are all only human.
Some years later, I wanted to write my masters thesis on the Amish family with whom I have lived. Not having their phone number, I drove all the way from New York City to visit them. But when I turned into their driveway, there were cars.
It turned out that the entire community had relocated far away in order to find marriage partners for their children. This move will no doubt bring them additional challenges from the outside world. As for me, I still miss them and wonder if we will ever meet again. But since photos are prohibited, memories are all I have.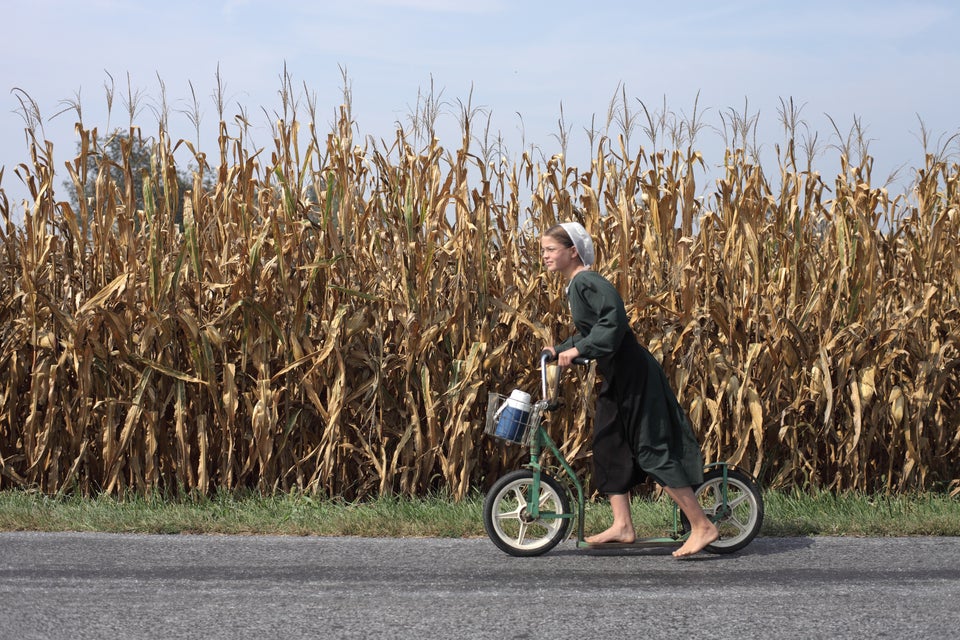 Amish Life
Although not raised religious herself, Robin Elizabeth Herr's family roots can be traced back to the Hans Herr House, now a museum in Lancaster, Pa. Hans and Elizabeth Herr were Mennonites, who, along with the Amish, emigrated from Europe in the 1700s. Robin has a J.D. from Columbia Law School (1999) and a M.S. from Columbia Graduate School of Journalism (2000). Currently, she is a writer and an external lecturer at Copenhagen Business School, where she also completed her Ph.D.
Popular in the Community