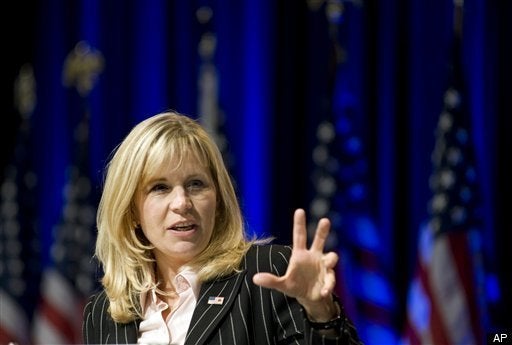 Another prominent neoconservative has called for RNC Chairman Michael Steele to resign in the wake of his calling the Afghanistan war a largely un-winnable conflict of President Obama's choosing.
In a statement provided to the Huffington Post Friday night, Liz Cheney, an influential figure within conservative foreign policy circles and an obviously vocal critic of the president, endorsed a similar call for Steele's resignation from The Weekly Standard's Bill Kristol.
"RNC Chairman Michael Steele's comments about the war in Afghanistan were deeply disappointing and wrong," Cheney's statement read. "The chairman of the Republican party must be unwavering in his support for American victory in the war on terror -- a victory that cannot be accomplished if we do not prevail in Afghanistan. I endorse fully Bill Kristol's letter to Chairman Steele. It is time for Chairman Steele to step down."
Cheney and Kristol are, so far, the highest-profile figures to call for Steele's resignation. No elected Republicans have weighed in on the matter, in part because Congress has largely checked out for the 4th of July recess.
Steele has since clarified his controversial remarks, urging a firm commitment of U.S. military force to Afghanistan on behalf of the president. His hold on the chairmanship, meanwhile, seems relatively secure, so long as other committee members refuse to call for his resignation. (Katon Dawson, the South Carolina Republican who was Steele's primary opponent for the RNC post, has been the one institutional Republican to call for the chairman's resignation.)
But Kristol and Cheney's remarks are significant, in so much as they represent real fissures developing within the broader GOP, and likely foreshadow more establishment figures making calls for Steele to step down.

Popular in the Community