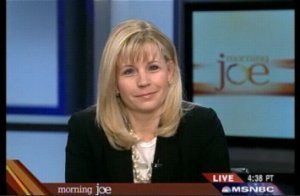 WASHINGTON — Vice President Dick Cheney's daughter Liz said Tuesday she doesn't believe her father did anything wrong in connection with a secret CIA operation that officials have said was designed to capture and kill al-Qaida figures.
At the same time, Liz Cheney accused House Speaker Nancy Pelosi and congressional Democrats of seeking to politicize lingering arguments over how the Bush administration conducted the war against terrorism in the wake of the Sept. 11 attacks.
Asked directly on MSNBC whether her father directed the CIA not to keep Congress fully informed about the secret program, Cheney said, "This is a classified program and he doesn't talk about classified programs."
An official with direct knowledge of the program had said earlier that CIA Director Leon Panetta, according to notes he'd been given in the early months of the program, Cheney had told the CIA not to inform Congress of the specifics of the effort. Panetta canceled the program on June 23. Officials have said the program was aimed at going after officials of the terrorist network individually rather than through air attacks in an effort to limit civilian casualties.
Liz Cheney, a former principal deputy secretary of state for Mideast affairs during George W. Bush's presidency, is helping her father write his memoirs. She aggressively defended him in Tuesday's nationally broadcast interview while declining to say point-blank whether he had violated any law or rule.
The closest she came was in declaring, "There's no evidence of that."
Cheney said she didn't think Democrats were "up to handling national security" and that she thought they were trying to cover themselves on classified they agreed to support "when it was politically expedient."
"I think it does a disservice" to former CIA directors and to the intelligence community "to politicize this issue," said Cheney. She also criticized the Obama administration amid reports that Attorney General Eric Holder is considering naming a prosecutor to pursue people involved in counterterrorism programs, like harsh interrogation, that have now come under fire.
Cheney noted that President Barack Obama himself had said he wasn't interested in conducting such an investigation or in bringing such prosecutions, indicating he wanted to focus on the future, not the past.
"The nation has been kept safe for eight years," Cheney said. She said the continuing agitation by congressional Democrats for investigations of officials involved in such classified programs over the past few years "weakens our ability to be able to win this war."
She also said that if the American people had been given a chance to express themselves, she thinks "they would say yes" to keeping them secret.
"People had different perspectives about when Congress needed to be briefed," she said. " ... I think we've got to go back to, how have we been so successful in protecting against attacks to the homeland?"
"I was not in every meeting that my father had. I was not in most meetings that my father had," she said, when asked repeatedly to say whether he had been involved in concealing information from Congress.
"He doesn't comment on classified programs," Cheney said, "and obviously I am not going to comment on classified programs in his behalf."
Popular in the Community