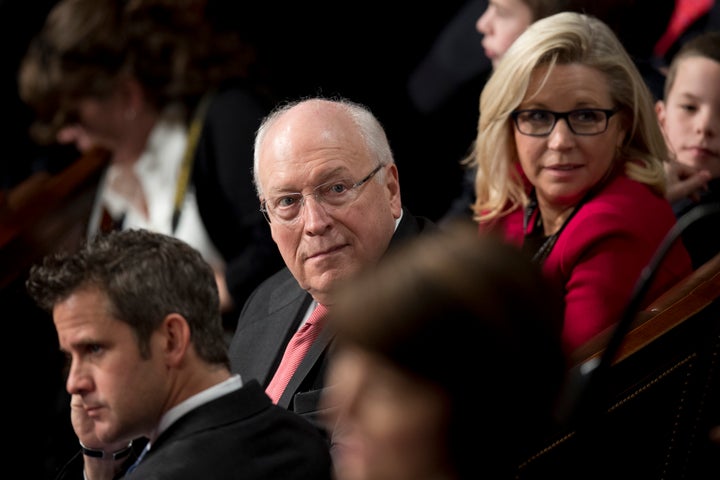 PHILADELPHIA ― Rep. Liz Cheney (R-Wyo.) praised President Donald Trump's reported decision to order a review of how the U.S. is handling the war on terror ― opening up the door to reinstating banned interrogation techniques previously used by the nation's intelligence gatherers.
Cheney also asserted that waterboarding works, and that it helped in securing crucial information leading to the capture of al Qaeda leader Osama bin Laden (a debunked theory).
"It's been clear, certainly since we stopped the enhanced interrogation program, we're not even in a position anymore, frankly, where we're very often capturing people," Cheney said. "We have nothing to do with people when we do capture them."
Coming full circle in the debate over whether officials should use enhanced interrogation methods to extract information from prisoners, the freshman congresswoman echoed her father, former Vice President Dick Cheney, on Wednesday, arguing that waterboarding is not torture.
"What we know is that the enhanced interrogation program provided some of the information, and some of the evidence, that eventually led us to be able to locate, capture and kill bin Laden," Cheney said. "I do support enhanced interrogation, I think that it's something that clearly has helped us in the past to save lives, and so I was glad to see President Trump take that step."
Cheney said she expects the review, once finished, to reveal the "usefulness" of interrogation techniques like waterboarding ― a method used in the CIA's detention and interrogation program for years. That CIA program was investigated by the Senate Intelligence Committee, and found to be more brutal than the CIA originally disclosed and ineffective in producing intelligence. Some details of the investigation were released in a 2014 report.
"The use of enhanced interrogation has been ― when it was in use ― very limited," Cheney said, "limited to only three people who were waterboarded and used in a situation where we had to get information to save American lives."
"It's the responsibility of any chief executive, any commander in chief to make sure we use every tool at our disposal," she continued, "understanding that it's not torture. We don't torture, we haven't tortured. What we're talking about is the ability to get information from people who don't want to provide information and who have information that could well save American lives and prevent attacks."
Reminded that the Senate torture report refuted those claims, and pressed for evidence that such techniques were, in fact, useful in finding the courier that led intel officials to bin Laden, Cheney lambasted the document. (The full report remains classified.)
"That report was actually put together without interviewing a single person who was involved in the program, and you have people on both sides of political aisle," Cheney said.
Support HuffPost
The Stakes Have Never Been Higher
Popular in the Community