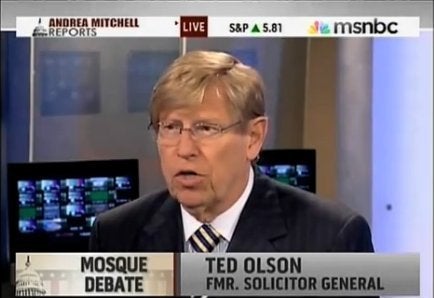 Ted Olson, former George W. Bush solicitor general, attorney behind the case against California's gay marriage ban, and husband of a woman who died aboard the plane that crashed into the Pentagon on 9/11, said Wednesday that President Obama was right about his analysis of the "Ground Zero Mosque" as a constitutional right protected by the First Amendment.
Olson's wife, conservative commentator and lawyer Barbara Olson, perished on September 11 aboard American Airlines Flight 77, the plane that was hijacked and flown in the Pentagon.
Asked on MSNBC about his opinion on the plans to construct a 13-story Islamic community center two blocks away from Ground Zero, Olson gave a response that served as a rather high profile departure from what has become the conservative norm on the issue.
"Well it may not make me hap-- popular with some people, but I think, probably, the president was right about this," Olson told MSNBC's Andrea Mitchell. "I do believe that people of all religions have a right to build edifices, or structures, or places of religious worship or study where the community allows them to do it under zoning laws and that sort of thing, and that we don't want to turn an act of hate against us by extremists into an act of intolerance for people of religious faith. And I don't think it should be a political issue. It shouldn't be a Republican or Democratic issue, either. I believe Gov. Christie from New Jersey said it well, that this should not be in that political, partisan marketplace."
Watch Olson on MSNBC
:
Liz Cheney's group, Keep America Safe, took a different tone Wednesday, however, with the release of a new ad that uses the emotional testimony of six family members of 9/11 victims to push the message that people must "remember" 9/11 in opposing the "Ground Zero Mosque."
Watch Keep America Safe's new ad:
Calling all HuffPost superfans!
Sign up for membership to become a founding member and help shape HuffPost's next chapter