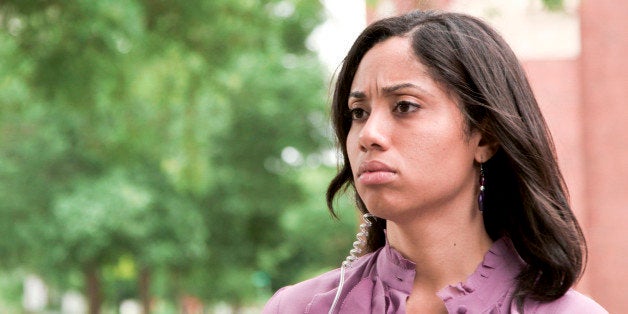 While Mayor Rahm Emanuel's face is in the foreground of ads cropping up on the sides of buses, on billboards and in between the cable news channel's segments, the individual immediately to his left -- Liz Dozier, principal of Fenger Academy, a public high school in Chicago's South Side Roseland neighborhood -- has emerged as the show's most compelling personality.
Dozier told HuffPost in a recent interview that the decision to participate in "Chicagoland" was a fairly straightforward one that could help viewers better understand the obstacle of educating students in an environment like Fenger, where 92 percent of the student population is low-income and 31 percent are classified as homeless.
"I thought it would be good for people to have that insiders' view and see the work that is happening not just at our school, but the work happening at some of our schools across the city," the 36-year-old principal said.
The series turns the spotlight on unconventional methods Dozier and staff use to help their students stay on track. In an episode that aired Thursday, Dozier is seen taking some of her students, including an aspiring chef, to dinner at the acclaimed Alinea restaurant to meet chef Grant Achatz and gain exposure to a world previously unfamiliar to them: one of her students had never eaten asparagus before.
In another, Dozier meets with a former Fenger student who landed at the Cook County Jail, urging him to make a plan to put his life back together upon his release. When he ends up back behind bars a short time later on a robbery charge, her disappointment is heartbreaking. Dozier with her students.
Filming started during the 2012-2013 school year and continued for about eight months on a fairly regular basis -- "usually a few times a week," Dozier said. Her students quickly became accustomed to the cameras' presence, and their reaction to the exposure surprised Dozier.
After they got a special preview of the series' second episode, which features the students' successful organizing of a "peace march" on the heels of a neighborhood shooting, the students immediately suggested the show could help improve the school's reputation, which -- along with competition from nearby charter schools -- has been a factor in its dwindling enrollment.
"We've had a really bad rap for the last four and a half years, but the kids have been really hopeful that people will want to come to our school now and know what we're really about," Dozier told HuffPost. "That's the beauty of working with kids: They'll always surprise you."
Dozier and the students alike also recognized their turn in the spotlight could help with another problem familiar to practically any school today: funding. After Albert's slaying in 2009, Fenger received a four-year federal grant that supported an array of programming like anti-violence peace circles, mental health support and college prep for students.
The money dried up at the start of the last school year, and 36 of 100 staffers, including teachers, security guards and a social worker, were cut.
"You get it for four years and then it drops off because I guess things are supposed to be completely better then," Dozier quipped, noting "everyone in the building is picking up two or three jobs" to help pick up the slack.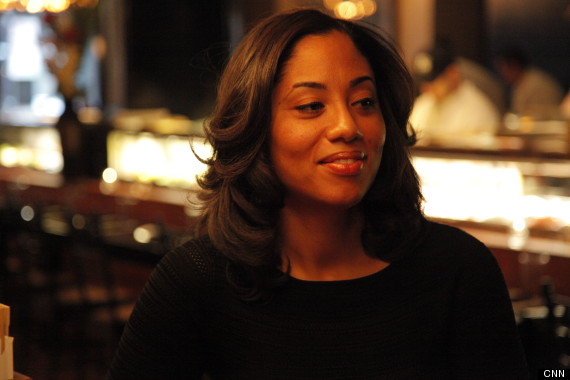 Liz Dozier, the principal at Chicago's Fenger Academy, in CNN's "Chicagoland," which airs Thursday nights at 10 p.m. ET.
So far, the campaign has raised over $80,000 for Fenger. Dozier, who said she had "prepared herself for the worst" and expected she and the school's teaching staff would be labeled as "bad" by the show's viewers, has instead been overwhelmed by support.
The principal says she's received hundreds emails and letters from people across the country -- and as far away from Australia -- "sharing their own stories of how educators have changed their lives."
That support has been "heartwarming" to her and encouraging for her staff as they look ahead to wrapping up the school year and await news on what sort of budget they'll be working with in the fall.
"People don't hear about the amazing principals and teachers across our city who go above and beyond every single day," Dozier said. "I know teachers at my school consistently spend out-of-school hours with students in a variety of positive ways to try and change the direction of their lives. One little smidgen of that is the work we do, but the whole city is doing really amazing things.
"We're trying to do the best we can."
Popular in the Community