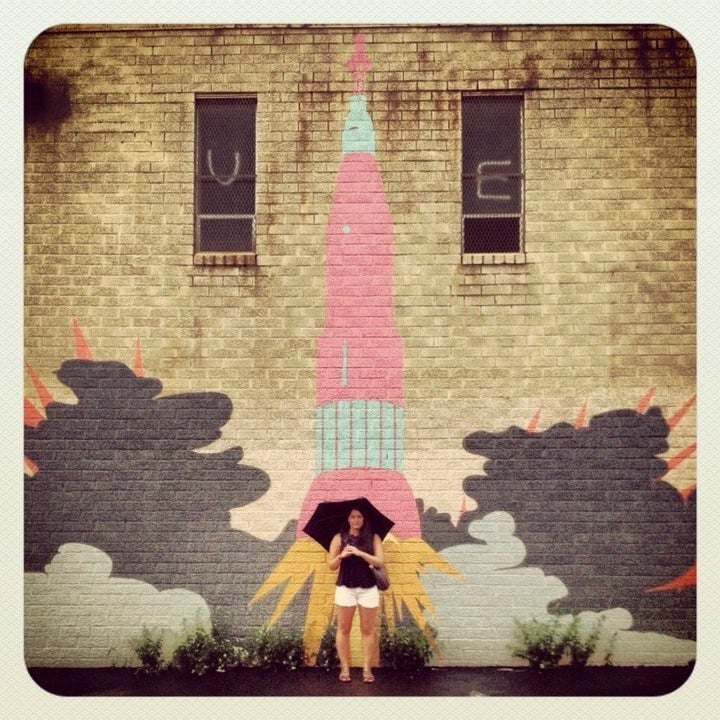 With more than 406,000 followers, @NewYorkCity is one of the most popular non-celebrity accounts on Instagram, beating out even Lady Gaga's follower count. But just who is the face behind the camera phone?
Meet 23-year-old Liz Eswein, a recent NYU graduate with a penchant for snapping beautiful photos of the Big Apple and its inhabitants.
After having such huge success with the popular photo-sharing app, Eswein co-founded The Mobile Media Lab with fellow Instagramers Brian DiFeo (@bridif) and Anthony Danielle (@takinyerphoto) with a mission to create "customized visual experiences with brands and their audiences on Instagram and other social media channels."
Now, the agency covers events for clients such as Samsung, Delta, Nine West and Sony Pictures by snapping creative, filtered photos and spreading these images to their personal audiences. Between the three co-founders, they have a whopping 726,000 followers.
Eswin recently spoke with The Huffington Post via email to share her thoughts on what makes a picture popular, how we use social media, and what it's like to be involved in New York's Instagram community.
Why use Instagram (besides the fact that it's pretty addicting)?
I think it's a great way to be social with other people on a different platform. But it's also about capturing the memories. I'll look through my Instagram feed and am like, "I remember when I was there." It's an instant photo book for you to reflect on -- what you've done, where you've been, etc.
What's the secret to your Instagram success?
I think it's just interacting with the community and getting involved. I think on a personal level, going to Instameets (organized meetups with other Instagram users), and meeting different people in your city is a great way to build connections.
Do you take pictures with your iPhone, or do use an DSLR camera? And do you use other apps to edit these pictures?
Nope, [I] just use my iPhone. I usually edit in Snapseed.

What pictures are the biggest hits with your Instagram audience?
I think it's definitely city photos of something like the skyline or of Central Park. To me, the people [pictures] are more interesting because I see the city everyday. But for the people who can't see it, I don't think they're interested in the people -- I think they're more interested in seeing the actual city.
Some argue apps like Instagram keep us from living in the moment. Do you agree?
Social media is obviously a great way to share things and connect with people, but sometimes people become totally consumed in it and forget to actually experience what's going on in front of them.
I think in moderation, it's okay. With my family, we're not allowed to have our cellphones out at dinner because we want to talk to each other and not someone on the phone. But if I'm at a baseball game, or something like that, and take a few photos and then put [my phone] away? I think that's fine.
Do you just follow your friends on Instagram, or have you met other people through the app?
Yes, I follow my friends and I follow brands as well. Then there are some people I starting following when I first got Instagram, before I knew what this whole things was going to turn into. But I follow people from the Netherlands; people from Paris. It's a great way to see different parts of the world.
So do you feel like you have an Instagram "community" of sorts?
Definitely! I think there is for sure a big Instagram community. This weekend we did an "Instawalk" at the West Side Tennis Club in Queens. An Instawalk is essentially where a bunch of photographers walk around and Instagram their photos. There were a lot of people from the Instagram community there. It was held by Evian, and it was the tournament where different companies could face-off against each other (like Facebook and Warby Parker). People had a great time!
I've met a lot of people through Instagram, and I work with two of them (at Mobile Media Labs) so you do kind of see the same people over and over again, and you create friendships or business opportunities out of these relationships.
How do you choose what to post?
I don't post anything personal, but I try and post cityscape photos that I think people would enjoy who aren't able to visit the city. And people love the city. Some of the comments I get… they're just in love with it!
Has Instagram changed any of the ways you view the world around you?
I think it's made me more aware of my surroundings. I just notice little things like graffiti on the wall or other details that I wouldn't have typically noticed.
Do you have any Insta pet-peeves?
If you post a ton of photos at once and it just clogs everyone's streams, and the "shout-outs"… those are annoying.
What's your favorite picture you've taken?
I did a job with the Mobile Media Lab for Swarovski and (New York Times photographer) Bill Cunningham was there, who've I've seen throughout the city a bunch of times. But it was in the dark, and he was taking photos and I just happened to capture him snap a photo with the flash on. You can kind of see his face. I think that's just my favorite I've taken.
Do you remember what shot has been most "liked" by your followers?
I posted a picture from DUMBO (a neighborhood) in Brooklyn, and I asked people in the caption where they were from. Over a thousand people responded, telling me they were from Sydney, and you know, all over the world. It was pretty awesome and crazy to see how many different people from all over the world were looking at pictures from New York City.
Flip through some of Liz Eswein's gorgeous Instagram photos in the slideshow below and visit her Instagram account, @NewYorkCity.
PHOTO GALLERY
15 Pics From One Of Instagram's Top Users
Calling all HuffPost superfans!
Sign up for membership to become a founding member and help shape HuffPost's next chapter
BEFORE YOU GO