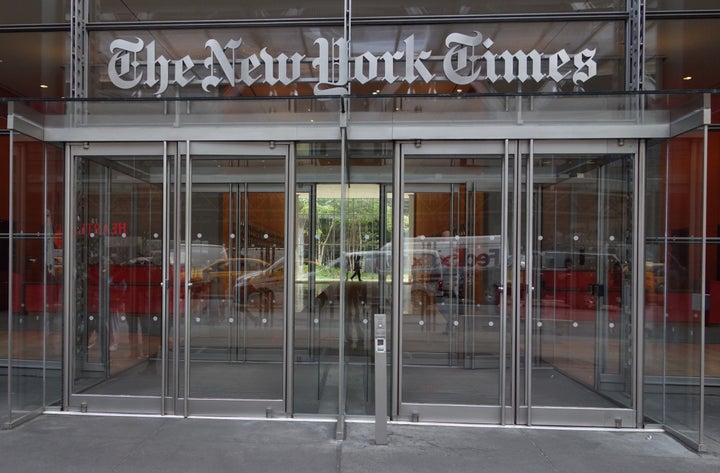 The New York Times has named Elizabeth Spayd, former Washington Post managing editor and current editor-in-chief of the Columbia Journalism Review, as the paper's next public editor.
The Times has been searching for a replacement for Margaret Sullivan since February, when she announced she would leave the publication a few months before the end of her four-year term to become a media columnist for The Washington Post. The Huffington Post reported Monday that Spayd was a finalist in a search process that considered a number of prominent journalists for the influential role.
"Liz rose to the top of that group based on her stellar track record as an uncompromising, honest and intellectually rigorous journalist, one who is deeply committed to the idea of serving our readers and holding this institution to our values," publisher Arthur Sulzberger, executive editor Dean Baquet and editorial page editor James Bennet wrote Wednesday in a staff memo.
The Times created the public editor role in 2003, following the Jayson Blair plagiarism scandal. Some past public editors sporadically blogged, but Sullivan, who joined in 2012, dramatically raised expectations for the job by quickly addressing Times controversies online and engaging regularly on Twitter.
As of Wednesday morning, Spayd has only tweeted 11 times since joining Twitter in 2008. So it remains to be seen how she'll use social media, which is where disputes over the Times' journalism often first flare up.
In the memo, Times' brass noted that Spayd "has deep digital experience, and we are confident that she will continue to adapt this role as the landscape evolves."
Spayd began her career at The Detroit News, then joined The Washington Post in 1988. She spent 25 years at the paper, rising to managing editor, before becoming editor-in-chief and publisher of the Columbia Journalism Review in 2014. Last year, Spayd oversaw CJR's shift from being a bimonthly magazine to publishing two special issues a year and increasing its focus on digital.
The Times will go at least several more weeks without a public editor, as Spayd is expected to start this summer. Sullivan departed in mid-April, meaning the Times hasn't had a public editor to tackle recent controversies, such as dispute over a magazine profile of top Obama White House official Ben Rhodes and presumptive Republican nominee Donald Trump's attack on the paper for a front-page investigation of his misogynist dealings with women.
Related
Popular in the Community