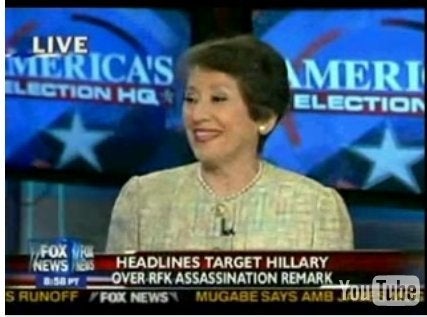 Yesterday, Fox contributor Liz Trotta, a former Washington Times editor and three-time Emmy winner, clearly wasn't [being careful] when Fox host Eric Shawn asked about Clinton's Kennedy comment. Instead, she made a distasteful joke (in the clip above).
Trotta: "And now we have what some are reading as a suggestion that somebody knock off Osama, uh Obama. Well, both, if we could."
Shawn: "Talk about how you really feel."
With an uproar in the blogosphere, Trotta appeared around 9:40 this morning to apologize. Anchor Bill Hemmer reminded her that people have been criticizing her remarks.
Trotta: Yes, I am so sorry about what happened yesterday and the lame attempt at humor
Popular in the Community