 Liza Minnelli has nothing but good things to say about "Cabaret."
In a phone interview with The Huffington Post, Minnelli recalled how "fun and weird" the 1972 film was. "Just the way [director] Bob Fosse did it, it was his creation," Minnelli said.
Set in Germany in the 1930s, "Cabaret" tells the story of Sally Bowles (Minnelli), a cabaret singer on a quest to be different. Along the way she meets Brian Roberts (Michael York) and the two begin a rocky relationship that runs the gamut from highs to lows.
Fosse's film -- which won Minnelli an Oscar for Best Actress in 1973, and seven other Academy Awards, including Best Actor in a Supporting Role and Best Director -- turns 41 years old in 2013. To celebrate the milestone, Warner Bros. will release an all-new Blu-ray edition of the film filled to the brim with special features. If the studio decides to remake "Cabaret," however, Minnelli has a warning.
"I think if anybody ever tried to remake it, they'd be completely nuts," she said. "Leave it alone, it's perfect. It's Fosse's masterpiece."
Below, Minnelli looks back at the genesis of "Cabaret," what it was like to win an Oscar and what it was like returning to "Arrested Development."
Do you remember what auditioning was like?
Oh, absolutely! I auditioned for the play and I didn't get it.
So when the movie came along you took another shot?
But I knew I'd get the movie for some reason. I remember saying to myself, "That's all right, I'll do the film."
That's wild.
Isn't that weird?
So you didn't have any hesitation in taking on the role?
Oh, no; not at all.
It felt right for you?
Well, I was the first one hired before Fosse -- of course, Joel [Grey] was going to do it -- but, I talked to producer Cy Feuer, who was in Paris. I went there all dressed up, like I figured Sally would be -- lots of scarves and coats and things [laughs] -- and he said, "We're doing the movie, we were just talking about you." I said, "Great, are you coming to my show tonight?" And he said yes. I did the best show I could and naturally put in "Cabaret," which was originally written for me, because I was supposed to do the play, and then [in they play] they decided to make the boy American and the girl English. So, he came to see the show and I got it!
What was your favorite part about Sally?
I don't know. I guess being around Bob Fosse and creating the look with my dad.
And it became such an iconic look. I was watching the Golden Globes and Anne Hathaway seemed to be mimicking that look.
The only '30s star that I knew about was [Marlene] Dietrich. I was talking to my dad and I said, "Well, I guess I'll have to dye my hair blonde ..." and he said, "No, wait a minute, wait a minute." He went and got a book and he showed me pictures of Theda Bara and Louise Brooks and Louise Glaum -- all these dark-haired '30s stars. He said, "You don't have to be blonde, just be influenced by this." So, the next day I had a photo shoot and on the way in there was a little makeup store and Tina Smith ran it and she was selling eyelashes. I talked to her about these lashes that I had in mind because I had seen them in her store, but they had to be bigger. So, she made them for me. I bought some and then I went to rehearse, went to Germany and we rehearsed. Then one night, I thought I better show Bob what I have in mind. For some reason, I guess because I worked with my dad, that it didn't occur for me to ask him. I just went and sort of dyed my hair black, cut it and put on the lashes and the makeup. He opened his door and I said to him, "What do you think of this?" He said, "What did you -- What? What? Oh, it's pretty good!" [Laughs.] And that's how the look came about.
Wow. I had read you created the look, but I didn't know the producers didn't have a say in it.
It's so funny, because I guess I was so new to it all, I didn't understand that I should go to them first. I just did it because I knew it was right. And when Bob saw it, so did he. I trusted my dad.
When you think back to filming, do you have one memory that sticks out to you?
Yes, the fact that we were in Germany, making the film about Nazis. I remember first when Hal Prince talked to Fred Ebb, myself and John [Kander] and said, "I want to do 'I Am a Camera,'" and told us the story and everything. He said, "I want you to be Sally," and I said OK, and Fred and John said OK. When Hal left, Fred Ebb looked at me and said, "What are we going to call it? 'The Nifty Nazi Follies'?" [Laughs.]
That's so interesting. You were in Germany, filming this whole thing about Nazis.
I guess when they said we're making a musical about Nazis, they sent us away because they didn't know what we were doing! And Fosse -- that gave Fosse reign over this film. And his vision, his creation, is so wonderful because it's not a musical. The only music that's in it, is in the cabaret, so it makes sense. Except for the Nazi anthem thing. He really had it planned so it was about a time in history and it was a story, and not just a musical. Everybody thinks it's very jolly -- who haven't seen it -- and it's really extraordinary what he did, isn't?
Definitely. Why do you think "Cabaret" still resonates with audiences 40 years later?
Because it's like no other film. He was an original. And because we were away, the studio would send notes like, "Too much smoke. It'll break up in drive-ins." In front of us, Fosse would tear up the telegram and just throw it over his shoulder and we went on. I had asked Fosse if he had seen a movie called "The Damned," which is also about that era, and he saw it and I think it gave him so good ideas because it was very dark.
Besides your character's look, did you have a lot of say in how the film was shaped?
Well, yes. Before anybody else was hired, including Fosse, Cy and I sat down and he said, "This story seems a little ..." and I said, "Frothy?" He said yes and I said, "Well, that's not the real story, is it?" The real story, the man was gay and that was the problem. They tried and tried -- but that's the turning point in the film. The era and how fascinated he is with that. Sally, she's so bizarre, because she wants to be so special. Not a star, because a star would take her away from being special. She could go and sing in a better club, she had the voice, but no, no, she wanted to be there because that was where everything was happening.
Do you ever think about what happened to the character after the film?
Yes, I do. I asked a couple of times. She had some politico ideas when she went back to London and she changed completely.
Right. Fans like to know where the actors think the characters are after all these years.
I have no idea, but I'd love to know! We can explore it. There's some kind of notations on it, I'm sure, in ["The Berlin Stories" author Christopher Isherwood's] books. She was totally of the moment and that's the way I kept it.
Thinking back to the Academy Awards, what was going through your head when they called your name?
Of course, "Diana Ross is going to win." [Laughs]
But then surprise! It was you.
I was really surprised. And my dad, who was sitting beside me, was so surprised he SCREAMED in my ear. I still have Tinnitus from it. Isn't that funny?
Where do you rank "Cabaret" in terms of your career?
I think it's a high mark, of course.
I know coming up you are quite busy on TV.
Yes!
How was filming "Smash"?
Oh that was fun! What a great cast. Everybody on the production staff was swell, just really nice.
Were you a fan before you came on?
Yes! Of course.
I'm also really excited that you're back for new "Arrested Development."
Oh, thank you, darling.
What was it like walking in Lucille 2's vertigo shoes again?
It was really strange, it was fun. That director [Mitch Hurwitz] is just extraordinary, and he writes it too. So we'd come in, and we've learned the script and he would have changed it completely. [Laughs] So we all just -- we did the best we could. We did what he told us to do.
Did you film with Jessica Walter again? I loved when the Lucilles went at it.
Yes I did, I think for a moment. I don't know if it'll be part of it.
We see all these shows like "The Voice" and "American Idol" generating talent out there -- would you ever consider being a judge on one of those?
Of course I would.
Do you watch them?
I watch them all the time. One of my dearest friends is Sam Harris, who won the original "Star Search." Sam Harris won "Star Search" and he's probably the best singer I know.
If you were just starting your career out today, would you go that route?
No. I wanted to learn it all. I started by being one of the crew in Summer Stock. I wanted to know how this worked, how that worked, and what happens here with the lighting -- I was very curious. First I wanted to be an ice skater and then I saw "Bye, Bye Birdie" and everything changed. [Laughs.] I'm glad I learned through the process of theater.
Besides "Smash" and "Arrested Development," what else do you have in the works?
Oh gosh, I have a lot in the works. I have concerts in Europe, I'm making a new album, and I'm working with my darling Alan Cumming. We're doing a benefit, but you know in the comeback of "Cabaret," he played Joel Grey's part, so it's fun.
Will you be doing any "Cabaret" numbers together?
Oh sure!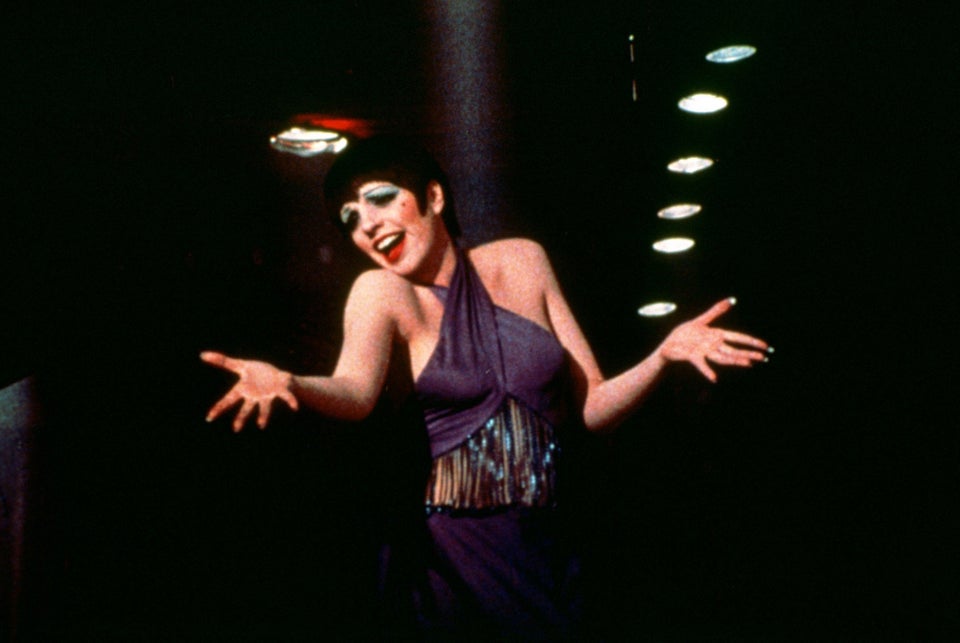 "Cabaret" Stills
Popular in the Community