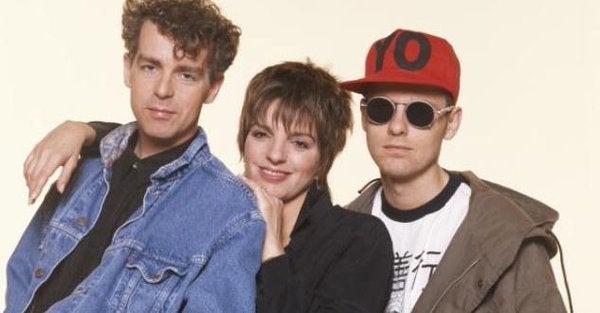 It's almost Christmas, and for the Liza-lover on your gift list, check out the recently issued, supersized edition of Results, her 1989 collaboration with the Pet Shop Boys. But it'll be hard to fit it in a stocking. This new set, featuring a left-field take on Stephen Sondheim's classic torch song, "Losing My Mind" from his 1971 musical Follies, expands the original 10 track album to include 2 additional discs' worth of remixes and a DVD of promotional videos. You may indeed lose your mind sitting through umpteen versions of the album's singles, "Love Pains" (5 remixes), "Losing My Mind" (7), and an entire disc devoted to variations on "Don't Drop Bombs."
But the new set's extravagance is in keeping with the overall vibe of the album, Minnelli's last attempt to ride the record charts. Minnelli has never been able to translate her success as a live performer to the world of pop. From the very beginning of her career, she was caught in a show business time warp, identified with the songs and performing style of her mother, Judy Garland, while barely out of her teens. On television variety shows like The Ed Sullivan Show and Hollywood Palace she sang and clowned with Mickey Rooney and Jimmy Durante like a younger version of Garland.
Her early albums for Capitol Records situated her as a slightly younger version of Barbra Streisand, singing standards by Harold Arlen, the Gershwins, and Rodgers and Hart in sumptuous arrangements courtesy of Streisand's maestro, Peter Matz. She even did a Je m'appelle Liza album, like Streisand's Gallic-flavored effort. But while Streisand had no trouble adapting her stage vocals to the more intimate requirements of the recording studio, Minnelli on records always seemed to be singing from within a proscenium. She moved to A&M, a more youth-oriented label, where she asserted her identity as a young, contemporary woman singing songs by Laura Nyro, Jimmy Webb, Randy Newman, and her then-husband, Peter Allen. But while there were gems among these recordings, nothing registered with record-buyers. Minnelli's emphatic, precisely-enunciated singing felt too big, too confined when delivering pop songs.
It wasn't until after the one-two punch of Cabaret and Liza with a Z that Minnelli made it to the charts as a pop singer, now with a Columbia Records contract. The Singer, an album of current hits by Carly Simon ("You're So Vain"), James Taylor ("Don't Let Me Be Lonely Tonight"), Stevie Wonder ("You are the Sunshine of My Life") and others, made the Billboard Top 40 in 1973. Never mind that it was just the sort of uninspired covers album that her elders at the label, Andy Williams and Johnny Mathis, were doing at the time. Minnelli sounded most confident and committed on the title cut, an original by Walter Marks that sounded like it was intended for Sally Bowles to emote onstage at the Kit Kat Klub.
(It's not surprising that when the album was recently reissued, the highlights were three bonus songs from the musical Chicago, where she truly connects with the material.)
A final Columbia album, 1977's Tropical Nights, the title track a not-great disco workout, was another commercial flop. And that was it, except for cast recordings and live albums that capture her in her natural habitat. , (Minnelli may have more live albums than any other artist: 10 so far, from her London Palladium appearances with her mother in 1965 all the way to 2008's Liza's at the Palace. . . ) This clip, from the period when she was touring with her Liza Minnelli at the Winter Garden show displays her offering a dramatic presentation of popular music and dance—not exactly hip or current,
but wildly theatrical and riveting.
So it felt like a seismic jolt in 1989 hearing Broadway Liza singing an entire album produced by British pop meisters, the Pet Shop Boys. And it all felt entirely correct, organic even. The chilly camp evoked by the Pet Shop Boys' electronic tracks needed Minnelli's stand-and-deliver style to give them warmth. She had often sounded strident when backed by rock guitar arrangements, but here the swirling synthesizer strings smooth her out. Minnelli's throaty throb is subjected to state-of-the-art recording tricks—double-tracking, reverb, echo effects—and stands up to it all. She never sounded quite this loose and vocally inventive before.
She sometimes uses a higher, lighter vocal register, giving "If There Was Love" a yearning vulnerability. The aching "So Sorry, I Said" gets an understated, but intense reading. The highly emotive arrangements for "Rent" and "Tonight is Forever," the first describing a kept woman's existence, the second the demands of a economically-stressed romantic, allow her to luxuriate in melodrama with just a trace of camp, like a Douglas Sirk double feature.
Minnelli rides the disco bombast of "Love Pains" and "Don't Drop Bombs" (including a video in which she channels Cyd Charisse in Singin' in the Rain wrapped in a billowing bolt of silk), and dances around the new wave-ish doo-wop of "I Can't Say Goodnight."
Tanita Tikaram's "Twist in My Sobriety," carries more than a passing reference to the newly sober Minnelli, especially bookended by a chanted refrain from "Liza with a Z." She sings with it particular ferocity and turns it into a blazing, electro-dance Götterdämmerung. It's the highlight of a consistently strong album.
The lead single, "Losing My Mind," is in some ways the least interesting cut, with its thick, dense Eurodisco sound flattening out the song's heartbreak. Minnelli gives it plenty of drama, of course, and publicized the hell out of it, performing it on Top of the Pops and taking it to #6 on the UK charts. (It's fun to watch her perform this and the other songs on the album with the same stylized stage gestures she brings to "New York, New York" and "Cabaret.")
Results was a hit in Europe and especially in the UK, topping out at #6 on the album charts. But back home in the states it got little traction. American record buyers like their artists to stay in their own established lanes: Liza doing the Pet Shop Boys was too outré for her traditional audience and still too Broadway for the dance and pop audience. European audiences have always been open to their divas taking a sharp left turn. In a joint concert with Charles Aznouvar in the early 90s, Minnelli's performance is greeted with reserved enthusiasm until she breaks out the pre-recorded "Losing My Mind" track, which gains her her biggest ovation.
Results was part of a post-Betty Ford Clinic revitalization for Minnelli that included sold out concert engagements at Carnegie Hall and Radio City Music Hall, a return to films (Rent-A-Cop and Arthur 2: On the Rocks were negligible but Stepping Out deserved an audience), and a TV special, Sam Found Out: A Triple Play, that reminded audiences of her acting bona fides in three diverse roles. And she looked great during this period: sleek and alert and full of focused energy.
It's a shame Results didn't lead to recording projects with other, equally unexpected collaborators. It's probably just as well that Minnelli and the Pet Shop Boys didn't record a sequel. Results was too special, too fragile, a delicate hot house flower never to be repeated. But for those of us who love Liza, its reappearance reminds us why it remains a moment of pop transcendence.
Follow Kevin Winkler on Facebook: facebook.com/kevin.winkler.3517