Enter Lizzie Fitch and Ryan Trecartin's current exhibition at Regen Projects and you'll be greeted by a trio of oversized and mutated sculptural beasts, hulking human forms, trapped and bumbling amongst stacks of hay and overturned chairs. Resembling golems that got too drunk at a party, the brutes have titles like "Animation Abuse #1: kept in a kennel... and still having fun" and "Animation abuse #2: locked in a storage unit... and still having fun."
Fun!!! Having fun! We're having fun, right!? It's that precarious middle ground, that exclamation point that teeters so slightly between enthusiastic and frantic, ecstatic and anxious, where Fitch and Trecartin's exhibition takes place. The artists transform Regen Project's sprawling gallery space into an immersive theater that mirrors an urban camping trip gone horribly wrong, all centered around a three-part, multi-channel movie.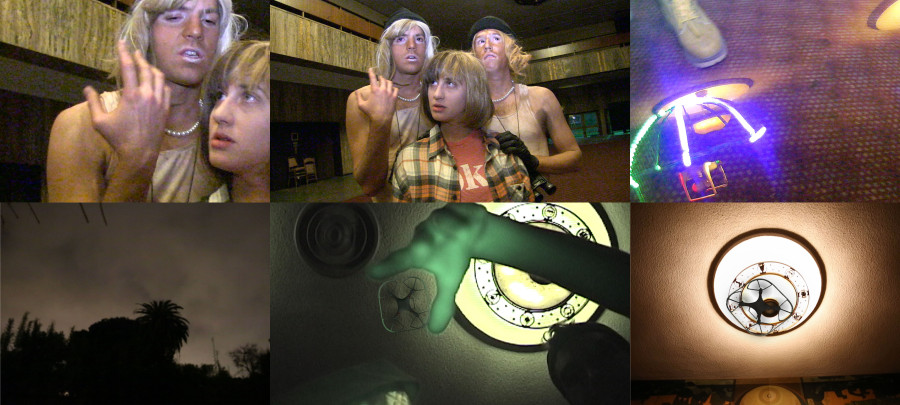 Super-sized camping tents that swoop and bulge in unexpected spots house the DIY, multi-screen theaters, dynamic sculptures in themselves. The tents intersect with steel platforms and wooden planks that feel both industrial and recreational. In the first theater, some viewers sit on chairs while others lay on sleeping bags, watching the screen on the ceiling above them. In another, viewers sit atop a trampoline attached to a massive tire and must wear headphones. Socks, coolers, pillows and blankets are scattered around like the remnants of last night's rager. It's all-American, mass-market, amped up to the point of becoming completely otherworldly.
Trecartin and Fitch have become known, and often worshipped, for their hyper-speed mode of millennial filmmaking. Their endless feed of video shows the trashy dregs of YouTube taken to a supernatural extreme, in which hip lingo becomes speaking in tongues and the newest trends become cultish regalia. "There's this idea that a character can be many people at the same time," New Museum chief curator Massimiliano Gioni explained to The New Yorker. "And the act of communication becomes the subject of his videos. We're all trying to communicate, and what we communicate about is less and less relevant. When I watch his videos, I feel a speeded-up version of what we're all doing."
The majority of the video was filmed in Los Angeles' iconic former Masonic Temple on Wilshire Boulevard. Different characters explore the space in Trecartin's signature alien-drag style, with makeup that bleeds onto the entire body and wigs that dangle off the head. The characters express themselves fervidly without any regard for authenticity; they speak relentlessly without worrying about meaning. They're smoking weed, pounding coffee, fucking shit up. Just watching it is exhausting, and even a bit terrifying. It makes one feel like a mild mannered grandparent watching the "Turn Down for What" video.
The three videos, riffing off tropes from horror movies and coming-of-age tales, range from most realistic to must surreal -- the first looking like a night of small-town, teenage debauchery you'd easily find online, and the last like something out a Satanic reboot of "The Sims." Lines included "It's a $500 fine for littering. The cops are going to I guess enforce it, I don't know," and "You left your car on. Your battery is gonna die." The group demands fun at all costs.
If anyone in the crowd of Fitch and Trecartin's opening was dubious about the relevance of the buzzy pair's work, the chatter of the attending masses immediately put such thoughts to rest. The gallery was teeming with art crowd youth who could have trickled right out of the screen, just as the sculptural theater feels birthed from the movie sets. Though more svelte and chic, they moved just as quickly and were just as devoted to any fun to be had.
Many of the movie's actors, friends and collaborators of Trecartin's roamed the gallery space -- one even kept on his vampiric contact lenses. One visitor announced "It's a night to mingle!" while another remarked "You know me, in situations that I can't even." Trecartin's characters weren't just on the screen, they were in the crowds, checking their phones, snapping pictures, smoking cigarettes and plotting the after party.
Fitch and Trecartin make art inspired by and for the millennial post-internet set. Their hypnotic videos never stop moving, creeping outside of the screen into the gallery space, into your smalltalk, your cool outfit, your smile that says "I'm having so much fun!" As if you've fallen asleep in front of your laptop while watching a horror movie, Fitch and Trecartin's poetic gibberish cast an alien glow over your body and personal space, lingering there for who knows how long.
Lizzie Fitch / Ryan Trecartin runs until November 26, 2014 at Regen Projects in Los Angeles.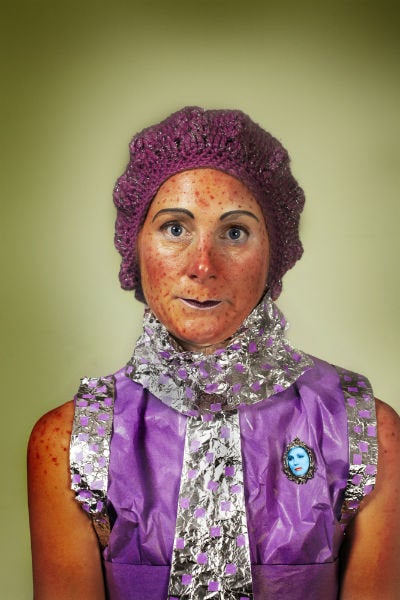 Artists Influenced By Cindy Sherman
Popular in the Community