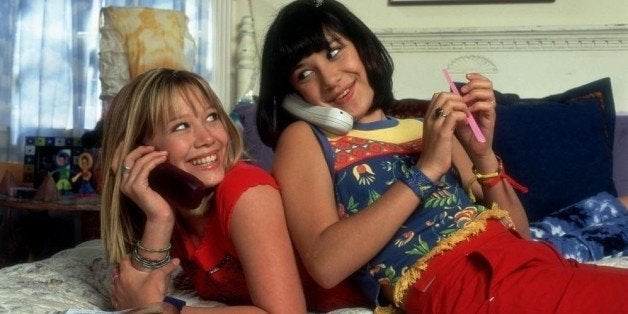 In honor of New York Fashion Week, and the 10-year anniversary of the final episode of "Lizzie McGuire," we have compiled the 10 most essential looks from the show's 65 episodes. With nostalgia (and bravely innovative, voguish hair accessories) in mind, we bring you The "Lizzie McGuire" Fall 2004 Ready-to-Wear collection.
The "Lizzie McGuire" philosophy is all about taking risks and sometimes those risks involve wearing a boa or trying to emulate an understudy from the hit musical "Mamma Mia." Looking to get this look for less? Note the floral hair piece, which is made of chiffon, but could easily be replicated with toilet paper.
Pink camouflage is a great way of communicating that you are ready for battle, but also really fun. And the only thing more aggressive than the combat material is the decision to pair this tank top with a bubble back pack.
Observe the Hawaiian flower brim, which has the functionality of warding off sunlight, but also doesn't hesitate to help Lizzie's fabulous sweater vest really pop. Sometimes the best way to communicate a sense of sophistication and maturity is to dress like a middle-aged golf professional.
Here we have a red, felt bucket hat that covers one's head while channeling a hapless fisherman. Although it is a bold choice, the look is toned down by another risky hair accessory, such as these fuzzy pom-pom scrunchies.
Beaded braids are an ideal way to pay homage to kindly Rastafarian gentlemen everywhere, but also to match literally every color in a rainbow plaid shirt. Despite its functionality, it would be difficult to argue that this hairdo is not also an exquisite work of art.
A great thing about bowling shirts is that they can be worn outside the bowling alley. Also, note the head accessories here. The fedora asserts gentility and poise, but it asserts gentility and poise AGGRESSIVELY if you tie a paisley scarf around the crown of the hat.
One way to be fashion forward is to dress like you're from the future. And a great thing about this particular piece is that it's easy to DIY -- simply gather some mini marshmallows and dental floss and dangle them from yesterday's newspaper to create an elegant showpiece for your cranium.
Yet again, Lizzie McGuire proves her bravery, taking a massive risk wearing a clip-on nose ring that was initially fitted for a large cow. Additionally, the crimped hair really fortifies the "Sorry, parents" vibe she communicates so ineffably.
The pink-haired unicorn sweater communicates a sense of whimsy in this homage to the glory days of Lisa Frank. Note the careful illusion of an actual unicorn provided by a carefully crafted 3D effect that seems to question reality itself.

To the uninformed eye, this may appear to be a white sweater paired with a plaid skirt, but the bottom half of this look is no skirt at all. Nay, it is a kilt, complete with a traditional sporran, in which we can only assume Lizzie is packing the world's tiniest bagpipes.
Calling all HuffPost superfans!
Sign up for membership to become a founding member and help shape HuffPost's next chapter
BEFORE YOU GO
PHOTO GALLERY
Celebrity News & Photos