Attorneys for former backup dancers who are accusing Lizzo of sexual harassment said the singer's lawyer is attempting to victim-shame and bully them over photos that show them smiling and posing with Paris cabaret performers while they were on tour earlier this year.
The attorneys' comments came after TMZ published the photos, which the site said were taken backstage after a topless show, showing the dancers and cabaret performers — all clothed — smiling for the camera. Lizzo's attorney, Marty Singer, described the women as "happily carousing" and "gleefully reveling" in the photos, which he said discredited their claims in the "bogus" lawsuit.
In a statement provided to HuffPost, the women's attorney Neama Rahmani accused Singer of trying the case in the media instead of the courtroom.
"We've addressed all these instances where the plaintiffs appear to be happy alongside Lizzo during their time working with her," Rahmani said. "Of course, they wanted to keep their jobs. They had bills to pay just like everyone else but they finally had enough of the abuse."
In the lawsuit filed Aug. 1, Arianna Davis, Crystal Williams and Noelle Rodriguez said that Lizzo and her team body-shamed them and fired one because she gained weight. The women said in the suit they felt embarrassed by "an overtly sexual atmosphere that permeated their workplace," and mentioned the Paris show where the photos were taken. The women said Lizzo hid the fact that it was a nude cabaret bar, and the outing came a month after Davis said she was made "visibly uncomfortable" by an experience at a nude nightclub in Amsterdam.
The lawsuit, however, notes that the Paris show "was artful and nowhere near as uncomfortable as their outing to Bananenbar," the Amsterdam nightclub, and emphasizes that the women "were shocked that Lizzo would conceal the nature of the event from them, robbing them of the choice not to participate."
At the Amsterdam nightclub, the women claim in their lawsuit, Lizzo had pressured them to touch nude performers, catch dildos "launched from the performers' vaginas" and eat bananas "protruding from the performers' vaginas."
The women "were aghast with how little regard Lizzo showed for the bodily autonomy of her employees and those around her, especially in the presence of many people whom she employed," according to the lawsuit.
Lizzo has denied all the claims against her.
"My work ethic, morals and respectfulness have been questioned," Lizzo wrote in a statement posted to social media. "My character has been criticized. Usually I choose not to respond to false allegations but these are as unbelievable as they sound and too outrageous to not be addressed."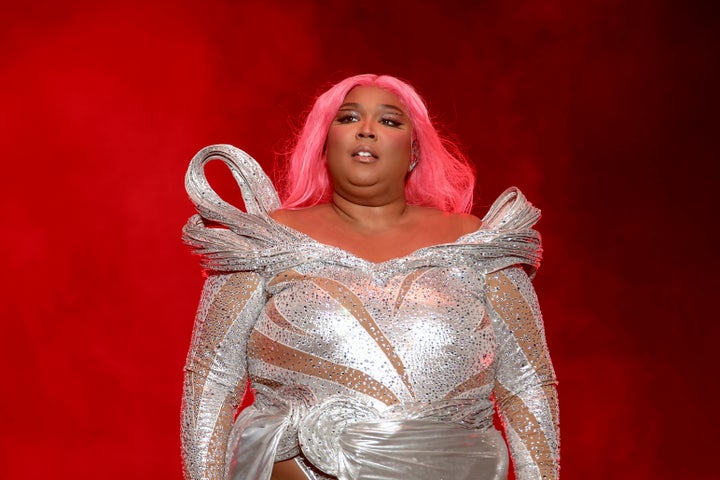 In his comments to TMZ, Singer also noted that weeks after the Paris show, the women renewed their contract with Lizzo and agreed to participate in a third leg of the tour, adding that "glowing comments" Davis made in an audition tape for a singing role in Lizzo's show "contradicted" the women's allegations of sexual harassment and a hostile work environment.
"Singer's victim shaming doesn't change any facts in the lawsuit," Rahmani countered. "The plaintiffs merely wanted to keep their jobs until they finally had enough of the abuse. Arianna, Noelle and Crystal were brave enough to come out with their stories and they don't plan to back down in the face of these bullying tactics by Lizzo's attorney. This strategy may have worked for the other abusers Singer has represented, but our clients remain steadfast and look forward to their day in court."
Singer has previously represented Bill Cosby and other celebrity figures accused of abuse. The attorney did not respond to a request for comment from HuffPost.
"We stand by every claim in the lawsuit and look forward to trial," Rahmani said. "We've been hearing from other former employees sharing similar stories, and as seen in the Los Angeles Times article today about how Lizzo used intimate footage of her dancers without their approval in the 2022 HBO Max 'Love, Lizzo' documentary, we're seeing even more of a pattern of just how much Lizzo thinks of those who work for her. Clearly, not very much."
The LA Times reported on Wednesday that 14 backup dancers who rehearsed with Lizzo for her performance at the 2019 VMAs were initially not compensated for emotional interviews that later appeared in the HBO Max documentary "Love Lizzo. The suit was settled in February and did not involve Davis, Williams and Rodriguez.
Since the three dancers filed their sexual harassment lawsuit, Lizzo has received vocal support from her current dance crew, The Big Grrrls, and Beyoncé, who shouted, "Lizzo, I love you," while performing in Atlanta. Meanwhile, a filmmaker who worked on "Love, Lizzo" described the singer as "arrogant, self-centered, and unkind" in a statement in support of the dancers.
An attorney representing the three former dancers said they're now reviewing the stories of other people who worked for the pop star.
"We feel extremely confident in this case and expect to be filing additional lawsuits against Lizzo as more potential plaintiffs come forward sharing similar stories of harassment and abuse," attorney Ron Zambrano said. "We've heard from more than a dozen former employees and are currently reviewing their claims. Some of them will most certainly be actionable. Crystal, Noelle and Arianna stepped out of the shadows to share their stories and now others are feeling empowered to do the same."
Singer also told TMZ that Lizzo intended to sue the dancers for malicious prosecution, which Zambrano said Thursday was an attempt at intimidation that could prevent other victims of workplace harassment from coming forward.
By using "scare tactics, bullying and victim shaming," Zambrano said Lizzo's team is "trying to suppress the truth and hide her hypocrisy of publicizing her brand as one of empowerment and body positivity while privately depriving women of their empowerment."
Support HuffPost
The Stakes Have Never Been Higher
Popular in the Community