 "Only a couple of my friends from growing up are married," Lizzy Caplan says, discussing her new movie "Bachelorette." "I think it's because we grew up in L.A. and everything seems to take a little bit longer, which I'm so grateful for." In the new film, which comes out on Friday, the actress plays Gena, a woman who's been stuck in a rut for the past decade and who hopes drugs will get her through the wedding of her friend Becky (Rebel Wilson). Caplan spoke with the Huffington Post about what it means to be 30 these days, her oral-sex monologue and her upcoming role as sexologist Virginia Johnson.
You saw "Bachelorette" Off Broadway before you joined the cast for the movie. What was it about the play that appealed to you?
I went to go see the play [with] my friend Jessica Elbaum, who produced the movie -- we were hiring [playwright Leslye Headland] to write a pilot for us, and we just wanted to see her play before pulling the trigger on that. And [the play] was incredible. When she said she had a feature draft for "Bachelorette," it was all I wanted to do. Obviously these characters are completely over the top in this one night and they've all gone crazy. But I think it really highlights a lot of deeper themes.
Did you want to play Gena specifically?
I always did. I just think that I get her vibe the best. I think she's a really scared human and doesn't know what to do with own vulnerability or her own fears. And I can totally identify with that. And she just kind of armors up and pretends like she's very tough when in fact she's kind of just broken.
There's a moment where someone calls her Mrs. and she says, "I'm not married and I'm not an adult." I think a lot of people feel the way at that age.
It's this generation that I'm in where we're hitting 30 now, but we're not the same 30 that our parents were. Most of my friends aren't married. Most of them don't have children. And it's this strange thing where these three girls in "Bachelorette" had their ways of dealing in high school and those methods made them extremely popular and well liked -- they were kind of killing it in high school -- and now they're 30 and trying to still do the same stuff makes them extremely pathetic characters now. They're no longer these strong leaders. They're just girls who can't get their shit together. A lot of us were raised being told that we would go straight to the top and be the most successful and the happiest. And when things aren't falling into place in the way that we were promised as children, I think that's very scary for a lot of people.
You have a very explicit monologue on oral sex. What's your reaction when you see something like that in the script?
I think it's exciting. I mean, a challenge definitely. Any monologue can be a challenge, and this one is so over-the-top ridiculous that there's got to be a way to turn that monologue, which is about such explicit material, into an introduction into why this character is so sad. And it was all there. If the writing's solid, it's very, very easy to look like you are a good actress. But Leslye is so not overly precious about her own writing -- she always encouraged us to improv or add stuff. I think it took the pressure off to not have to be completely word-perfect on this thing.
How did you end up working with your "Party Down" co-star Adam Scott again?
Leslye was really interested in hearing our thoughts on co-stars. And Adam actually saw the play with me and a couple other people, so he sort of knew what it was all about. And it's just an easy rapport at this point because we've done it so often. Again, with time constraints on a small movie, you want to give yourself as much secret ammunition as you can. And Adam served as my secret ammunition.
You're signed on to play Virginia Johnson in Showtime's "Masters of Sex." What can you tell me about that about this point?
I know that it will be on in 2013 at some point. That character is by far the most fascinating character I've gotten to play. I think a lot of that has to do with the time period that the show was set in because it's a very explicit story that we're telling, but it's all true and it was done in the Midwest in the '50s. And the fact that this woman managed to live the life she wanted to live –- she was twice divorced with two kids by the time she shows up to work for Michael Sheen's character, William Masters. And she was very sexually open at time, again, where that was unheard of. What she did back then would even be fascinating and shocking now, but the fact that she did it in a very, very strict part of the country at a very, very repressed time makes it even better.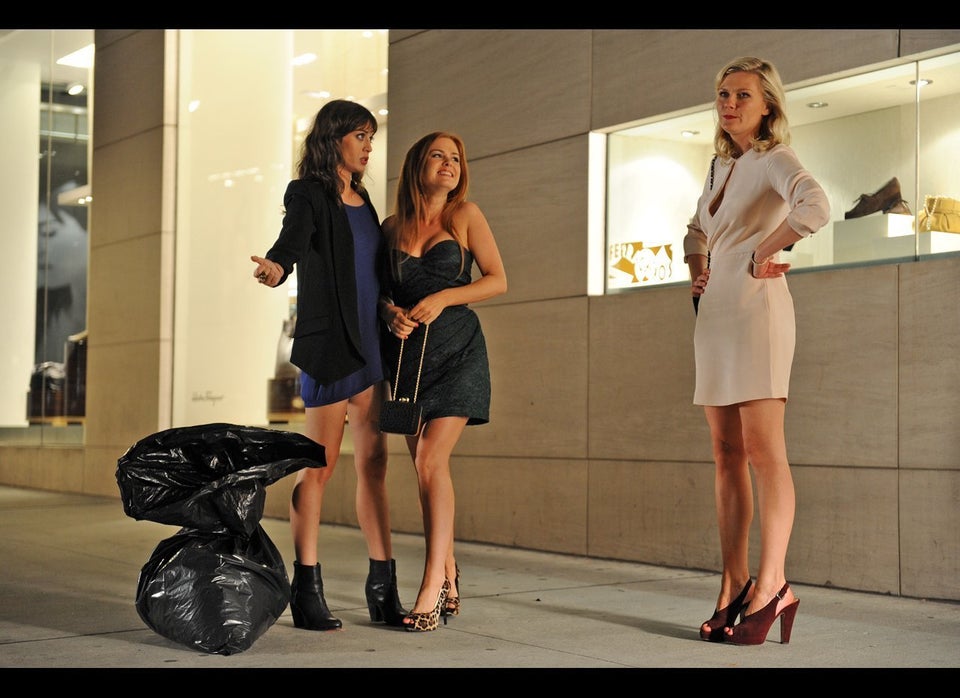 Scenes From 'Bachelorette'