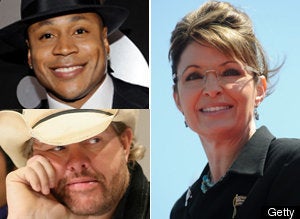 Fox News has an unlikely adversary: rapper LL Cool J.
"Fox lifted an old interview I gave in 2008 to someone else & are misrepresenting to the public in order to promote Sarah Palins Show. WOW," he tweeted.
Likewise, Toby Keith never sat down with Sarah Palin, Keith's spokesman told HifFix. "We were never contacted by Fox," Keith's spokesman said. "I have no idea what interview it's taken from. They're promoting this like it's a brand new interview."
Fox News responded Wednesday morning, saying they would cut the footage of LL Cool J (aka James Todd Smith) from the special. Keith's old interview is still slated to run.
"Real American Stories features uplifting tales about overcoming adversity and we believe Mr. Smith's interview fit that criteria," a network spokesperson told TVNewser. "However, as it appears that Mr. Smith does not want to be associated with a program that could serve as an inspiration to others, we are cutting his interview from the special and wish him the best with his fledgling acting career."
"If someone at Fox News Channel wishes you well, watch your back," the AP's David Bauder wrote in 2006. "The seemingly benign sentiment is a creative signature of Fox's public relations, usually accompanied by a kneecapping. It's something like a kiss from a Mafia don."
"Real American Stories" airs Thursday at 10PM (in place of "On the Record with Greta van Susteren) and will re-air on Sunday at 9PM.
UPDATE: "Contrary to what was reported, LL COOL J was never scheduled to be a guest on 'Real American Stories' with Sarah Palin this week," a spokesperson for LL Cool J says. "The show had planned to use an interview from 2008 that was being repurposed without LL's permission. This statement is not a reflection of any feelings LL has toward Fox News or Ms. Palin, whom he has never met, rather a clarification of what we have seen published in the media."
UPDATE: A Fox News spokesperson responds, "Fox News did not commit to restrictions on its interview with Mr. Smith so therefore the network did not need his permission to use the interview in this program."
Related
Popular in the Community