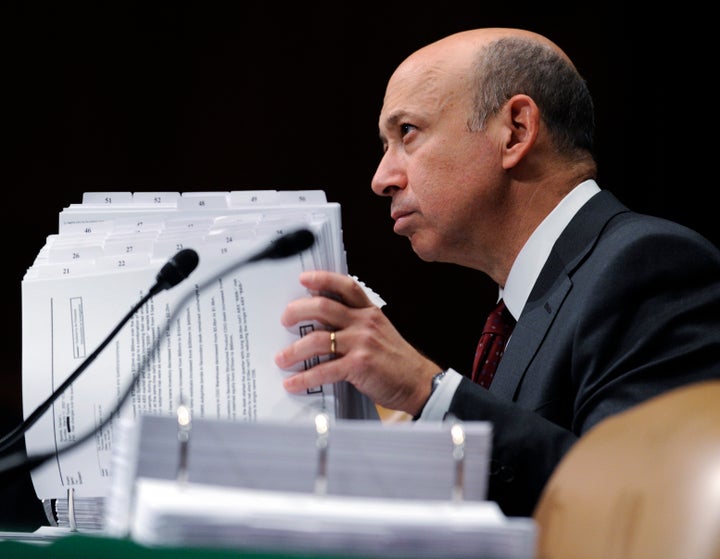 JERSEY CITY, New Jersey (Lauren Tara LaCapra) - Goldman Sachs Group Inc Chairman and Chief Executive Lloyd Blankfein said he is not stepping down, despite media reports that he has plans to resign.
Blankfein spoke to reporters after Goldman's annual meeting in Jersey City, N.J., on Friday. The event included tough talk from activist shareholders on issues ranging from executive compensation to climate change to accusations from lawmakers and regulators that the company earns profits from betting against its clients.
One well known shareholder, Evelyn Y. Davis, suggested at the start of the meeting that Blankfein should step down once the session was over.
When asked by reporters why he wanted to stay, Blankfein quipped, "And give up all this?"
At the meeting, all of Goldman's directors were approved by more than 90 percent of shareholder votes, while proposals on more disclosure for executive compensation and political spending, among other issues, did not gain a majority of votes.
The meeting was held at Goldman's office tower in Jersey City rather than its new headquarters building across the Hudson River in Lower Manhattan. Employees moved into that more glamorous site, which cost Goldman $2.1 billion to build, last year.
Goldman shares rose 0.4 percent to $150.95 in late-morning trade. The stock is down 10.2 percent this year, compared with a 6.2 percent decline for competitor Morgan Stanley and a 7.6 percent gain for the S&P 500 index.
(Reporting by Lauren Tara LaCapra; editing by John Wallace)
Related
Popular in the Community