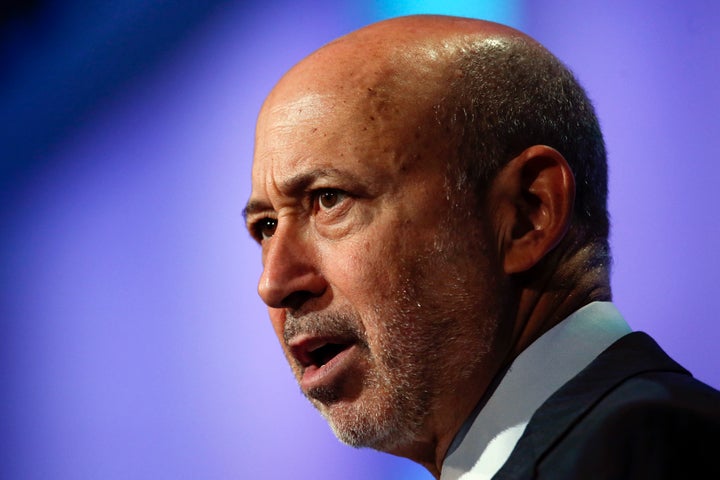 In a voicemail sent to his employees on Sunday night, Goldman Sachs CEO Lloyd Blankfein criticized Donald Trump's executive order suspending refugee resettlement and barring people from seven Muslim-majority countries from the United States.
"This is not a policy we support," Blankfein said. "I would note that it has already been challenged in federal court, and some of the order has been enjoined at least temporarily." Blankfein supported Democratic presidential nominee Hillary Clinton during the election.
Trump's executive order, issued Friday night, sparked nationwide protests and condemnation from Democrats in Congress, attorneys general around the country and a handful of Republican senators. At least three judges have blocked aspects of it.
Blankfein's comments seem to have opened the door for other banks to denounce Trump's order. On Monday afternoon, Citigroup chief executive Michael Corbat sent a memo to employees about the ban. "We are concerned about the message the executive order sends," he wrote.
JPMorgan Chase and its CEO, Jamie Dimon, have said nothing about the ban, beyond sending an email to employees with some vague language about diversity:
"We understand that our country, economy and wellbeing are strengthened by the rich diversity of the world around us, where we are dedicated to serving customers and communities in more than 100 countries every day," reads the last line of the email, sent jointly by Dimon and nine other members of the bank's operating committee.
That's what amounts to fiery condemnation from Wall Street during the Trump administration.
Wall Street's reticence on the immigration ban is notable. It's hard to believe anyone operating a global business that relies on hiring top talent from around the world would support the draconian immigration measures Trump has unleashed.
Yet while high-profile CEOs and companies in the tech sector have started to speak up ― including CEOs of nearly all the major Silicon Valley firms ― non-tech companies have mostly been silent.
Over the weekend, The Huffington Post reached out to the almost 20 business leaders on the president's advisory board and their companies; only two have offered public comments. Several told HuffPost they weren't commenting; some said off the record that the issue was too controversial to wade into.
So much for the corporate activism and social responsibility these guys like to promote in press releases.
There have been a couple of notable exceptions on the Fortune 500: Starbucks CEO Howard Schultz not only came out against the ban, but also said on Sunday that the coffee company would hire 10,000 refugees.
Nike CEO Mark Parker also released a letter condemning the order: "Nike stands together against bigotry and any form of discrimination," he wrote.
On Monday, Ford Chairman Bill Ford and CEO Mark Fields both said they oppose the ban.
Many other companies are scrambling to make sure their employees aren't caught up in the new rules and trying to counsel and assist those who are.
In his voicemail, Blankfein said the firm will work with affected employees and their families to "minimize disruptions":
"This is Lloyd. The president has issued an executive order that, generally, bans individuals from seven different countries from entering the United States and freezes the broader refugee program. This is not a policy we support, and I would note that it has already been challenged in federal court, and some of the order has been enjoined at least temporarily.

If the order were to become or remain effective, I recognize that there is potential for disruption to the firm, and especially to some of our people and their families. I want to assure all of you that we will work to minimize such disruption to the extent we can within the law and are focused on supporting our colleagues and their families who may be affected.

Let me close by quoting from our business principles: 'For us to be successful, our men and women must reflect the diversity of the communities and cultures in which we operate. That means we must attract, retain and motivate people from many backgrounds and perspectives. Being diverse is not optional; it is what we must be.' Now is a fitting time to reflect on those words and the principles that underlie them."
Perhaps Blankfein should've left his message with the six Goldman Sachs alumni who have top jobs in the Trump administration. At least one of them ― Trump adviser Anthony Scaramucci ― apparently didn't think the immigration ban would actually happen, as Bloomberg View's Matt Levine pointed out on Monday.
"I'll make a prediction right now that he will not put a ban on Muslims coming into America," Scaramucci, a Goldman alumnus who was selling shares in hedge funds before he moved to the Trump administration, told Gawker before the election.
Scaramucci recently found himself courted by the world's most elite executives and politicians at their annual schmooze-fest in Davos, Switzerland.
Other ex-Goldmanites in Trumpland include Blankfein's former No. 2, Gary Cohn, treasury secretary nominee Steven Mnuchin, chief White House strategist Stephen Bannon and adviser Dina Powell, who worked on impact investing for Goldman. Jay Clayton, a Wall Street lawyer who has represented Goldman, was chosen to head up the Securities and Exchange Commission.
This story has been updated to reflect that Citigroup and Morgan Stanley have also written memos about Trump's executive order.
How will Trump's first 100 days impact you? Sign up for our weekly newsletter and get breaking updates on Trump's presidency by messaging us here.
Popular in the Community