Great documentaries like Grey Gardens and Nanook of the North show the plight, perseverance and soul of their subjects. Simply put, you feel for them. Documentaries preserve their subjects' legacy through a specific lens. A documentary could be a day in the life of the subject, or in the extreme case of Llyn Foulkes One Man Band, -- directed by and produced by Tamar Halpern and Chris Quilty - the film could span seven years of the life of Los Angeles-based artist, Llyn Foulkes, from ages 70 to 77.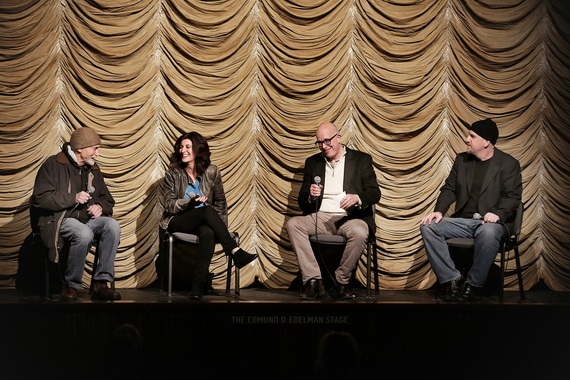 Q & A with Llyn Foulkes, Tamar Halpern, Michael Duncan, Chris Quilty. LACMA. Photo by EMS.

I was able to view the film on a cold, rainy night at the Bing Theater, part of the Los Angeles County Museum of Art, an institution that has proudly collected Foulkes' art since the 1960s. Foulkes arrived for the post-screening Q & A with the directors and art critic, Michael Duncan. I've known Foulkes for three years now, intimately photographing him and his friends, and spent one afternoon filming him myself. However, my first introduction ever was in 2011 at an art opening when a friend of mine said hello to him and Llyn responded in kind. Llyn has a great beaming avuncular smile that can light a room. However, when my friend asked him why he wasn't in the documentary The Cool School, Llyn viscerally retorted with a big F-U to him. And he meant it.
The Cool School chronicles the rise and fall of the Ferus Gallery in Los Angeles, open during 1957 to 1966, a pivotal decade for America politically, culturally and artistically. The Ferus artists and their collectors ultimately became the benefactors and legends of LA art history. In One Man Band, Foulkes explains that the reason he was exiled from the Ferus oligarchy was because he told a friend of fellow artist Robert Irwin that his art was "mediocre and decorative." This revelatory moment in the film could be the seminal mistake, or, perhaps, deliverance, in Foulkes' fifty-year career as a self-imposed exiled artist from Los Angeles' elite collector enclaves in the beach communities and Beverly Hills and, ultimately, the international art community. If Foulkes had kept his mouth shut as today's young artists are told to do, there is little doubt that his life would have manifested itself differently.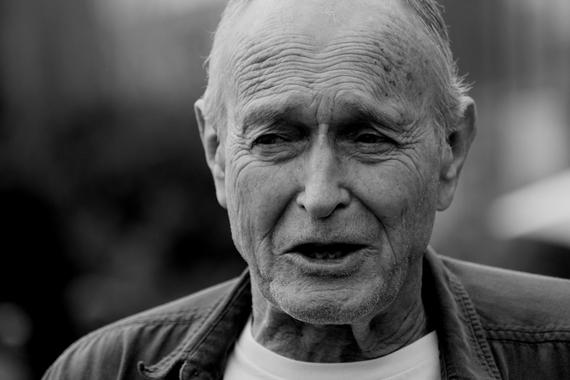 Llyn Foulkes at the Brewery. 2012. Photo by EMS.

Instead, this Ferus pariah, who eventually moved to The Brewery Artist Lofts in Downtown LA, laments on film that he didn't get the accolades of his contemporaries who segregated themselves in the cool beaches of Venice or in Irwin's case, sunny San Diego.

In the film, Foulkes has the charisma of Robin Williams, the looks of Clint Eastwood, the neurosis of Woody Allen and a singer/songwriter voice of Tom Waits. Put all these things in a meat grinder and it's a no-brainer that Foulkes stands apart from the Ferus brethren in this feature documentary film. It's tribute to Foulkes' talent that during this seven year project the directors didn't lose interest or abandon Foulkes -- a feat of endurance for which Foulkes should be grateful.
In the film, art critic Mat Gleason says that Foulkes destroyed his career ten times to build it back up. In a film I did on Mat Gleason in 2011, he called Foulkes the greatest living artist in LA. Foulkes, it appears, feels differently. The film is wrought with scene after scene of the artist's punch lines and self-deprecation.
The filmmakers portray Foulkes as a huggable self-reviled egomaniac complaining about corporate art and anti-Disney commercialism. There is anger and sardonic wit, even a cringing moment of an artist or dealers worst nightmare when no one shows up at Foulkes' highly anticipated opening in New York City. There is numerous times throughout the film that Foulkes threatens to quit his art career. He seems manic. He suffers from obsessions and compulsions. His insecurities are apparent and transparent in his art and music. And while His ex-wife wants to say more in the film -- you can tell that she wants to delve deeper -- but her scenes are brief, though effective in their brevity.
Through meditative confession, Foulkes is sour grapes, but more like a man who spent a lifetime eating rocks. It is worth noting that Foulkes' performance in the film provides the necessary entertainment to move the film as you laugh with him and not at him. His comedic timing is spot on. The fact that he uses power sanders to shape his art, and a table saw to cut off a whole section of one painting is worth seeing alone.
One Man Band is a pre-social media era film that brings back the nostalgia of how things used to work in the art world, before artists could deal with their issues through social media. A scene shows Foulkes going to his old alma mater, Chouinard Art Institute that was eventually merged with Los Angeles Conservatory of Music under the guidance Walt and Roy Disney, and relocated as California Institute of the Arts. Foulkes chuckles that were once Chouinard stood is now a child care center with a playground, quipping, "Gee. It looks a lot more fun now." He goes to the Original Tommy's Hamburger stand down the street from his alma mate, where he still frequents the storied burger joint, -- which has become a sort of Disney tourist attraction itself. From scathing remarks to fast food and cigarettes, One Man Band is a requiem of the pitfalls and bad decisions that affect someone's career: he is not playing the game. However, the film is a worthy addition to any art lover or cinephile's documentary collection and an alternative anecdote to The Cool School.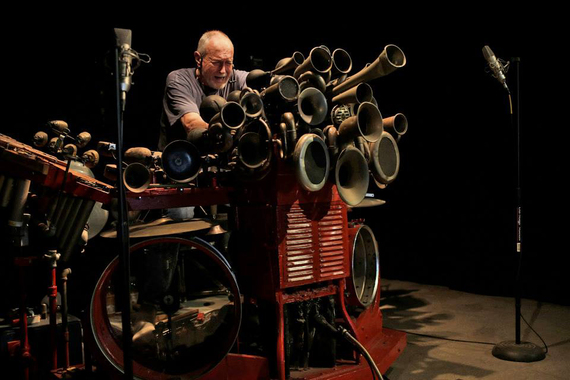 DESTINED FOR A MUSEUM. Llyn on his machine. 2014. Photo by EMS.

My only criticism of One Man Band is that the Llyn Foulkes I know in real life is not as lonely as the film portrays. The Foulkes I know may not have been appreciated by his peers, maybe because he wasn't a surfer like many of the white-bred coastline artists, but what I do know is that he is surrounded by hundreds, if not thousands, of adoring fans, fellow artists and people who are looking out for him. The art world will mourn that eventful day when it loses the presence of Foulkes. He will carry a legacy that will set its own unique style in its own category, without rival or peer or group. His art will never be confused by anyone else.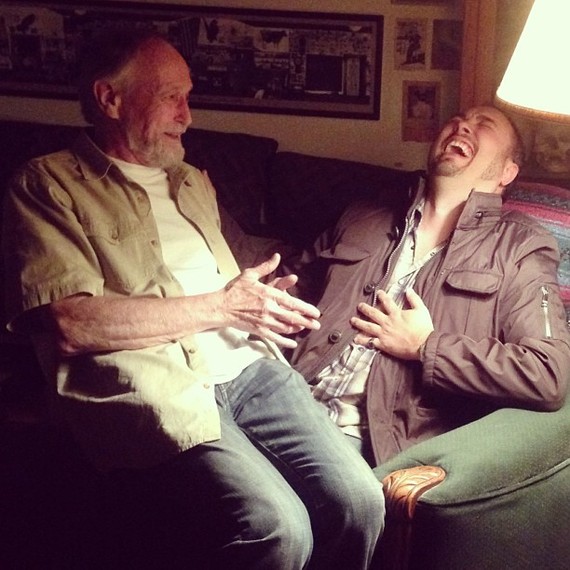 Foulkes and me during the holidays at his studio. Always sharing a laugh and one of my favorite Instagram moments. 2013
Ultimately, One Man Band, is an 82-minute tribute and view into the soul and façade of what ultimately, in his terms, Foulkes wanted to give the directors. It took Tamar Halpern and Chris Quilty seven years and three acts to make the film. Yet, I sometimes wonder if Foulkes is the ultimate maestro who fooled us in all into believing that he had an unglamorous life. Maybe, just maybe, Foulkes wanted more Cassavetes than Fellini and doesn't care about the beaches and the babes and the hot rods and the plastics. Perhaps, his ultimate destiny is what he wanted to do all along and have the last laugh.
This article is part of an ongoing photojournalism survey of art exhibition openings titled EMS N(art)rative. Through my lens I document a photographic essay or visual "N(art)rative" that captures the happenings, personalities, collectors, gallerists, artists and the art itself; all elements that form the richly varied and textured fabric of the SoCal art world. This reconnaissance offers a unique view for serious art world players to obtain news and information on the current pulse of what's in the now, yet capturing timeless indelible images for posterity and legacy. Here is EMS N(art)rative Seventeen.
Popular in the Community