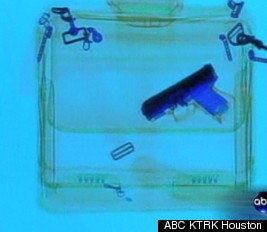 One of the first things most people hope TSA screeners would be able to spot in an X-ray is a gun, especially with the sheer volume of travel that happens around the holidays. Unfortunately, that's not always the case.
Details are emerging about a Houston businessman who boarded a plane at Bush Intercontinental Airport last year, only to discover that he had accidentally left his .40-caliber gun stowed away in his carry-on computer bag, according to ABC KTRK Houston. And this was at the height of the Christmas travel season.
"I mean, this is not a small gun," the businessman, Farid Seif, told ABC. "It's a .40 caliber gun."
The gun should have been particularly hard to miss, as screening procedures require passengers to remove their laptops from their cases, leaving the gun as the sole object left in the bag as it was scanned.
Another passenger accidentally made it past security with a 6-inch hunting knife, according to the Consumerist.
Perhaps even more disconcerting to some, according to authorities, the incident isn't unheard of. ABC even reports that a source familiar with the covert testing of US airport security has said that at some airports there's a failure rate of up to 70 percent in identifying banned items.
Though more stringent security measures have since been implemented, the breach in this incident exemplifies a larger problem: the human element of fatigue that can affect screening quality while TSA employees spend hours examining luggage for contraband items. However, as the Consumerist points out, this example is considered particularly alarming, as the X-ray very clearly identifies the gun.
Related