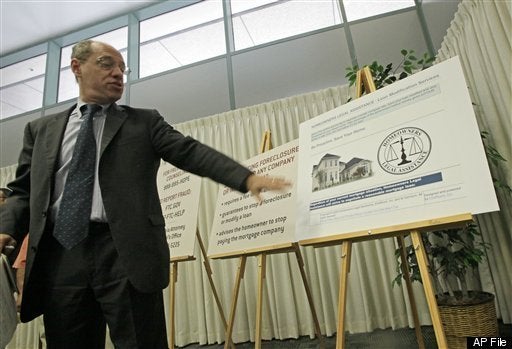 Merrill and Jodi Z. of Jersey City, N.J., say they're feeding their four kids breakfast for dinner every night since they fell for a mortgage modification scam that promised to save their house in exchange for an upfront $3,600 payment.
"I desperately need to keep my house," said Jodi, who asked that the family's name not be published for fear that she could lose her job at a New Jersey investment bank. "I had a very unstable childhood, I can't tell you how many times we moved. I will never do that to my kids."
Jodi said she and her husband bought the place as a fixer-upper, but it ended up needing more repairs than they expected. In 2008, they took out an expensive second mortgage. They said their bank, HFC Beneficial, promised the 14 percent interest rate would decline in six months, but when the time came, they were told they didn't qualify for a lower rate.
HFC declined to comment on the case. Banks generally don't comment on individual customers.
Even though the couple earns a combined $127,000 a year, things got tight.
"It became impossible to pay both mortgages, this property tax and the price of oil heat for our house, which had quadrupled since we moved in," she said. "It was a domino effect. Do we continue to pay our second mortgage at $900 a month, when it was a little over $800 every two and a half weeks just to heat the house? Do we heat the house, or do we buy groceries? Things kept getting worse and worse."
That November, Jodi and her husband sought the help of a loan modification company called Nationwide Home Relief, which promised it could lower their payments in exchange for the $3,600 advance. In the meantime, NHR instructed the couple to stop making mortgage payments.
"They said this process takes two, max three months, and you're not obligated to pay your mortgage. No matter what your bank tells you, do not pay a dime," Jodi told HuffPost. "We thought, great, we can pay off the other things we're behind on, like our property tax."
Three months turned into seven, Jodi said, and the modification never happened. The bank threatened to foreclose on her house, and Nationwide disappeared. HuffPost called the company's listed toll-free phone number, but the line has been disconnected.
"They took my money and ran," Jodi said. "Now our credit is ruined as well. If we can't hold onto our house, who is gonna rent to us? Where will we go?"
Advance fees and demands that a homeowner stop making payments are key hallmarks of a scam. A Federal Trade Commission rule that took effect last week makes it illegal for companies to tell consumers to stop paying their mortgage, unless they also tell them that they could lose their home and damage their credit rating by doing so. A federal ban on collecting advance fees under the same rule will take effect at the end of this month.
It is already illegal in Florida for a loan modification company to charge a fee up front, and the state attorney general's office confirmed to HuffPost that it is currently investigating NHR, partially based in Florida, for "unfair and deceptive practices with regard to collecting fees and utilizing a client contract."
FTC spokesman Frank Dorman said the volume of loan modification scams has significantly increased with the uptick in foreclosures in the past few years.
"While the scams have existed in some form for awhile, as delinquencies and foreclosure filings have risen the opportunity for loan modification and foreclosure rescue scams has increased," he said. "We advise people to avoid any company or individual that requires a fee in advance, guarantees to stop a foreclosure or modify a loan, or advises the homeowner to stop paying the mortgage company. Many of the complaints received by the FTC include not being able to contact the company after paying for mortgage refinance services, not being able to get their money back and not receiving proper help from the company after paying for services."
Jodi said she and her husband were able to stop the foreclosure process after draining their 401(k)s and paying $6,000 in fees to their mortgage lender, but now they are delinquent on their property taxes, $17,000 in debt and depending on payday loans to get by. She said she and her husband are meeting with a bankruptcy lawyer on Thursday.
"It's sad, because if you just looked at our salaries you would think, 'Oh, they're doing great, how could they not survive?'" Jodi said. "But this mortgage lender and this loan modification company, they killed me."

REAL LIFE. REAL NEWS. REAL VOICES.
Help us tell more of the stories that matter from voices that too often remain unheard.