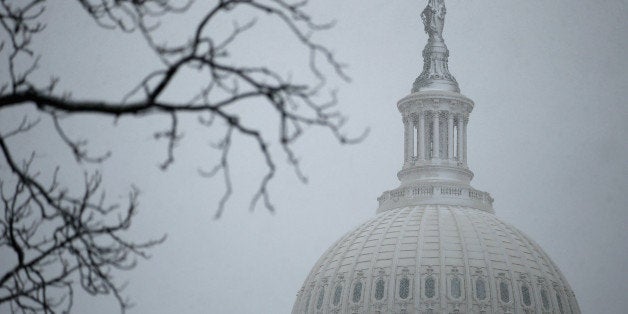 Alas, this is not the case, for if you click on that link above, you'll be taken to the executive summary of the recent report from the Center for Responsive Politics (CRP), which -- while noting that "the lackluster economy" and "a gridlocked Congress" play a role in the decline -- makes the case that these seeming declines are actually attributable to rule changes that essentially allow lobbyists to hide in plain sight as "not-lobbyists."
"The decline in lobbying activity is not a decline at all," states the report, "but rather the side effect of lobbyists and lobbying firms taking advantage of a feature of the law which allows them to continue influencing policy from 'behind the scenes.'"
At issue here are lobbyists who have "deactivated," or as the CRP puts it, lobbying that has "simply gone underground and is being done by individuals who are able to avoid the federal threshold for disclosure" under the prevailing law:
To test this theory, CRP looked at lobbyists who were active in 2011 but not in 2012 and determined where they worked as of early 2013. Our research found 1,732 lobbyists who "deactivated" in 2012. This drop is considerably smaller than the recent peak of deactivated lobbyists in 2008. That year, following the passage of HLOGA in 2007, more than 3,400 lobbyists stopped reporting activity.
In the first analysis of this kind, CRP finds that 46 percent of the active 2011 lobbyists who did not report any activity in 2012 are still working for the same employers for whom they lobbied in 2011 -- supporting the theory that many previously registered lobbyists are not meeting the technical requirement to report or have altered their activities just enough to escape filing. It's possible that some individuals are being less-than-candid about how much time they spend lobbying, which is difficult to judge from the outside, as it is hard to determine the degree to which an employee's duties have changed. But the fact that a near majority of deactivated lobbyists are still with the same organizations suggests that many of the changes we see in the filings may be due to technicalities or minor tweaks in their responsibilities, with the result being decreased reporting.
Roll Call's Kate Ackley was examining the "total lobbying tab for 2011 and 2012" about a month and a half ago, and she concluded at the time that much "of the work influencing government takes place in the shadows, outside of the view of public disclosures." Here's one choice example she elucidated:
In some cases, lobbyists have remained on the job, even with the same firms, but have deregistered, keeping their clients and their work secret. One prominent example is Steve Ricchetti, who stayed with his Ricchetti Inc., although no longer as a registered lobbyist, before joining the Obama administration last year. Lobbyists, of course, can't work for the executive branch -- President Barack Obama banned them -- unless granted a waiver.
The CRP's work brings Ackley some confirmation of her February thesis, and her new piece on the CRP report is a lot of fun to read. Here's my favorite part: "One lobbyist, Mark Smith of the Da Vinci Group, did not appear on 2012 filings but continued to describe himself on Twitter as a 'proud lobbyist.'"
Well, not that proud, I guess.
This story appears in Issue 42 of our weekly iPad magazine, Huffington, in the iTunes App store, available Friday, March 29.
REAL LIFE. REAL NEWS. REAL VOICES.
Help us tell more of the stories that matter from voices that too often remain unheard.
BEFORE YOU GO
PHOTO GALLERY
Biggest Political Hypocrites