 Companies, labor unions and other organizations have spent $2.38 billion on lobbying this year through the end of September, according to data compiled by the Center for Responsive Politics. The data for the rest of the year will not be released until January, but if the fourth quarter numbers are around average, it would be the lowest lobbying total since 2007.
Coupled with the decline in lobbyist money is a decrease in legislative work done by Congress. Just 47 bills have become law this year, according to the U.S. House Clerk's Office, a record low. The current crop of lawmakers has even made the previous Congress look good -- a tough feat, considering it was the most unproductive session since at least the 1940s.
CRP Research Director Sarah Bryner said it was difficult to pinpoint the exact reason for the drop-off in lobbying dollars. There's the weak economy, an administration that has railed against lobbyists and the possibility that much of the influence-peddling has simply gone "underground." In other words, some individuals are still doing the same work without formally registering as lobbyists.
But Bryner said that congressional gridlock was likely a key reason for the decline in lobbying as well.
"We saw a huge spike in lobbying in 2007, 2008, when Congress was passing the health care legislation, the TARP bailout bills," she said. "And then recently, we've seen an end to earmarks, and Congress has done ... very little this year in terms of passing meaningful large legislation. Lobbying, I think, has declined right along with that decrease in productivity."
She pointed out that one area that hasn't seen less lobbying in the past two years is the agriculture sector.
"That is one area where there actually has been major legislation that's moved -- the farm bill," she said. "I think that that kind of indicates that one of the explanations for the decline is a Congress that just isn't moving that kind of legislation very frequently."
"If you're a company or a business or an interest group and you see a Congress that isn't likely to actually do what you hope that they do, you just may choose to invest your resources elsewhere," she added."
Monte Ward, president of the Association of Government Relations Professionals, a group that lobbies for lobbyists, said he advises his members to continue lobbying members of Congress, even when not much legislation is moving.
"That's one thing I've learned after doing this for so many years," he said. "You have to be up there on the Hill constantly, you have to be a presence in order to make sure you're constantly educating members of Congress and their staff about the issues. At some point, they will start to do some things, and you have to be ready to move."
He attributed the drop-off in lobbying not so much to the lack of productivity in Congress, but to hostility toward lobbying in Washington fostered by the current administration. He agreed that many individuals who in the past would have registered as lobbyists, simply don't do so anymore.
"If the administration is discriminating against these people because they're being safe and registering even though they aren't required by law to do so, they look at that and say, 'I'm not going to do so anymore. I'm not required by law to do so, it doesn't behoove me to do that, so I'm going to look at other ways to go about doing my activities while still staying in compliance with the law,'" he said.
Even his own group, formerly known as the American League of Lobbyists, recently rebranded itself, removing the word "Lobbyists" from its name.
House Speaker John Boehner (R-Ohio), meanwhile, insisted on Tuesday that the House has done plenty this year.
"The House has continued to listen to the American people and to focus on their concerns," Boehner told reporters. "Whether it's the economy, whether it's jobs, whether it's protecting the American people from Obamacare -- we've done our work."
The House is scheduled to work only seven days between now and Jan. 7, when members return for the second session of the 113th Congress. The Senate is scheduled to be at work for most of December.
Before You Go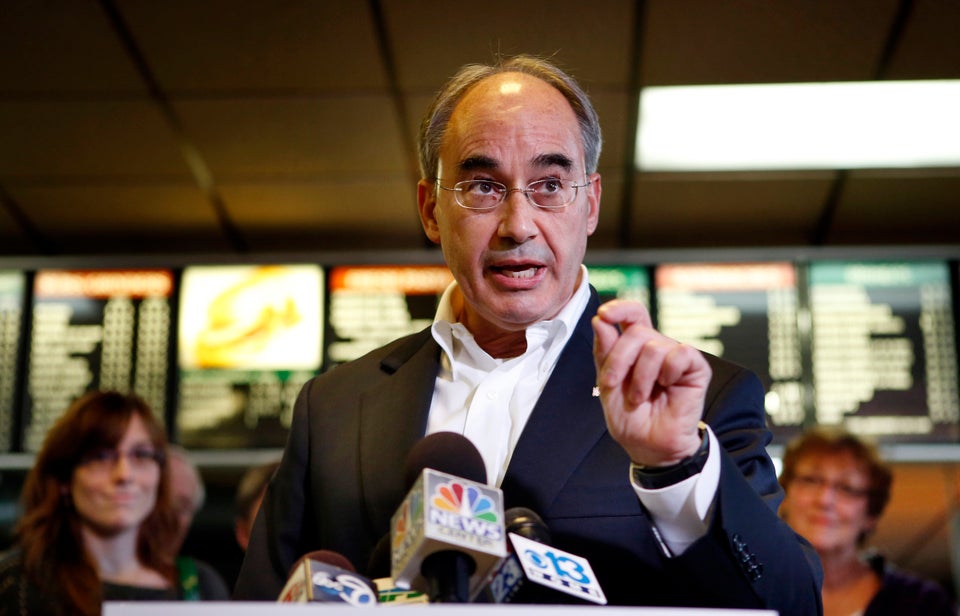 Great Political Names
Popular in the Community