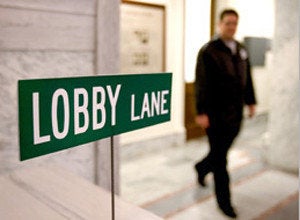 The White House jumped on a story Tuesday morning showing that the firm Akin Gump Strauss Hauer & Feld was hosting a fundraiser on the night of the November elections for the Republican Party's congressional and Senate campaign committees.
The piece, published by Politico, made the case that K Street is positioning itself for an oncoming GOP wave. The White House and the Democratic National Committee (DNC), in contrast, suggested that this was evidence of the GOP leadership confirming an unholy alliance with the special interest community.
Lost in the back-and-forth was the fact that despite hosting an election night fundraiser for the NRSC and NRCC, Akin Gump Strauss Hauer & Feld, has pretty much been bankrolling Democrats for the past year and a half. According to the Center for Responsive Politics, almost three-fourths of the $1.2 million in donations made by employees of the firm in the 2010 cycle have gone to Democratic candidates. That's actually up from 2008, when 64 percent of the firm's donations went Democratic, and in 2006 when 58 percent of the firm's donations went to Democrats.
The actual data doesn't take into account whether it was lobbyists or simply administrative staff making the donations. It also doesn't change the awkward optics of Republican committees attending an Akin Gump sponsored fundraiser (which will raise much more money than individual donations) the night that they're expecting major gains in congressional power. But if the problem here is a conflict of interest, the Democrats have their own.
UPDATE: A DNC official notes, correctly, that neither the committee nor the White House accepts money from lobbyists, including those who work at the firm Akin Gump. The official adds that the significance of the story is that K-Street, at this late hour, is doing its best to cozy up to the GOP, betting that a change of congressional power is coming.
But the fact remains that Akin Gump has been really much closer-aligned with Democrats in this cycle than with Republicans. Sunlight Foundation, which tracks fundraisers for members of Congress, lists far more Democratic-functions sponsored by the firm this past year-and-a-half than Republican-functions.

Calling all HuffPost superfans!
Sign up for membership to become a founding member and help shape HuffPost's next chapter