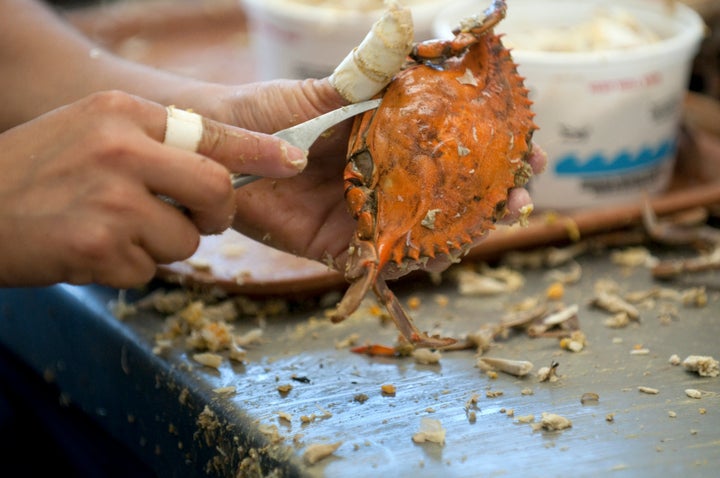 WASHINGTON -- At the end of this month, many of the foreign guest workers employed in low-wage American jobs will be getting a raise, courtesy of a new rule enacted by the U.S. Department of Labor. But business groups are now in a last-minute scramble to kill or at least stall the rule before it goes into effect, claiming the higher wages will make some workers unaffordable.
A host of interest groups representing various industries -- lodging, forestry and seafood-packing among them -- have sued the Labor Department in federal court in Louisiana, alleging the the new rule will make labor costs prohibitively expensive and the H2B guest worker program unusable. The new rule is itself the result of a lawsuit brought by advocates for low-wage workers.
The American Hotel & Lodging Association (AH&LA), a lobbying and trade group for the hotel industry, has even solicited donations to a legal "defense fund" aimed at fighting the new wage rule. According to an email looking for contributions to the fund, the amount needed to roll back the rule before it kicks in is an estimated $300,000.
"Although any contribution amount is welcome, a suggested method for calculating a contribution is $100 per [guest worker]," the email reads.
Shawn McBurney, senior vice president of governmental affairs at AH&LA, says so far the response from members has been strong.
"Frankly, we've been quite surprised," McBurney said. "I don't want to say it's overwhelming, but it's very impressive. There's been a great deal of interest."
The trade groups have also gotten backing in their effort from a bipartisan group of legislators whose districts have businesses that may be impacted by the higher payrolls. Sen. Barbara Mikulski (D-Md.) co-signed a letter to Labor Secretary Hilda Solis last week asking the labor department to rescind its new wage rule and abandon another proposed rule for the H-2B program that business groups have lobbied against.
Maryland seafood companies often fill their crab-picker positions with low-paid guest workers from Mexico. Mikulski says the new rule would be devastating for the industry.
"What they're doing will totally render the program dysfunctional," Mikulski told HuffPost. "I could end up with wholesale closings of the seafood industry. Up and down the East Coast we've got canneries closing."
"Quite frankly, I want my crabmeat to come from Crisfield [Maryland], not Indonesia," she added.
Designed years ago as a way to fill gaps in the workforce for seasonal businesses, the H-2B visa program allows foreign workers to take temporary non-agriculture American jobs. While many industries have come to rely on such workers, the program has drawn criticism from worker advocates who believe it's become little more than a means to cheap labor.
Among the most contentious elements of the H-2B program is how fair wages are determined. For years advocacy groups have criticized the Labor Department for using a methodology they believe sets wages too low. A federal judge agreed, ordering the department to develop a new rule, which was published in January.
The new methodology will go into effect after Sept. 30. Some businesses say that wages will skyrocket as a result, forcing them to abandon the H2-B program and look elsewhere for affordable workers. Even the more modest boosts, they say, could put guest workers out of reach for them.
"Going from $9.50 to $10.83 an hour may not sound like that big a deal, but your labor costs just went up 12 or 14 percent," says Greg Dugal, executive director of the Maine Innkeepers Association, which represents hotels, motels and bed-and-breakfasts. "That's not doable. Something has to give."
"They can't afford these inflated wages," McBurney says of small-business owners. "They bear no relation to the economics of the business."
Just how much the wages will climb is a matter of dispute. The industry groups' lawsuit cites some astronomical rises -- doubling in certain cases -- but Art Read, general counsel for the advocacy group Friends of Farm Workers, says the lawsuit cherrypicks situations and gives misleading calculations.
"They've been getting away with underpaying these workers for years," said Read, who was involved in the lawsuit that forced the Labor Department to redraw its rules. "If you've gotten used to being able to have a very cheap workforce, having to compete with market wages is maybe something you don't want to do."
Read says that in the case of Maryland seafood workers, for instance, the wage will probably rise from about $7.25 per hour now to about $9.24 after the new rule goes into effect. The former rate is the same as the federal minimum wage, while the latter rate, incidentally, roughly matches the living wage rate for Maryland, as defined by the state.
H2-B guest workers are some of the more vulnerable workers in the seafood industry, according to Rachel Micah-Jones, executive director of Centro de los Derechos del Migrante, a workers' rights law center based in Mexico. She says many workers end up earning less than minimum wage because they get paid by the pound of seafood handled, and many of them are afraid to report workplace abuses because they aren't U.S. citizens and can work only for the employers listed on their visas.
Micah-Jones says that the low wages paid to guest workers help drag down wages for everyone, including American workers, and that the wage raises are long overdue. She also says she was disappointed to see Mikulski sign on to the letter.
"We thought maybe she would be more supportive of protections for this workforce," Micah-Jones said.

Popular in the Community