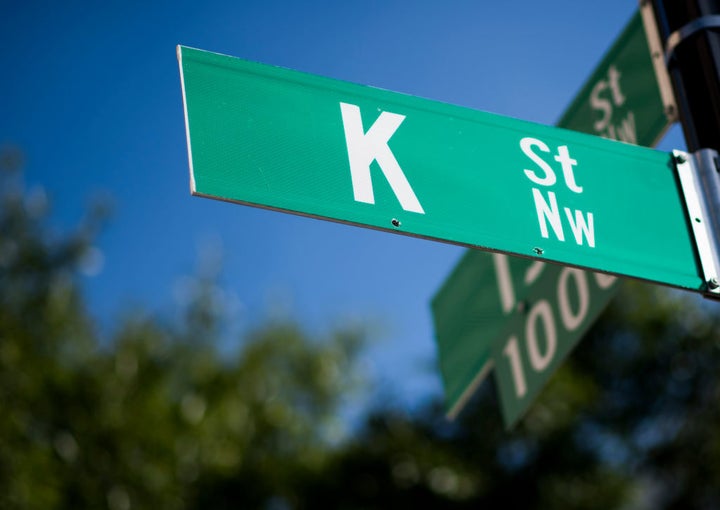 Washington lobbying groups spent less money and reported fewer lobbyists during the third quarter of 2017 than in any quarter since at least 2008, when Center for Responsive Politics began tracking the totals.
Congress spent the summer considering Obamacare repeal, a tax overhaul and immigration reform, yet controversy failed to inspire an expected uptick in Washington lobbying.
From July 1 to September 30, companies and organizations spent about $754 million on lobbying, a quarterly low. There were also 9,200 registered lobbyists, or about 800 fewer than the previous three-month period.
Third-quarter lobbying is typically the slowest quarter in Washington as legislators leave for August recess, but the decline in both spending and registered lobbyists was dramatic even for the slow months.
Despite the third-quarter dip, however, 2017 spending is on pace to pass 2016 totals due to an influx of spending during the first six months of the year. Overall, the lobbying world has spent about $2.43 billion this year compared to $2.38 billion at the same point in 2016.
More than 8,500 companies, municipalities, trade associations and other organizations have reported federal lobbying this year – from less than $5,000 by the city of Murfreesboro, Tennessee to $58 million by the U.S. Chamber of Commerce, the perennial top spender.
So far this year, the top 20 lobbying groups have spent about $310 million of the $2.43 billion total.
The Chamber of Commerce, National Association of Realtors, Pharmaceutical Research & Manufacturers of America, Blue Cross/Blue Shield and the American Medical Association were the top spenders in the third-quarter as well as 2017 overall so far.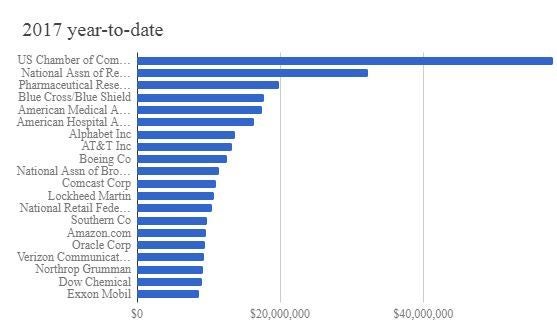 While overall spending declined, a few companies dipped deeper in their pocketbooks during the third quarter. New Shipper Bond Petitioners Coalition, for example, spent $550,000 last quarter after $340,000 in the first half of 2017 for lobbying activity related to "enforcement of antidumping duty orders and collection of duties secured by 'new shipper' customs bonds."
Less spending on lobbying means less work to go around for professional lobbyists. However, despite the sluggish third-quarter, the top lobbying firms continued to get plenty of work.
Akin Gump Strauss Hauer & Feld was the top lobbying firm in the third quarter with $9.2 million in billings, bringing its total to $28.5 million reported in 2017 so far.
Other notable firms include Roberti Global, which reported taking in $1.6 million in the third quarter after reporting about $2 million in the first six months. That was the largest quarterly increase by any firm.
Among industries, pharmaceuticals and health products spent $62.2 million, the most by any industry. The insurance ($38.1 million) and electronics manufacturing and equipment ($35.5 million) industries were the second and third highest spenders.
Turning from industries to broader economic sectors, third-quarter spending in 2017 compared to 2016 varied widely. The communications and electronics sector increased its spending more than $6 million over last year's third quarter, while the financial, insurance and real estate sector cut spending by more than $10 million.
Related
Popular in the Community