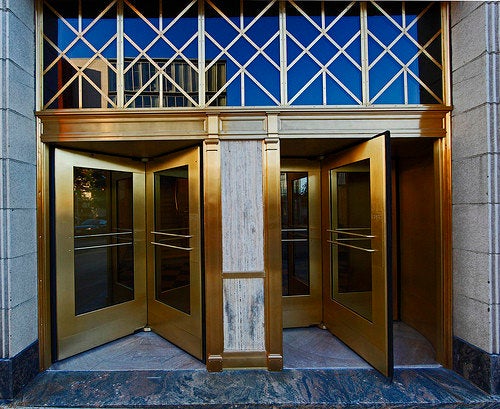 I know this is going to come as a shock to you, but apparently, there exists a "revolving door" between Capitol Hill lawmakers and the lobbyists that tell those lawmakers how to write their laws. And in recent months, many former lobbyists have returned to haunt the halls of power in person. And they often take pay cuts to do so, according to The Hill:
Some lobbyists who went to work on Capitol Hill this year took a pay cut of about $100,000, an analysis by The Hill shows.

A review of financial disclosure reports for lobbyists who were hired as congressional aides in 2011 reveal that they were paid hundreds of thousands, and in some cases millions, of dollars in salaries, bonuses and severances while working on K Street in 2010.

Many of those lobbyists agreed to substantial reductions in their annual salary for a chance to work for members of Congress, public records show.
These people must really love their country, right?
Ivan Adler, a principal at the McCormick Group, said lobbyists return to Congress not for the salary but because it can help polish their résumés.

"If they have a chance to go back to the Hill to work for leadership or in a senior role at a substantial 'money' committee, it's an opportunity to embellish their backgrounds and thus become more valuable," Adler said.

He said a legislative aide who left Capitol Hill for a midlevel lobbying job at a corporation or trade association could move up a rung in the congressional hierarchy to a position such as a chief of staff or senior aide to committee. That experience will make them much more valuable should they choose to return to K Street, said Adler, a headhunter for lobbying jobs.
Correction: lobbyists love using their influence to procure wealth, so some willingly move from being super-affluent to just affluent in order to beef up their status, refresh their connections, and then return to K Street to make even more money. And while they're on Capitol Hill, they can naturally help their old paymasters by influencing their new ones. Though we're told that never, ever happens, probably:
The House Energy and Commerce Committee has been a popular destination for ex-lobbyists. At least four other individuals who were registered to lobby at some point in 2010 now work for the committee: Gary Andres, formerly of Dutko Worldwide; James Barnette, once of Steptoe & Johnson; David McCarthy, who worked for Algenol Biofuels; and Michael Bloomquist, who lobbied while at Wiley Rein.

A spokeswoman for the House Energy and Commerce Committee said Rep. Fred Upton (R-Mich.), the panel's chairman, requires his staff not to work with their former employers.

"Chairman Upton has a policy that goes above and beyond the requirements of the House rules and requires staff to recuse themselves from working on issues that specifically affect a former employer," said Alexa Marrero, the committee spokeswoman.
It's too bad for former Illinois Governor Rod Blagojevich that he didn't think of using his political connections to enrich himself in this fashion.
At any rate, The Hill reports that all of the lobbyists-turned-Congressional aides who went on the record insist there's absolutely nothing shady going on, they promise.
Calling all HuffPost superfans!
Sign up for membership to become a founding member and help shape HuffPost's next chapter