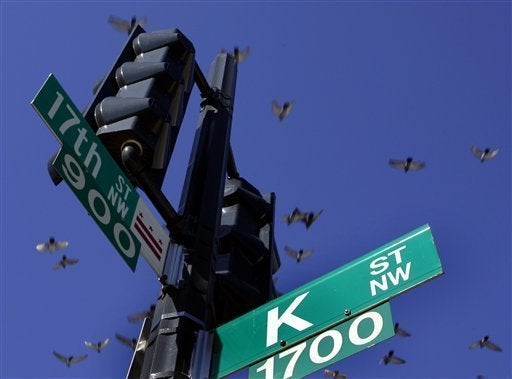 A strange bedfellows coalition of non-governmental organizations is pushing back hard against one of the Obama administration's most stringent ethics policies, declaring it counterproductive and possibly unconstitutional.
Citizens for Responsibility and Ethics in Washington (CREW), the American Civil Liberties Union (ACLU) and the American League of Lobbyists (ALL) hosted a conference call on Tuesday to persuade the president to reverse a rule that bars executive branch officials from having phone or face-to-face conversations with registered lobbyists on matters relating to the stimulus. And while, on the surface, the effort seems at odds with the prevailing winds of public opinion, legal observers say that, at least in a court of law, the groups have a case.
"My hunch is that they will lose their lawsuits," said Tom Gerety, a constitutional law professor at New York University. "But it is a shrewd move on their part and a constitutionally valid move."
Certainly, the Obama administration's policy has touched a sensitive nerve within the lobbying community. In an email sent last week to fellow lobbyists, Dave Wenhold, President of ALL, made the rather dramatic case that he and others were being discriminated against and demonized, illegally.
"As you know, over the past two months there has been a constant barrage of attacks on the lobbying community by the new Administration. As President of the American League of Lobbyists, I want to assure you that the Board of ALL is continuously dealing with these issues, analyzing options and responding aggressively to these attacks. The latest Executive memo... strongly limits our rights to not only serve our clients, but also our fundamental right to equally petition the government.

We have heard from many concerned members who are outraged about this latest exclusion and feel that the rhetoric and demonization of the profession has simply gone too far. There is an emerging pattern of industry segregation, discrimination, and actions that skirt the boundaries of our Constitutional right to simply "do our jobs." Enough is enough!

It is time for the lobbying profession to come together and fight back against these industry-specific attacks and demonstrate that the lobbying profession is an integral part of the solution; not the problem."
CREW's participation in the call adds another interesting element. The good government organization, while not rigidly anti-lobbyist, has produced some of the hardest hitting reports about the seedy underside of influence peddling in D.C.
In this case, however, it seems that they too believe the White House's ethics policies have gone a bit too far. At issue is an Executive Order issued by Obama's chief counsel, Greg Craig that limits to written communication the ability of executive branch official to communicate with a lobbyist on the stimulus.
"An executive department or agency official shall not consider the view of a lobbyist registered under the Lobbying Disclosure Act of 1995, 2 U.S.C 160 et seq., concerning particular projects, applications, or applicants for funding under the Recovery Act unless views are in writing," reads the law. "All written communications from a registered lobbyist concerning the commitment, obligation, or expenditure of funds under the Recovery Act for particular projects, applications, or applicants shall be posted publicly by the receiving agency or governmental entity on its recovery website within 3 business days after receipt of such communication."
Lobbyists and others contend that the language is overly restrictive on their ability to petition the government and denies the administration "expert" voices on specific topics. Whether the executive order is unconstitutional is debatable.
"There is no question that this is discriminatory, but there is good discrimination and bad discrimination," said Tom Gerety a constitutional law professor at New York University. "The difficult issue here is whether this is necessary and justified or whether it is excessive and an overreaction... So the question in my mind is: is this a kind of imposition on the freedom of lobbyists to have contact with the officer of the government, is it a burden on their free speech? I guess, my own view on that is that it seems that it is an imposition. But it seems like the issue of transparency outweighs it."
Calling all HuffPost superfans!
Sign up for membership to become a founding member and help shape HuffPost's next chapter