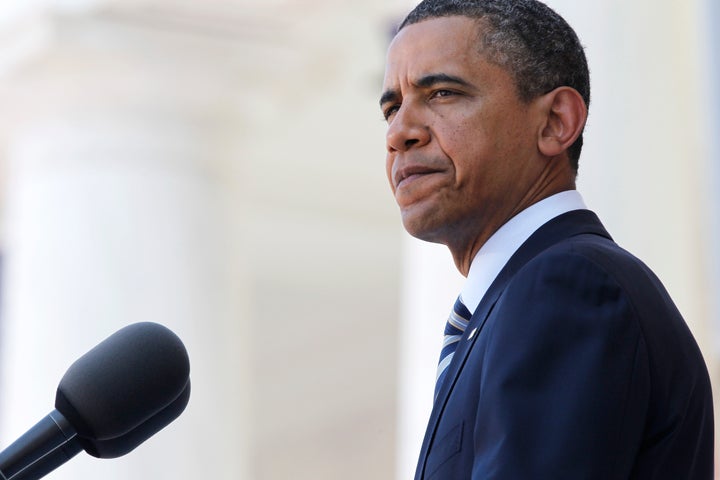 WASHINGTON -- There are some occasions when a politician is better served facing opposition from a political entity than earning its endorsement.
On Wednesday, President Barack Obama experienced one of those occasions. The Obama administration received a stern letter from the American League of Lobbyists firmly warning it to dispose of a draft executive order that would force federal contractors disclose their donations.
"Since your announcement to seek the Presidency you have consistently attacked the honorable profession of lobbying," the letter, signed by the group's president Howard Marlowe, read. "Lobbyists play an important role in the legislative process, serving as educators to elected officials. It is in the best interest to government to have informed individuals who serve as experts in every arena of public policy. Our ability to access and navigate the legislative process and push issues forward through a bureaucratic cluster is a vital service to the nation. The Draft Order would inhibit one of the most vital tools in the advocate's arsenal by creating fear of retribution for political donations."
"Making this kind of disclosure a part of the bidding process tarnishes a competition based on qualifications, adds an unneeded level of bureaucracy, and endangers the protection of free speech afforded to all Americans by the First Amendment of the Constitution," it read earlier.
Having the entity that lobbies on behalf of lobbyists come out in opposition to your draft executive order is not, as political resistance goes, the most daunting hurdle. If anything it could give the White House the type of political relations hook to sell the contracting disclosure policy to the public and skeptical members of Congress -- both Republican and Democratic.
"There is a presumption on the part of Republicans that it would be used by the contracting officers to hurt contractors," Rep. Elijah Cummings (D-M.D.), the ranking member of the House Oversight Committee and a supporter of the executive order, told the Huffington Post Wednesday. "That is a hell of an assumption when the executive order, the draft, and I emphasize draft, you need to say that 50 million times, basically makes it clear that that is not the case. This is about letting the public know what the hell is going on."
That said, the American League of Lobbyists' letter does portend a ramped up campaign -- both implicit and overt -- to get the president to reverse course. Lobbyists may be politically unpopular, but they also are tasked with charting out the best course of action for their clients, which includes determining which politicians or campaign committees they should direct donations. In that regard, the Marlowe letter is semi-ironic: raising the specter of political backlash if the White House pushed an executive order that, he insists, will create a contracting process driven by political backlash.
BELOW IS THE FULL LETTER: