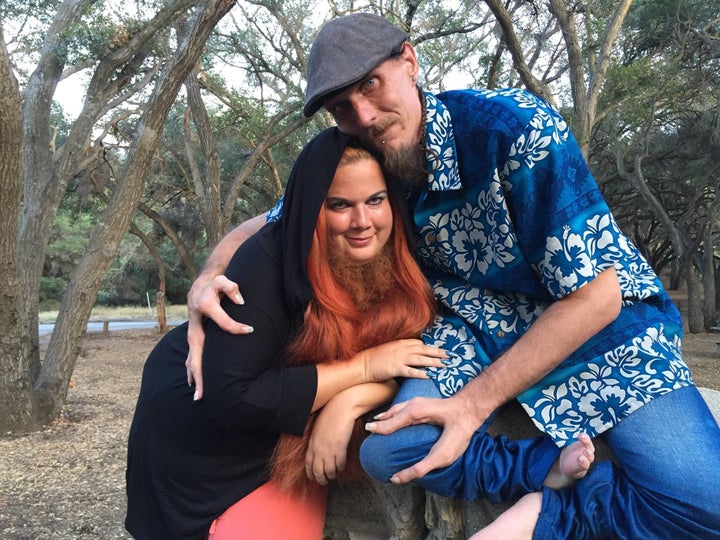 She is best known as a bearded lady. He calls himself "Lobster Boy," because of his claw-like hands.
Together, they're just another happy couple getting ready to celebrate Valentine's Day. They just happen to have fallen in love while working at the Venice Beach Freakshow in Los Angeles.
"There is someone for everyone. It is just knowing when you find them," Grady Stiles III, 39, told The Huffington Post.
He and Jessa Olmstead had known each other for years, but the love affair has heated up in recent months, as they began working more closely together at one of America's premiere sideshows. They enjoy watching movies together, eating sushi or just cuddling.
"The man makes me laugh," Olmstead, 30, told The Huffington Post. "We were cool from the start."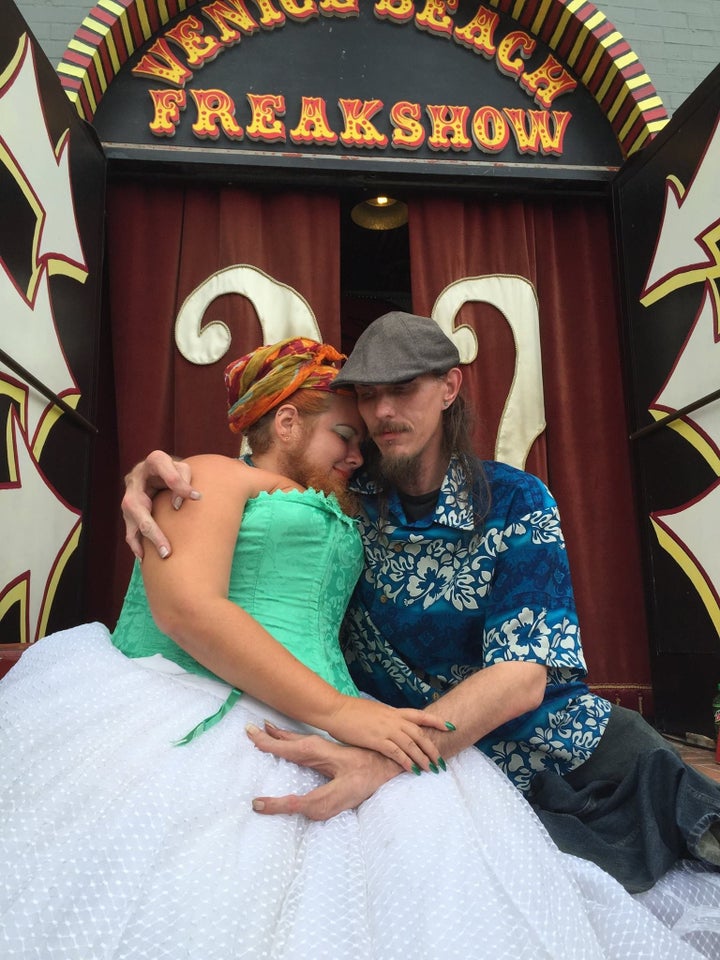 The two met when Stiles appeared in an episode of "Freakshow," an AMC reality show. Both of them felt an immediate connection and the possibility for something deeper.
"The first time I saw Jessa, I was amazed that she can grow a bigger beard than me," he told HuffPost. "It didn't take long for me to know we were meant for each other."
Todd Ray, who runs the Venice Beach Freakshow, said Olmstead and Stiles are a good match.
"Jessa is a bubbly, happy, nurturing person with a fun devious side. She loves history, especially the Renaissance," Ray said. "Grady is nice, caring, and just a genuinely good person. He loves to play video games and go to comic book conventions."
Ray said the couple had "a curious spark" from the day they met.
"First, it was flirting; but recently, when I brought Grady back out from Florida, it turned much more romantic," Ray said. "They made it 'official' this month…..but it's been stewing for a while."
Olmstead loves the way Stiles treats her in public.
"On our first 'official' date, we had a beautiful time on the beach and went to a great bar," Olmstead said. "I felt like he was showing me off."
Stiles admits he's smitten, so much so that he's planning to move from Florida to California in April to be with Olmstead.
"All it took was spending time with her," he said. "The more we're together, the more it feels right."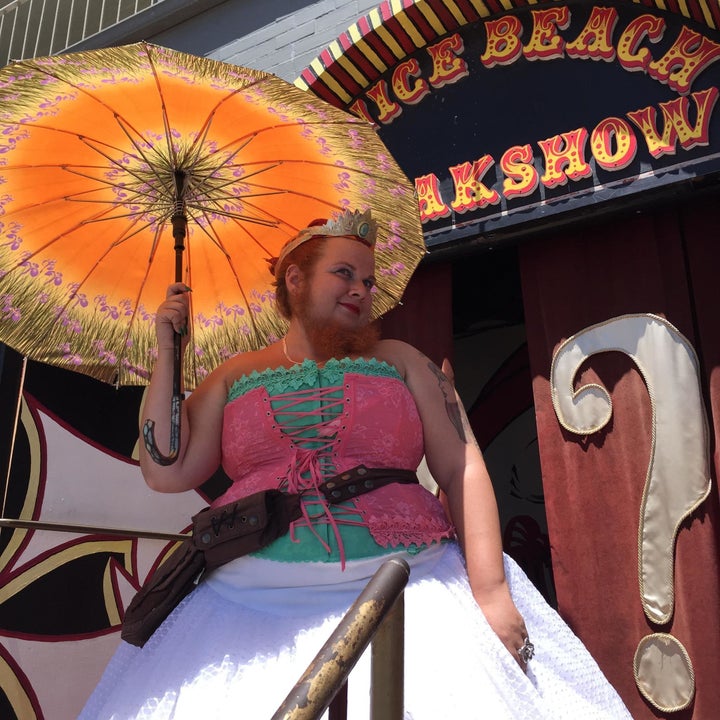 The new love affair is miles away from Stiles' early life.
"I'm not a fan of my dad as a person," Stiles III said on "Freakshow" back in 2014. "My father was racist [and] abusive. When I cried, [he was like] 'I'll give you a reason to cry.'"
The younger Stiles left the sideshow circuit for many years, until Ray contacted him to appear on "Freakshow."
Now, Stiles plans to work with Olmstead at the Venice Beach Freakshow.
"I never cared if someone had a similar background as myself, but it is nice, though," Stiles said.
Olmstead feels the new relationship works because they both learned to love themselves.
The couple has not discussed marriage yet, but Olmstead giggles at the thought of raising children together.
"Yeah, I'd do it," she said with a laugh.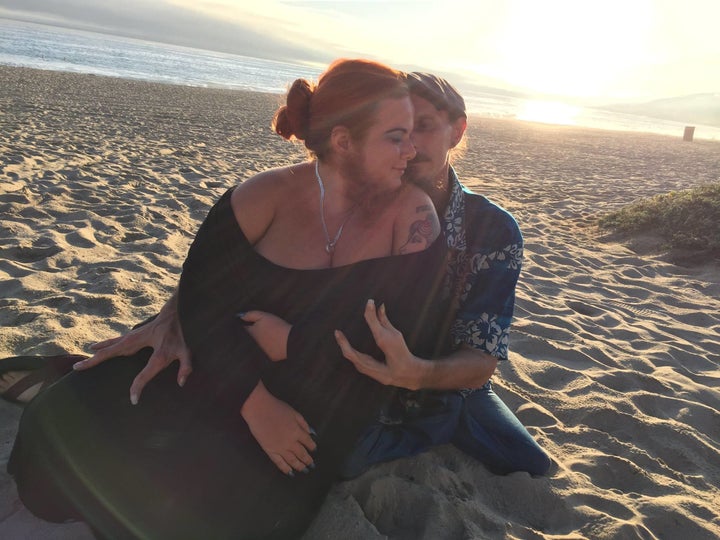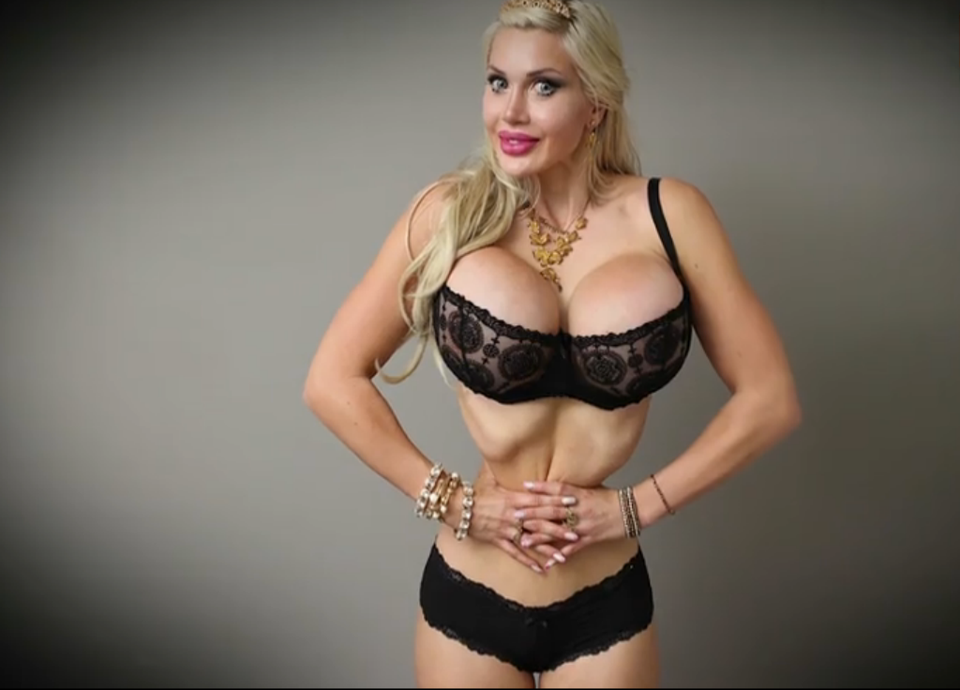 Amazing Anatomies
Related
Popular in the Community