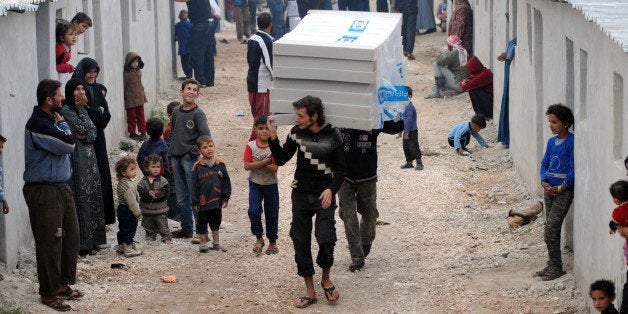 LONDON, March 13 (Thomson Reuters Foundation) - Local groups outside the formal aid sector, many formed "around the kitchen table," are helping to fill gaps in the humanitarian response in Syria, reaching communities big agencies cannot access, a leading think tank said on Friday.
Small charities, activists and diaspora organizations, while lacking access to international funding, are the only ones delivering aid in certain parts of Syria, said a report by the London-based Overseas Development Institute.
"Armed groups in Syria are often more willing to negotiate access with local and diaspora groups than international aid agencies as they share personal and tribal contacts and often come from the same communities," Eva Svoboda, the author of the report, said in a statement.
The report said a new aid model had emerged from the four-year-old conflict in Syria and international agencies and local groups should find better ways of working together.
"Although it might be difficult to trust new and 'non-traditional' humanitarian providers, it is important for international aid organizations and donors to ... form equal partnerships with those that are genuinely seeking to provide aid to war-torn areas," said Svoboda.
"Local organizations are the face of the new aid model, one that is sorely needed to best serve those in need."
Around 600 to 700 local humanitarian groups have been created since the start of Syria's conflict in March 2011, said the report, citing U.N. figures.
The reputation of some diaspora groups has been tainted by high-profile cases of militant fighters who have traveled to Syria posing as humanitarian workers.
But as the massive humanitarian needs in Syria far outstrip what each organization can do, aid organizations must explore new ways of joining forces, said the report.
Since the start of Syria's civil war more than 3.9 million refugees have fled the country. Some 7.6 million people have been displaced within Syria and 12.2 million people, more than half the population, are in need of aid, U.N. figures show.
The United Nations says it needs $2.9 billion in 2015 to cover humanitarian needs in Syria.
The report said that although local groups play a vital role in responding to needs that would be otherwise "only met inadequately or not at all," securing funding has become a challenge as donations from Syrians abroad start to dry up.
Estimating the scale of those donations is difficult because many donors are reluctant to disclose the name of recipients for security reasons. (Reporting By Magdalena Mis; Editing by Ros Russell)

Popular in the Community