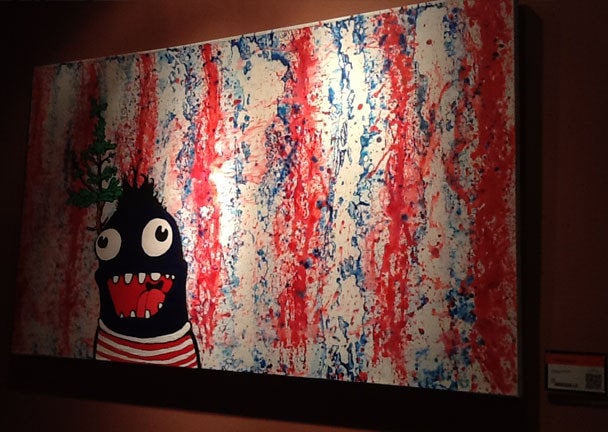 Today's new crop of companies targets every market under the sun, but they often remain exclusively focused on creating an online space, using particular subject matter of shared interest to build a community. In fact, few of these companies interact with real physical space, choosing to build web presence and forgo the network of underutilized, high-traffic venues that are already available.
But some start-ups still see opportunity in our physical spaces. For example, have you ever wondered how art is selected for the walls of hotel lobbies and hallways? Or an airport? Or a hospital? Or a local café? Or any public space for that matter? I'm a designer and I cannot answer this question.
Imagine my delight upon discovering IndieWalls, while eating breakfast at The Grey Dog, University Place in New York City. I noticed the walls were decorated with fun and engaging art pieces. Just above me, I saw a piece that really caught my eye, so I scanned the badge to its side, and discovered it was named Red, White and Tree by artist Pablo Albilal.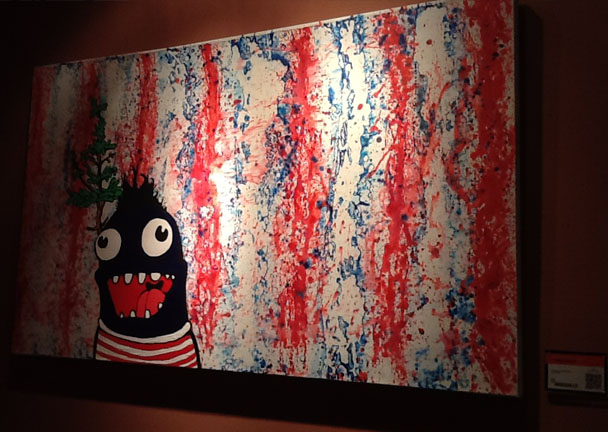 Red, White and Tree by artist Pablo Albilal.
Indiewalls deserves all the credit for my discovering this artist at The Grey Dog. As an emerging start-up headquartered in New York City, IndieWalls intends to revolutionize the process of art viewing, buying, and all the adjacent social components of that community by engaging and integrating both physical and digital spaces. I was fortunate to interview Gavriel Wolf, IndieWalls CEO, who shared the company's backstory and aspirations.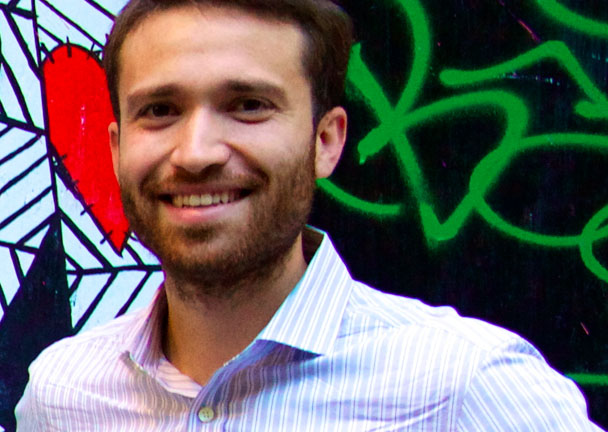 Gavriel Wolf, CEO at IndieWalls.
Jacob Slevin: Please describe IndieWalls in 140 characters or less.
Gavriel Wolf: An online marketplace that connects artists with local venues by curating rotating exhibitions.
JS: Can you express how IndieWalls might potentially change our notion of art galleries?
GW: We help artists show their work on empty walls throughout New York City, creating the curated experience of an art gallery with an additional and unique versatility. IndieWalls challenges the notion that you can only find art in a white cube in Chelsea; we're driven by the philosophy that experiencing artwork, of all things, should be democratic.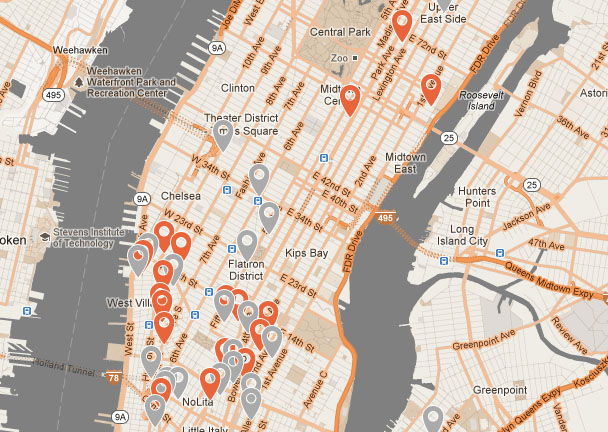 Indiewalls Map, NYC Exhibitions.
Our collectors are art-lovers that find the gallery world, for whatever reason, inaccessible, but at the same time are dissatisfied with the kind of mass-produced works usually labeled "home décor" at places like Ikea. We don't think the enjoyment or collection of art is a luxury, but an activity that anyone can engage in, no matter what their budget. By utilizing public space, we are able to represent affordable artists that are underserved by the traditional gallery system, which must figure in the high cost of rent and commissions into its representation.
JS: How did you come to partner with participating venues?
GW: We noticed early on that simply serving as an online art gallery would not be enough to meet our goals. We began to imagine the thousands of walls that surround us every day as places for someone to discover a new favorite artist. Through partnerships with local venues we envisioned a way to build a community around this concept, elevating the idea of "café art" and helping create eye-catching and fun spaces that boost a venue's traffic and engagement.
Overall, our model has a wide impact: artists gain exposure, venues generate buzz and beautify their spaces, and collectors enjoy a unique art experience at the places they frequent. This new context for art helps buyers better imagine living with this work, and we make it easy for them to do so by placing QR codes near the work that allow art to be purchased on-site or online. We see the age of mobile facilitating the democratization of the art world, and we hope this newfound flexibility will further empower individuals to look outside the traditional gallery format for their art collection.
JS: What are some success stories?
GW: IndieWalls works with a range of venues. These include restaurants, cafes, and hotels, to name a few. Different types of venues need different types of artwork. Take The Bean on 2nd Avenue -- best chai latte in the city, by the way. We helped connect the owners with local artist Nina Boesch. Not only did we sell out most of the show, but also Nina received significant attention from the media, generating press in The Daily News, which led to a piece being sold to someone in Rome!
We also worked on a summer show at the TriBeCa Grand Hotel exhibiting artwork from up and coming artist Brian Ermanski show was also a big success -- not only because the opening reception drew about 200 people to the hotel, but also because we sold several of the pieces throughout the summer. The hotel was happy, Brian was happy, and we were happy!
Finally, we just put up an exhibition at Prime at the Bentley Hotel. The view is incredible, overlooking Roosevelt Island and the Queensboro Bridge and it is complemented by beautiful exhibition by Miriam Stern and J.J. Garfinkel. The exhibition has already been noted by the NYPost, which is great exposure for the both the artists and the restaurant.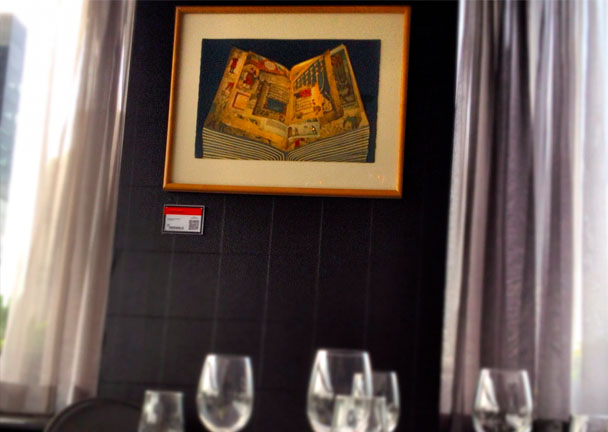 Miriam Stern's work at Prime at the Bentley Hotel.
JS: Congratulations regarding the Dream Downtown. What do you think piqued interest for them most?
GW: There's a reason the Dream Downtown is recognized as one of the hottest hotels in the city, even after only a year of operation. First off, you can see from the hotel design itself that their team, and owner, takes art and architecture very seriously. And the progress they've made in just a year -- in nightlife, cuisine, events, etc. -- speaks volumes about the Dream's ability to create unique experiences, both for tourists and for local New Yorkers.
An IndieWalls art program is now going to be another one of those unique experiences. The hotel will now have a highly-curated, locally-sourced art exhibit to attract discerning travellers, while also creating substantive engagement with the local New York artist community. The team at the Dream Downtown is particularly sharp and innovative, and they realized the incredible branding and marketing opportunity here right when we began speaking to them.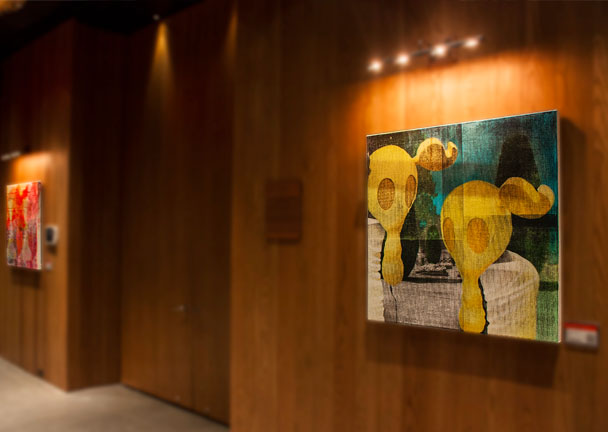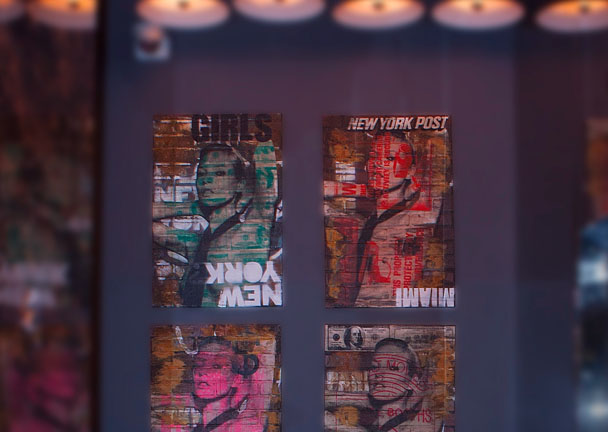 Top: Alicia DeBrincat's work at Dream Downtown. Bottom: AVone's work at Dream Downtown.
I connected with Brendan McNamara, Senior VP Brand Development, Communications and Sales at Hampshire Hotels + Vikram Chatwal Hotels the parent company that owns the Dream Downtown. McNamara comments:
I think what we found most appealing about working with IndieWalls was that they all at once allowed us to give relevant emerging artists a venue in which they could co‐mingle with works from established artists and at the same time give us the ability to offer a constantly evolving and dynamic installation in our spaces. Hotels are a living, breathing and ever changing entity and for us, it's incredibly important to keep step with the pace that the public sets for us.

And perhaps that's what I'm most captivated by myself as well, the notion of temporary design and the unavoidable evolving perception of the same space. Whereas public spaces notoriously feel generic, uninspired, and without ownership, IndieWalls offers an enthused solution that I hope will infuse new life into public spaces desperately in need of it.
Calling all HuffPost superfans!
Sign up for membership to become a founding member and help shape HuffPost's next chapter