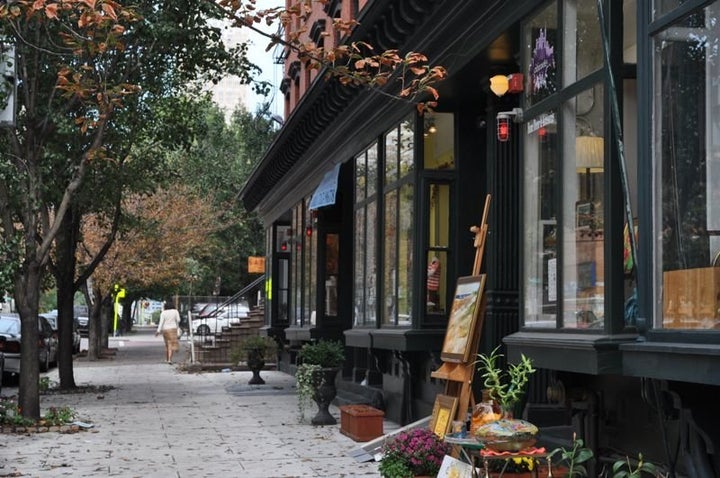 If you're not looking for it, you might not notice what makes Candice Osborne's Jersey City neighborhood different. Like so many other newly developed areas of American cities, it is filled with glass-clad condos stretching dozens of stories into the sky.
But as Osborne and I walk around, she points out what isn't there: no Starbucks, no CVS, no Chase Bank. Instead, on the ground floor of Osborne's building, there's an independent coffee shop called Beechwood Cafe, a hair salon, a public school and Downtown Pharmacy ― where Osborne picks up a packet of jalapeño-flavored Mary's Gone Crackers, her new favorite snack.
"They don't carry this kind of stuff at CVS," she says. The 39-year-old digital strategist can also get an omelet with whatever she wants at Beechwood and treats for her dog, things she couldn't grab at a Starbucks.
"It's little things," she says. "But they're indicative of the fact that they understand the neighborhood."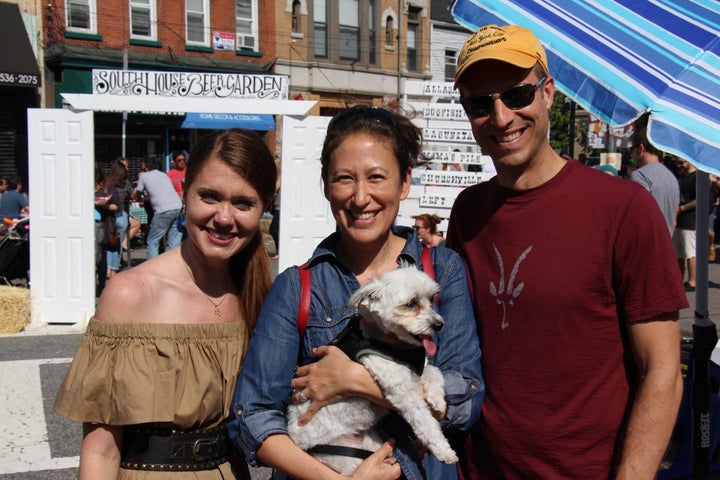 There is a reason for the absence of big chain stores, also known as formula businesses, in this part of Jersey City. In May 2015, the Jersey City Council ― with the help of Osborne, who was on the council at the time ― voted on an amendment to the city's development code that in effect banned most chains from newly developed areas of the city.
Unsurprisingly there was pushback, with pharmacy giant CVS threatening to sue the city after being denied the right to open a branch near Osborne's building under the new rules. But the local residents and businesses I spoke to when visiting the area support the restrictions, saying they've been successful at helping keep out big business.
The area certainly feels a lot less like a bedroom community and more like a neighborhood. On our 10-block walk around the Paulus Hook neighborhood, for example, we bumped into three people, all small-business owners, with whom Osborne is friendly.
"It feels like a small town," Terri Acosta, who owns Canine Canteen, tells us. "It's like everybody knows each other."
I envy Osborne. I grew up directly across the Hudson River, in Manhattan's West Village. There, nearly every independent business has been replaced by high-end chains, and I no longer know most of the people I used to interact with. It feels dead.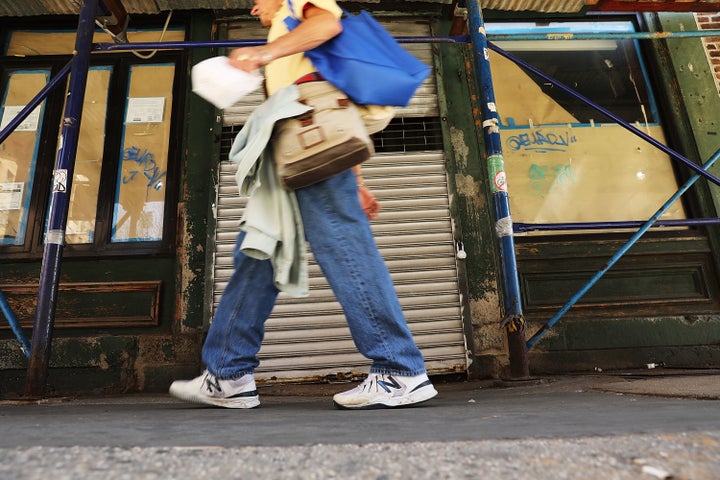 Chain stores have taken over cities in the past few decades. In the 1980s, independent businesses ― defined as those with fewer than 10 locations ― accounted for about half the goods sold to Americans. Today that number has fallen to about one-quarter, according to the Institute for Local Self-Reliance (ILSR), which helps develop and lobby for policies that support strong local economies and challenges concentrated corporate power.
As that number has declined, towns and cities have found innovative ways to push back, including through the kind of "formula business restrictions" implemented in Jersey City. Those guidelines limit the number of chain stores that can operate in a particular area.
Jersey City's restriction is limited: It applies only to newly redeveloped areas, and it still allows up to 30 percent of retail space to go to chains. But that doesn't mean it hasn't had an effect.
Ariel Zaurov, who owns the two Downtown Pharmacies in Osborne's neighborhood, believes he would likely be out of business without the protection. "When they passed the law, it was the first time I believed regular people could have a voice," Zaurov says.
Even Zaurov's competitor Bellande Jean-Baptiste, who owns a smaller pharmacy a few blocks away in a part of the city not protected by the chain restriction, appreciates it.
"CVS is a threat. They try to come in, buy out your patients, and then you go away or you go work for them," he says. "I would rather have Ari, because we're in the same predicament."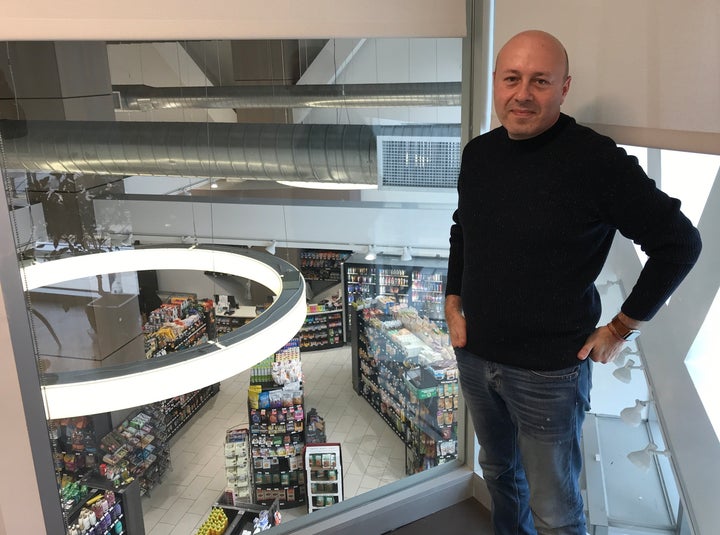 According to the ILSR, more than 30 municipalities have implemented formula business restrictions in the U.S. One of the big pioneers is San Francisco, where restrictions were enacted in 2004 and won the support of a public ballot measure in 2006. Chains are limited in nearly every neighborhood in the city apart from its downtown business district. And while the city's rule doesn't ban chains outright, it requires each one to go through an application process during which locals can voice their opinions and vote on whether the chain will add anything to the neighborhood. The city planning department gets a say too.
"Let's say it's a Subway, and they want to come into a low-income neighborhood, and there are only expensive independent sandwich shops, then that [Subway] is serving a unique niche," says AnMarie Rodgers, San Francisco's director of citywide policy.
While most of the chain applications end up being approved, the restrictions are still "very effective," says Rodgers, in part because the application process deters chain businesses from applying to move in in the first place: A 2014 study found that only 12 percent of stores in San Francisco are chains, compared with 32 percent nationally.
Norma Garcia, policy director at the Mission Economic Development Agency, grew up in the historically Latino and now rapidly gentrifying Mission neighborhood of San Francisco.
"If you don't leave San Francisco, you don't realize how homogenous the rest of the world is," she says. "If you leave, you see mall after mall, and realize what a wonderful city [San Francisco] is, and that's because people have taken care to protect it."
However, there may be some unintended consequences of the restriction. Sean Quigley, president of local neighborhood group Valencia Corridor Merchants Association, says that while it has helped keep chains out, rents are still rapidly rising, so businesses are skewing toward serving the wealthy.
Tom Angotti, a professor of urban planning and policy at Hunter College, agrees formula business restrictions are not a panacea, especially for small businesses that serve lower-income residents.
"U.S. cities have very little planning for commercial establishments," he says. "All they do is zone enormous swaths of the city and let the chips fall where they may. They leave it to the market."
Angotti says urban planning departments could exert more control over exactly what kinds of businesses go into any given commercial space, or allow local communities more of a say over which businesses are allowed to move in and which are not. Commercial rent control ― i.e., limiting the amount landlords can charge tenants ― could also help, he adds.
According to Stacy Mitchell, co-director of the ILSR, chains often win out over local businesses not only because they can afford more rent but also because banks will often finance lease deals only with companies they know, and big real estate firms will often approach only chain tenants to fill vacant spaces. Still, Mitchell believes formula business restrictions can go a long way toward keeping small businesses alive.
"There are all these complicated things going on behind the scenes with bank financing and commercial brokers that disadvantage independent businesses, and [these restrictions] can help rebalance the market a little," Mitchell says. "And rebalancing that market can have a big effect."
For more content and to be part of the "This New World" community, join our Facebook Group.
HuffPost's "This New World" series is funded by Partners for a New Economy and the Kendeda Fund. All content is editorially independent, with no influence or input from the foundations. If you'd like to contribute a post to the editorial series, send an email to thisnewworld@huffpost.com
Popular in the Community