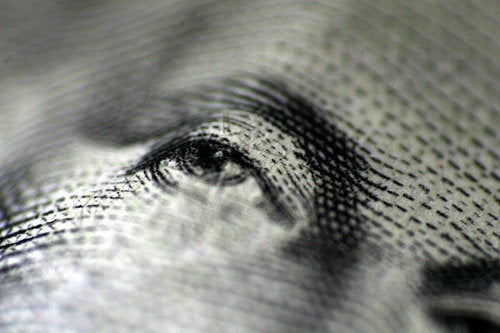 If one could reduce the point of all the massive government planning and intervention and bailouts down to a single pressing need, it's this: we must take action in order to get the banks lending again. MUST GET BANKS LENDING! With the credit market frozen and capitalization gaps a-yawning, the taxpayer needed to feed the beast in order to save it, and save all the car loans, home loans, business start-up loans, and students loans that would travel in it's wake.
Of course, that's exactly how TARP was sold by Hank Paulson -- the means by which those big financial institutions would start lending again. But then, that money was swallowed and digested by the financial system, leaving no evidence whatsoever of its previous existence. And yet, no lending! Of course, since then, Timothy Geithner has fashioned his own shot-by-shot remake of the previous TARP, a story I like to call PLAN NINE FROM GOLDMAN SACHS. Whether it spurs new lending at last, is anybody's guess. (Though if I were the "anybody," I'd guess "no.")
That said, people are still managing to get loans, even in this climate of financial doom and despair. In fact, earlier this year, when my wife was in need of a loan to pay her spring semester tuition, we went to the Arlington Virginia Federal Credit Union to get the needed monies. We knew that the terms were good because we'd used them as a lender before. We knew that they would give us a loan despite the economy, as well. How'd we know that? AVFCU said so, in a television advertisement. It was the first ad I had ever seen for our credit union.
But what they said on television was more or less the same thing their CEO, Brenda Turner, is telling people on their website. "AVFCU remains well capitalized as defined by federal regulations," she writes, and, pointedly, "has no need for a taxpayer bailout." More to the point:
We have never engaged in sub-prime mortgage lending or high-risk investments. Because we have no pressure to earn large profits to satisfy greedy shareholders, we have never lost sight of our core purpose -- prudently serving the financial needs of our member owners.
Most importantly, this credit union serves its community without hierarchies: "If you live, work, worship, go to school, volunteer or consistently do business in Arlington, you are eligible for AVFCU membership!"
If the local banks are the only institutions lending money, and thereby helping lift us out of this recession, then why is everyone talking about institutions that are too big to fail? HuffPost wants you to help us turn the spotlight on the banks that deserve credit for their good business practices. If you have received a loan from your local bank, tell us about it by emailing submissions+credit@huffingtonpost.com. Were you turned down by a bigger bank before getting a loan with your local credit union? Do you notice a difference in customer service between small banks and large banks? Do you have any reservations about trusting smaller banks? Tell us about your experience in 150 words or less by emailing submissions+credit@huffingtonpost.com.
My own experience suggests that if you are looking for a secure financial institution in these turbulent times, think small and think local. Rather than the intricate and arcane ties of mega-institutions that lead directly to Too-Big-To-Faildom (and the concomitant ironic fait accompli that is their resultant failures), look for banking and credit institutions that have ties to your community. These successes exist. Back in February, Steven Pearlstein captured this world in a Washington Post column that touted the successes of Citizens South Bank of Charlotte, NC -- one institution that put TARP money to creative and profitable use with one eye on innovation and the other on supporting community values.
Calling all HuffPost superfans!
Sign up for membership to become a founding member and help shape HuffPost's next chapter