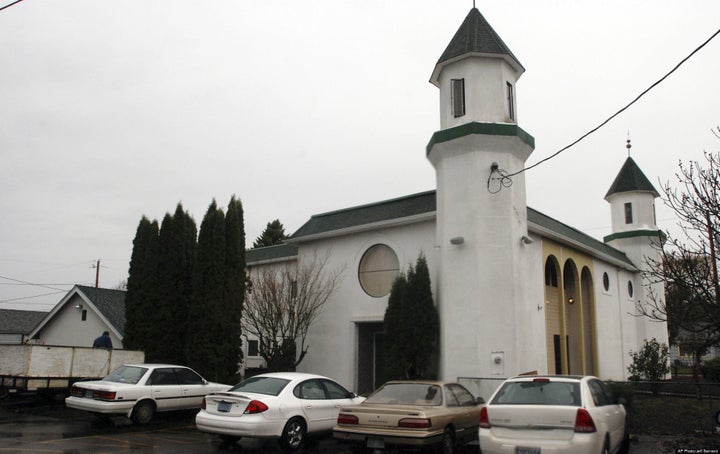 By Candice Ruud, Michael Russell and Bryan Denson
Religion News Service
CORVALLIS, Ore. -- The parking lot of the Salman Alfarisi Islamic Center was full Monday as community members and religious leaders united against the suspected arson that charred the mosque's office early Sunday morning.
"This shouldn't happen here -- it shouldn't happen anywhere -- but Corvallis is a wonderful, open community," said Laurie Holst as she placed a plant and card among a growing cluster of poinsettias, bouquets and notes placed outside the mosque.
The suspicious fire followed the arrest of Mohamed Osman Mohamud, 19, in a plot to set off a car bomb outside the Christmas tree lighting ceremony in downtown Portland on the day after Thanksgiving.
Mohamud, a Somali-born naturalized U.S. citizen, was a student at Oregon State University in Corvallis and occasionally attended the mosque.
The FBI is sending evidence from the fire scene to its main laboratory in Quantico, Va., for evaluation by specialists. The agency is offering a $10,000 reward for information that leads to an arrest in the case.
"We have made it quite clear that the FBI will not tolerate any kind of retribution or attack on the Muslim community," said Arthur Balizan, special agent in charge of the FBI in Oregon. "We will find the person responsible for this attack and bring the full force of the federal
justice system to bear."
Holst has lived in Corvallis for more than 25 years and said the fire "is as abhorrent as what happened in Portland."
"I want these folks that worship here to know that this is not Corvallis," she said, fighting back tears, "... it's some redneck idiot."
For Mohamed Siala, the director of the mosque, the outpouring of support served as a silver lining.
"This is how the community in Corvallis is here," he said as he spoke with Benjamin Barnett, the rabbi at Beit Am synagogue. "We want you to pray for us and use this opportunity to get closer to each other."
Barnett said members of his synagogue planned to meet to discuss what they can do to best offer support -- fundraising probably won't be necessary because the damage from the fire will be covered by insurance.
"The main thing we want to do is show solidarity," Barnett said. "The news should be that the majority of us want to stand side by side."
Meanwhile, 80 miles to the north in Portland, Muslim leaders met with city officials to discuss fears of retaliatory violence following the thwarted bombing.
Mayor Sam Adams said he had urged the Muslim leaders, who included the heads of a half-dozen area mosques, to alert authorities to any attacks on their community centers or worship sites.
"Tonight we began that discussion on safety, but we also talked about the underlying issues," Adams said. "Everyone in the room abhors and denounces violence and crime."
Dr. Shukri Osman, an internist who moved to Portland 25 years ago, said her main concern was retaliation against her children and against area mosques.
"We'd like you to come to our mosques, come to our homes, to understand Islam, our religion," Osman said. Visitors will see that "we're not strangers and we're not aliens."
At a hearing in federal court on Monday, Mohamud pleaded not guilty to a single count of attempting to use a weapon of mass destruction, and his lawyers suggested that undercover FBI operatives may have entrapped their client.
Mohamud is accused of plotting to ignite what he thought was a vanload of explosives at a crowded downtown square. But the weapon was a dummy device secretly prepared by federal agents and presented to him by undercover FBI operatives who had spent months posing as his terrorist associates.
"The question we'll be looking into is the question of entrapment," said Steven T. Wax, Oregon's federal public defender. "Keep in mind we are at the very beginning of a very long process. The defense investigation is just getting under way."
U.S. Attorney General Eric H. Holder Jr. dismissed accusations that the FBI pushed Mohamud into a crime he otherwise would not have committed.
"I am confident that there is no entrapment here, and no entrapment claim will be found to be successful," he said at a news conference in Washington, D.C.
Related
Popular in the Community