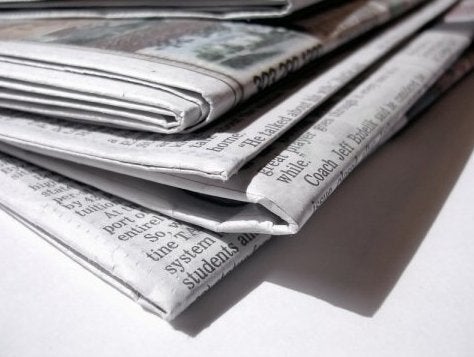 WASHINGTON -- If you are a political junkie, you know that Republican Gov. Chris Christie of New Jersey has a helicopter problem.
He's supposed to be a cold-blooded, Randian budget-cutter (an image he's touting as he considers a late entry into the GOP presidential field), and yet last week he blithely used a state-owned helicopter to fly between his son's baseball game and a private meeting with Iowa pols.
Even if you are a political junkie, however, you probably don't know this: Our Patch.com had the exclusive scoop on the chiseling chopper story, which later went viral on The Huffington Post.
Patch's man on the scene -- first on the scene -- was Tom Troncone, a veteran newspaper reporter who is now the regional editor of Patch's sites in Bergen County, N.J. He was tipped by good sources and dispatched a photographer to get pictures of the governor getting off the taxpayer's ride to attend the baseball game. Troncone posted the story (and pictures) on Patch sites in Ridgewood and across the county before any other Garden State media.
I mention this not to brag, but to respond to an urgent question that the FCC asked in a report released Thursday: Can anyone in the business save responsible and responsive local journalism?
Tom Troncone isn't the whole answer, but he is part of it. He is on a Patch staff that now numbers nearly 1,000. They run 827 Patch.com sites in 22 states, 82 of them in New Jersey alone. There are plans to open more in the months and years ahead.
As the FCC study duly notes, "Patch has likely hired more reporters than any other media organization in the past two years." I think it is likely that they could have edited the word "likely" out.
Each Patch is focused on the most local news, business, culture, blogs and sports. A locally-based professional journalist runs each, with editors and supervisors spread across the country, all under the aegis of the AOL Huffington Post Media Group.
(This is as a good place for the full-disclosure parenthetical paragraph. My wife is an FCC attorney but had nothing to do with this media study project or report, which was overseen by Steve Waldman, a friend and former Washington colleague of mine at Newsweek.)
There are signs that our approach is working. Total traffic for all our Patches was up 33 percent in May alone, according to Comscore, from 6.9 million unique visitors a month (UVs) to 9.2 million. HuffPost-style blog posts, a feature we added to all Patches, are a success, with astronomical increases in postings. Our business side is working on new ways to make all of this more profitable.
In the meantime, as the FCC report explains, traditional local journalism has been disappearing faster than Arctic ice. More than 13,000 local newspaper journalists have lost their jobs in just the last four years. Print newspapers are disappearing; local TV news devotes more time to "news" that isn't really news; public television and radio, for budgetary and other reasons, don't do much local coverage. "It is difficult to know what positive changes might be just around the corner," the FCC authors glumly conclude.
We like to think that perhaps we can be part of a positive change.
This isn't just a business story, or a journalistic one. It has everything to do with the survival of American democracy. We are a nation built from the ground up, or at least we like to think we are. Especially now, when the global economy is creating havoc in America -- rewarding some, devastating many others -- and local governments are shrinking for lack of funds and selling off assets, local events and people are more central than ever.
If we ignore "the ailments of local media," the report says we risk "doing serious harm" to local communities -- but also to the entire country. That kind of concern is one reason why we opened Patches in two of the toughest neighborhoods in Newark. Organizations such as Patch "add tremendous value to the media ecosystem... " the report says, and we are proud that it says so.
But I also agree with the rest of the sentence: organizations such as ours "leave many crucial gaps unfilled." That is also the truth.
As much as we lament the loss of local newspapers, they weren't always paragons of journalistic skepticism. But that is no excuse not to try to do it right this time around, in the digital age.
As hard as the HPMG is working, we have a long way to go. What the FCC calls "accountability journalism" -- asking the hard questions, digging for information -- about government and local business -- is expensive, time-consuming and sometimes politically risky. Making money means focusing, at least initially, on more affluent and educated neighborhoods and towns. It is, sadly, a form of journalistic triage, and one we want to get beyond.
Making sure we get the best of our local Patch reporting to a national audience on The Huffington Post is key. And yet we need to take care to let the locals be local, and think local. That is what they (and we) are there for. When the lines merge, so be it.
As for Gov. Christie: If you decide to run for president, don't worry too much about telling Tom Troncone. I'm betting he'll already have the story. Unless you want to give it to him first. We can handle that, too.
Calling all HuffPost superfans!
Sign up for membership to become a founding member and help shape HuffPost's next chapter