But they've also been battered by the type of political and policy setbacks inherently faced by a party out of power in both the White House and Congress. As recently as late October, Hillary Clinton voters who'd participated in political activism were likelier than not to say they considered their activism ineffective. Many in red states expressed frustration that their voices weren't being heard, while others in blue states fretted that they were preaching to the choir.
"Compared to Trump's voice," wrote one 27-year-old California woman, who described herself as "burned out" after protesting, contacting her representatives and signing petitions, "my voice feels very small."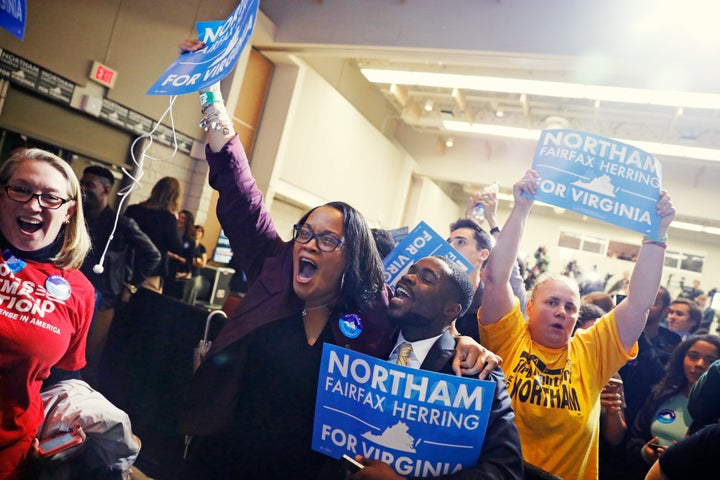 Democrats' recent sweep (along, perhaps, with the recent indictments against several Trump campaign figures) appears to have turned those worries around. Seventy percent of Clinton voters say they followed last week's elections at least somewhat closely. And among those who want to see Democrats retake the House next year (which is almost all of them), about three-quarters said it made them more hopeful about the chances that would happen.
"There is a lot more work still to do, but as anniversaries go, this was something of a catharsis," Brian Fallon, Clinton's campaign spokesman, said the night of the election. Maria Urbina, the political director of the progressive group Indivisible, described the victories as evidence of "an energized, locally led and transformative force."
The results have also strengthened progressive activists' belief in their own power. A 57 percent majority of Clinton voters who've engaged in activism this year now say they believe they've been at least somewhat effective, up 17 points since late October. The share who describe themselves as "energized" currently stands at 39 percent, up 12 percentage points. By contrast, the share of politically active Trump voters who think they've been effective has remained practically unchanged over the same period of time.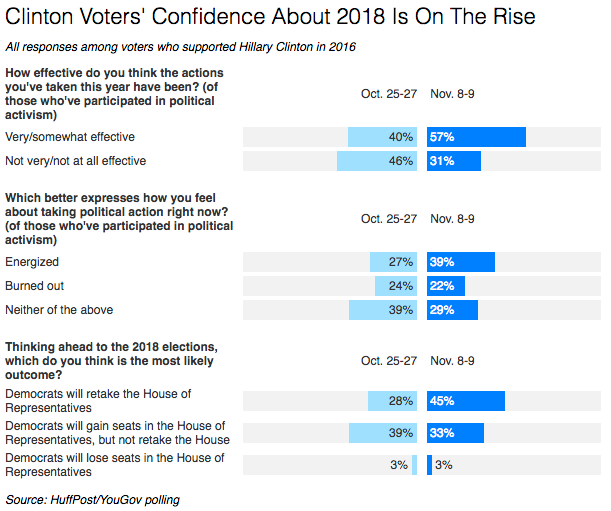 Maintaining that sense of enthusiasm will be key heading into next year's midterm elections ― especially since key Democratic constituencies, including younger Americans and people of color, often tend to turn out less strongly in non-presidential elections.
Clinton voters who think their actions have been effective are 35 points likelier than those who don't to say they're at least somewhat likely to donate money to a party or candidate in next year's election, and 33 points likelier to say they're at least somewhat likely to volunteer. They're also 20 points likelier to believe that Democrats will retake the House of Representatives in the next election.
Use the widget below to further explore the results of the HuffPost/YouGov survey, using the menu at the top to select survey questions and the buttons at the bottom to filter the data by subgroups:
CORRECTION: A previous version of this article incorrectly stated Maria Urbina was the director of Indivisible. She is the political director.
The HuffPost/YouGov poll consisted of 1,000 completed interviews conducted Nov. 8-9 among U.S. adults, using a sample selected from YouGov's opt-in online panel to match the demographics and other characteristics of the adult U.S. population.
HuffPost has teamed up with YouGov to conduct daily opinion polls. You can learn more about this project and take part in YouGov's nationally representative opinion polling. More details on the polls' methodology are available here.
Most surveys report a margin of error that represents some, but not all, potential survey errors. YouGov's reports include a model-based margin of error, which rests on a specific set of statistical assumptions about the selected sample rather than the standard methodology for random probability sampling. If these assumptions are wrong, the model-based margin of error may also be inaccurate. Click here for a more detailed explanation of the model-based margin of error.