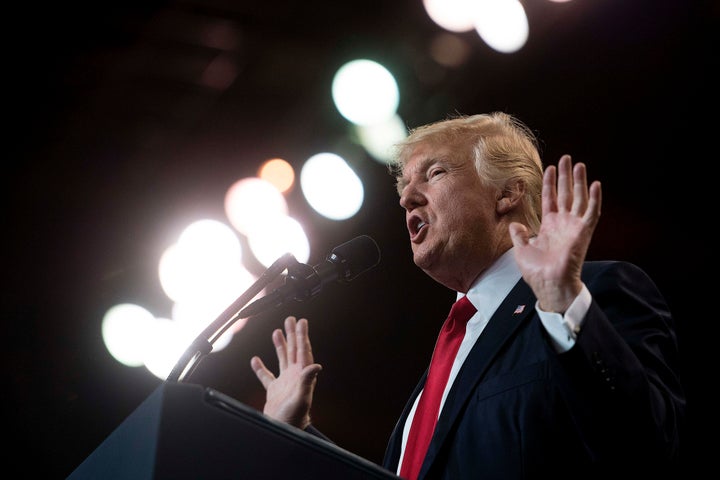 When ABC News White House reporter Jonathan Karl got within earshot of President Donald Trump on Monday afternoon in the Oval Office, he asked if the president believed he was wrong to allege that his predecessor wiretapped him.
The president's bogus "wiretap" claim was surely on the mind of other Washington journalists Monday afternoon given that FBI Director James Comey dismissed it during a congressional hearing that morning. Comey also confirmed in that hearing that the FBI is investigating several Trump associates regarding Russia's alleged attempt to influence the 2016 election.
But when Trump did a couple interviews hours later with local newscasts prior to his rally in Louisville, Kentucky, those two stories consuming the capital didn't come up. A representative for a Cincinnati station interviewing Trump says they chose to focus on local concerns, while a Louisville reporter who spoke to the president said those two issues were off limits. 
"The White House made it clear the president would not answer questions about wiretapping or the investigation into Russia's role in the election," Lawrence Smith, a reporter at Louisville Fox affiliate WDRB in Louisville, said on air. "So we stuck to issues most directly important to Kentucky." 
Trump also didn't get questions about wiretapping or Russia during an interview on Cincinnati affiliate Fox19 Now, though the station's news director, Steve Hyvonen, says they weren't prohibited from asking about them. 
"Fox19 Now was never given parameters leading up to the interview," he said in an email. "Had we been told what to ask or had we been required to submit our questions, we would not have done the interview. As the interview was being confirmed the day before, we told White House representatives we would like to talk with the President about several topics affecting Cincinnati and the Tri-State, including his new healthcare plan. We did not submit ― and were not asked to submit ― the topics or the questions."
A White House spokesperson did not respond to a request for comment.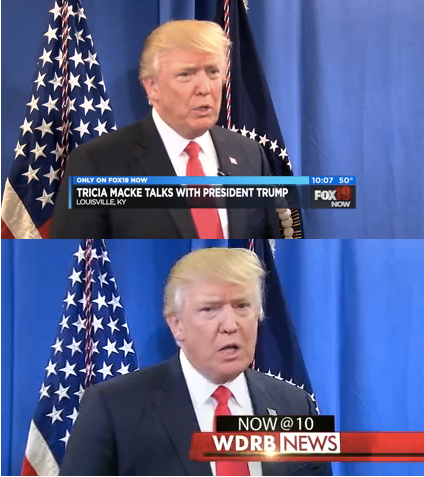 While Trump frequently attacks national news organizations as producers of "fake news," his White House has expanded outreach to regional news outlets, including by bringing in local anchors to dine with the president and to the daily press briefing via Skype.
By making Trump available to Louisville and Cincinnati reporters on Monday, the White House took advantage of the often differing priorities of the national and local press. Such a media strategy appears savvy given that the president avoided uncomfortable questions in Washington and appeared on newscasts in those two cities heaping praise on viewers and making promises to them. 
Smith said Trump was "clearly anxious to get outside the Washington bubble and talk about Kentucky issues." The president talked about putting miners back to work and bringing back automotive jobs ― and again suggested he kept Ford from leaving the state. He praised the state's Republican Sen. Rand Paul, a critic of the Republicans' plan to "replace" the Affordable Care Act, as a "good guy" and said he "love[d] the people of Kentucky."
During his interview on Cincinnati's Fox19 Now, Trump similarly praised Paul as having the "right heart, the right spirit" and said the ACA, commonly referred to as Obamacare, has been "very bad for Kentucky." He boasted that "jobs are coming back into the country" and the "stock market is through the roof." And when anchor Tricia Macke asked Trump about a local bridge in need of repairs, the president said he'd fix it. 
Calling all HuffPost superfans!
Sign up for membership to become a founding member and help shape HuffPost's next chapter