Author and photography by Julie Ann Fineman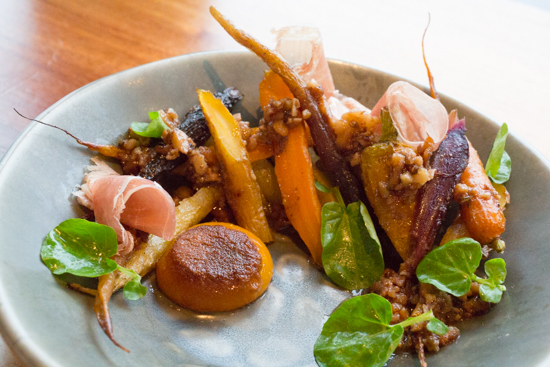 Mother Nature has favored mankind with immeasurable resources, and brilliant scientists have favored us with landmark discoveries. So it's a mystery why the most important aspects of life are so often overlooked. Our health, for instance.
While technology and medicine are plausible solutions, some of us are looking closer to home: I believe sustainable local agriculture is the finest counterargument to industrialized food that affects the health of people worldwide.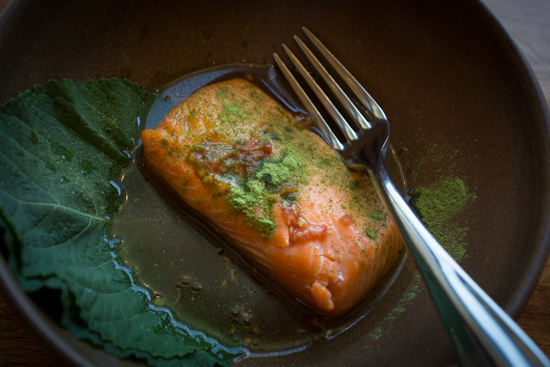 The quality of our food sets the tone for our quality of health -- and it directly impacts our environment. That's the reason this blog features a cooperative of farmers, chefs, ranchers, scientists, bakers, vintners, beekeepers and more who are striving to reassess and reassemble our food system -- one that has become an unsustainable food chain.
We Crave Sustainability, so our focus is on fresh, nutrient-rich, great-tasting food. Two people who share our views are Louis Maldonado and Tim Page.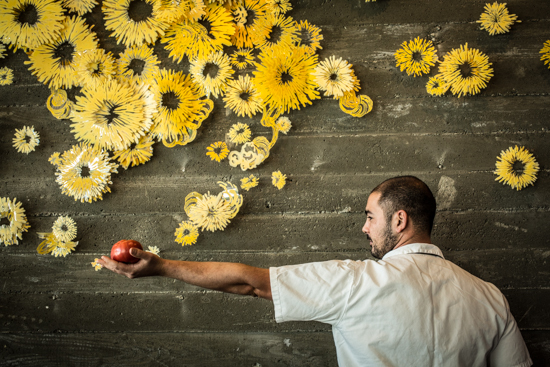 Until recently, Louis Maldonado was the chef at the San Francisco Bay area's own spoonbar in Healdsburg, CA. This innovator's specialty is American contemporary cuisine, and has an impeccable resume. In fact, Louis was a finalist on Bravo's hit TV series, Top Chef. Proving he knows what it takes to achieve heavenly flavor, ingredients reign supreme in Louis's food kingdom. He partners with local sustainable farmers and his farm-to-table approach has catapulted spoonbar to 3-star restaurant status.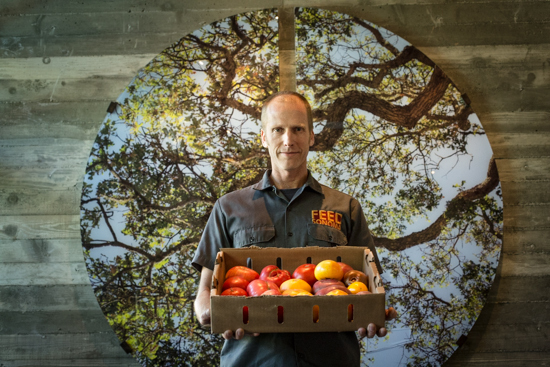 Enter Tim Page, a friend and colleague of Louis. This sustainable food distributor co-founded F.E.E.D. Sonoma, Farmers Exchange of Earthly Delights and collaborates with chefs like Louis. Tim and his co-founder, Michelle Dubin, gave life to F.E.E.D. to circulate fresh food to neighbors and local restaurants more efficiently.F.E.E.D. supports local farmers and the community's economy by opening new prospects for farmers in Sonoma County - and sustaining consistent deliveries to chefs and restaurants. Tim and Michelle started in 2010 with one truck from a farmer-owned property and a small crew that did rounds to each of the 14 original F.E.E.D. members. Their reach has grown tremendously and today they're one of the Bay Area's leading micro-regional produce aggregation and distribution services.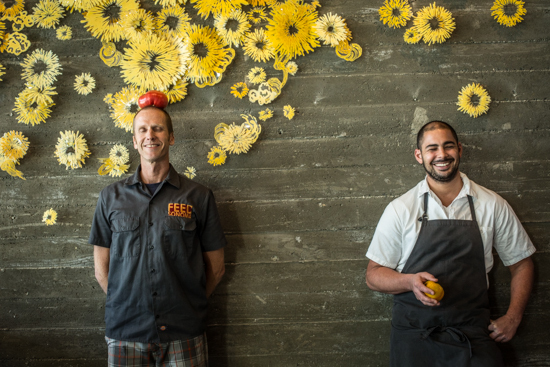 I recently got Louis and Tim together at spoonbar to discuss the culture of agriculture. These food gurus have known each other for two years and their personal relationship has grown right along with their professional success. They share a vision of strong communities who have better access to fresh food, so it seems they were destined to work together.
Louis - who has sourced food from F.E.E.D. since the beginning - admits he didn't quite grasp what F.E.E.D. was all about at first. He started with a few local items and within six or seven months he saw the true "need for F.E.E.D." As he explored the boundaries of his food suppliers, Louis recognized the rich diversity of the Bay Area and how varying "microclimates" gave food a flavor unique to each region.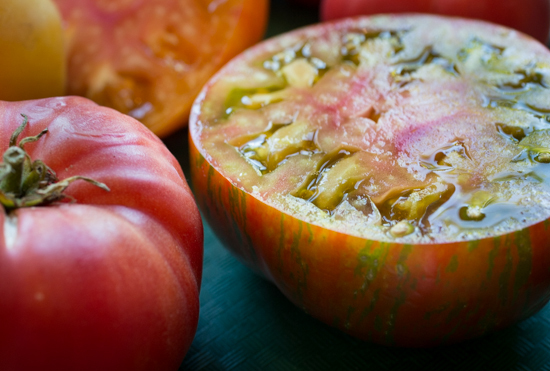 Chefs and business owners have a broad selection of farmers and fresh food thanks to F.E.E.D. - which Tim describes as "almost a backyard farm." He points out that, "Only a small portion of Sonoma's produce is found locally." That's why F.E.E.D. has a critical role in building the financial groundwork for future farmers, as well as developing untapped farming operations. Tim says, "It takes people like Louis to embrace the foodie lifestyle and support it by buying locally."
Louis says his way of thinking grew over time and he still strives to keep things simple, or what he calls "refined rustic." Focusing on a few main items has allowed Louis to see food in a whole new light: rather than completing a dish and moving onto the next, he takes time to perfect each component and produce a masterpiece.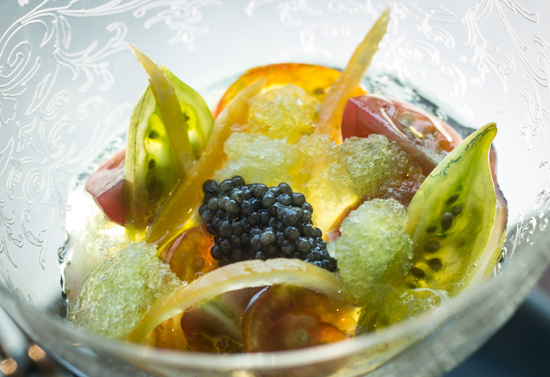 F.E.E.D. has also enabled Louis to access a diverse selection of food, which he says tests the agility and innovation of chefs. Recognizing that change is one of the few things promised, Louis encourages aspiring chefs to maintain an ability to adapt. This becomes particularly useful for peak-of-harvest foods. The difference in sweetness, acidity and other characteristics must be considered when preparing meals. He shared a couple of strategies that spoonbar has done to prepare for the closing of seasons, including freezing tomato water and storing it for the winter and immersing cherry tomatoes in olive oil to preserve them. It takes advantage of preservation techniques and captures the essence of fresh produce.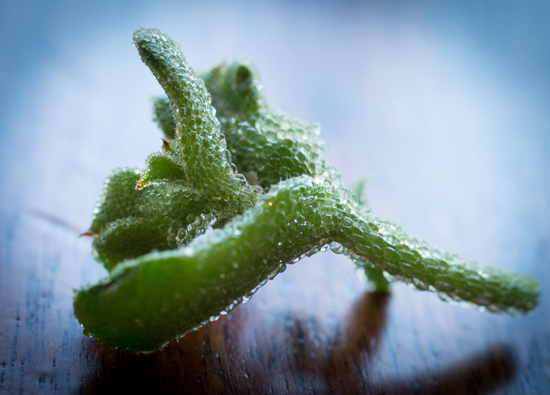 The relationship Louis and Tim share is fundamental for creating a sustainable food system. They play different roles, but each maintains a shared vision of providing quality food that will improve the health of people - and our planet. When they choose local food, restaurants, ranchers, and residents benefit because it puts the community in a better position for growth..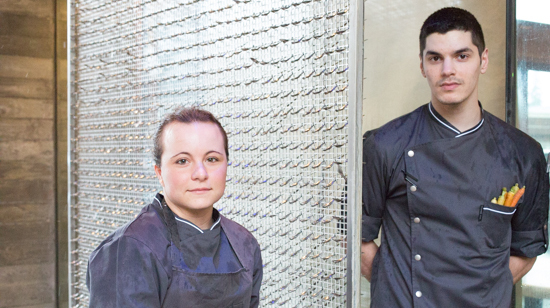 Louis recently handed over the spoonbar kitchen reins to Co-Executive Chefs Casey and Patrick Van Voorhis. These days you'll find Chef Louis Maldonado in the kitchen leading cooking classes at Mugnaini Imports in Healdsburg, California and the innovative and sustainable fare we've come to expect from Louis will be at the forefront of this great company.Founded by Andrea Mugnaini, an ambassador for wood-fired cooking, authentic Mugnaini ovens are the industry standard for performance, practicality, and longevity - and a true evolutionary step in wood-fired pizza ovens. The company has introduced Americans to the heartfelt Mugnaini Italian style of cooking and entertaining with a wood-fired oven. Mugnaini ovens are in the kitchens of leading culinary spots, too, including the Culinary Institute of America and Chez Panisse.
As for spoonbar's Co-Executive Chefs Casey and Patrick Van Voorhis - a couple in life and in the kitchen - they continue to source locally from F.E.E.D. and spoonbar customers are eagerly lining up for a taste of their delectable creations. I tried their Roasted Knoll Carrots (sourced from County Line Farm) with a whole egg yolk-browned butter topped with roasted walnut and proscuitto. With an added sprinkle of cardamom, it brightened a cold winter day. The chefs also gave up their recipe!

RECIPE for Roasted Knoll Carrot, Prosciutto, Toasted Walnut & Brown Butter Egg Yolk