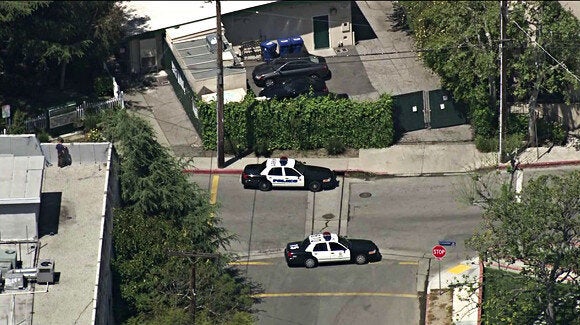 UPDATE: 1:27 p.m: Police have caught the murder suspect in Studio City. He was hiding in the bushes on Laurelwood Drive, just up the hill from Carpenter Elementary. Authorities have identified the murder suspect as
20-year-old Luis Solano, and confirmed that he is now in police custody.
---
ORIGINAL STORY: Police today searched for a murder suspect in Studio City near Carpenter Avenue Elementary, which was locked down as a precaution.
The search began around 11 a.m. and was being conducted this afternoon near the school at 3909 Carpenter Ave., according to the Los Angeles Unified School District.
"A murder suspect was identified by an undercover cop. He fled on foot. He is being sought in the area," said Mike Lewis, LAPD senior lead officer for Studio City. "He ran through an apartment complex in the vicinity of Carpenter Community Charter. Police helicopters are on the scene along with K-9 dog units. We think he's hiding in the bushes."
Lewis said that parents who are trying to come to the school and pick up their kids are being told to stay at home until further notice.
According to KCAL9, an FBI task force was requested to respond to the
area along with police officers.