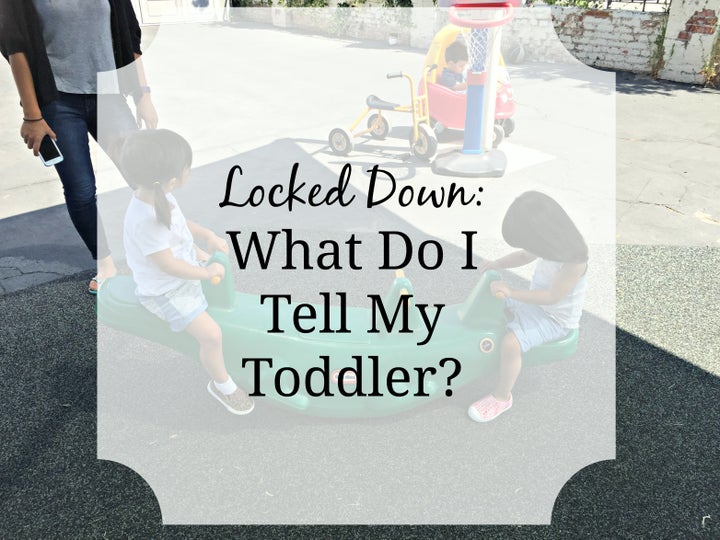 This morning, I woke my two year old daughter up and got her ready for toddler class much like I do every Tuesday. Since it's a mommy and me class, I stay with my daughter for the duration of the class as she sings songs, paints pictures, and learns to share with her fellow classmates. Today was a day much like any other day.
While out on the play yard we saw a man waving his arms in the distance. He was a school employee and he was yelling, "Lockdown drill! Lockdown drill! Everyone get in the nearest classroom. Shut off the lights. Lock the door. Be as quiet as possible!"
The teacher quickly gathered us all up, and we marched into the nearest classroom. We were a line of nervous mothers holding confused toddlers. As the lights went out and the door locked behind us, the teacher explained that this was only a drill, but it was important to practice for purposes of safety in case of an emergency.
The moms attempted to quiet their toddlers who were all looking around with wide eyes and speaking in soft voices.
"Is this a game?" one asked.
"Are we hiding?" said another.
I looked into my innocent daughter's sweet eyes. I told her we needed to be really quiet. She said, "I quiet. I quiet, mommy." The children obviously had no idea what was going on.
As we were sitting there in dark and silence, I found myself holding back tears. At age 35, this was my first lockdown drill, too. I came of age in California in the '80s and '90s where we had earthquake preparedness drills and learned how to "stop, drop, and roll" if you ever caught on fire. This drill felt very different and frightening. It snapped me into reality, and my mind started to race thinking of all the potentially terrifying, threatening situations that have happened in schools around the country. Shootings. Intruders. Bad things and bad people.
It brought up all of the deep-seated fears I had before I even became a mother. What if something bad happens to my child? Will I be able to protect her? What if I can't?
I pulled myself together, and we returned to our colorful, cheery classroom. The children ran off to play with their favorite toys, easily shaking off the uncertainty and uncomfortable silence of the prior few minutes. Some of the moms seemed unfazed. A few of the moms were visibly shaken and exchanged thoughts of sadness that our babies are growing up in this reality. And, furthermore, we, as parents, are parenting in this world.
As I drove home, I thought about all of the lockdown drills that are in my daughter's future. These drills will be a part of her and her classmates' school life and beyond. We have to prepare our children for this; much like our parents instilled the fear in us not to run in the street or go anywhere with a stranger.
One day, my daughter and I will have conversations about serious, scary things that I wish she didn't have to ever know about. However, I assumed those conversations were way down the line; years from now. I imagined I would have time to construct all of the "right" things to say to her, and rehearse it in a way that I don't terrify her and make her feel anxious or upset. Yet, sitting in that dark room with my two year old on my lap, I felt unprepared, vulnerable, and shocked that this was happening. "These kids are too young for this," I kept telling myself.
Yes, having a lockdown drill at age two and three years old, may seem like a bit much. And, as a parent, it was difficult to watch my toddler and her little friends innocently questioning this odd "game" we were playing. But, it is making me think more about all the ways in which I want to be prepared for a conversation that is probably going to happen a lot sooner than I originally planned. This is part of being a parent in the world today.
Carly lives in Los Angeles with her husband, young daughter, and dog. She writes about parenting after infertility, health and wellness, and basically whatever moves and inspires her. She is consistently five minutes late, rarely caught up on her laundry, and always pondering what this says about her. You can find more of her writing at The Less Than Domestic Goddess.