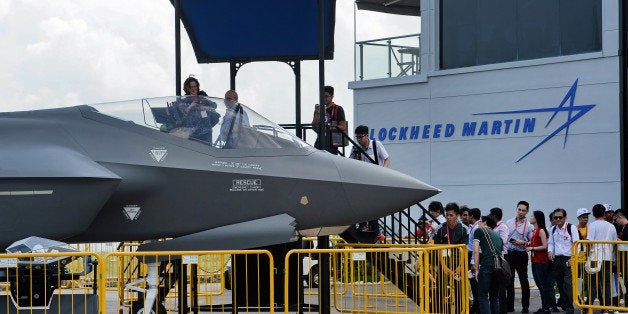 Lockheed Martin held its annual media day this week, and CEO Marillyn Hewson assured those attending that the company was financially sound and poised to lead the industry in developing the next generation of military technology, from military lasers to hypersonic weapons. But the bulk of the company's revenues rely on old-fashioned techniques -- buying up other companies, profiting from the sale of big-ticket weapons systems, and pushing foreign sales.
The news of the year was the company's purchase of Sikorsky from United Technologies, a move that will make Lockheed Martin the primary source of helicopters for the U.S. military. It was the company's largest acquisition since the 1990s, when Lockheed and Martin Marietta merged, aided by hundreds of millions in taxpayer subsidies to pay for such questionable items as golden parachutes for executives impacted by the merger.
Lockheed Martin wasn't the only company to grow through merger during that era -- Boeing bought McDonnell Douglas, Northrop and Grumman merged, and dozens of other deals were made. At the time, the argument for allowing -- and subsidizing -- these combinations was that it would reduce overhead and result in better weapons prices for the U.S. government. But as former Pentagon official Lawrence Korb noted at the time, "past history indicates that these mergers end up costing rather than saving the government money." And so it has been, as Lockheed Martin has racked up multi-billion dollar cost overruns on major programs like the F-35 combat aircraft and the Littoral Combat Ship (LCS).
Rather than saving money, the mergers created industrial behemoths with greater leverage over the Pentagon. With only a handful of major firms to turn to in the procurement of major weapons systems, the Department of Defense's ability to keep a lid on mushrooming weapons costs has been diminished. And a company like Lockheed Martin, which has $46 billion in revenues and claims to have a presence in every state in the union, has enormous financial and political clout. This gives Lockheed Martin the ability to prolong programs that serve its corporate interests whether or not they are in the national interest.
A case in point is the F-35 program. If it goes forward as planned, Lockheed Martin will end up being the only supplier of fighter aircraft to the U.S. government, leaving the taxpayers in a "take it or leave it" position with regard to the company's product. A recent analysis by the Project on Government Oversight has catalogued the myriad performance problems with the F-35. Most importantly, even as the Pentagon accelerates spending on F-35s and assures us that the plane is ready for prime time, the Pentagon's office of independent testing has noted that it won't even be known whether the aircraft will be sustainable in combat until 2022. Thus far, test aircraft at Edwards Air Force Base have only been able to fly about six sorties per month due to excessive down time for maintenance. The high tech testing simulator that is supposed to assess the F-35s capabilities has itself had serious development problems. And the aircraft coming off the assembly line now have even more problems than the ones that came before.
Given this reality, entrusting the entire future of this segment of the combat aircraft industry to this one company makes no sense. This is particularly true when one considers that, as a 2015 report by the National Security Network has shown, the F-35 is destined to be inferior to the aircraft it is replacing.
Despite all of the above, the Pentagon wants to push forward a 400-plane "block buy" of F-35s that would put billions of dollars in Lockheed Martin's coffers without providing evidence to suggest that the aircraft being purchased will perform as advertised. Over the next few years, Lockheed Martin will almost certainly put more effort into securing this funding bonanza than it will to creating innovative new products.
Rather than throwing all of its eggs in one basket, the Pentagon should scale back the F-35 program and fill in any gaps in fighter numbers with upgraded versions of current generation F-16s and F-18s. Not only would this save billions of dollars per year, but it would dilute Lockheed Martin's emerging monopoly over the fighter aircraft market and provide an insurance policy in case the F-35 continues to have debilitating problems that raise questions about its ability to serve as the aircraft of the future for the Air Force, Navy and Marines. Expect Lockheed Martin to fight any movement in this direction tooth and nail. Instead, the company will lobby get even more F-35s funded than the Pentagon is requesting. One of Marillyn Hewson's proud proclamations at this week's media day was that fact that Congress appropriated funds for 11 more F-35s last year than the number called for in the president's original budget request. Expect more of the same this year.
Defense companies thrive when global conflicts drive up military expenditures, and Lockheed Martin is no exception. The company has made increasing its exports a top priority. In her media day speech, Hewson pointed to turbulence in Europe, the Middle East and Asia as good signs for Lockheed's export prospects. She wasn't so crass as to point out that war is good for business. Instead, she said that "It's clearly a complex threat environment our customers are facing, and we want to remain well-positioned to help them address these unprecedented challenges."
One step in helping its customers cope with "a complex threat environment" has been the expansion of production facilities for the company's Hellfire missile system, which is used on Predator and Reaper drones as well as on helicopters and fixed-wing aircraft. Lockheed Martin has no expectation that peace will break out and undercut this burgeoning market. As company vice-president Frank St. John put it in an interview with Defense One, "I don't see events in the world changing dramatically over the next couple of years . . . [T]he conflicts that are requiring the use of our systems are lingering, so anticipate that we'll be producing at a pretty high level for some period of time."
The Hellfires are just the tip of the iceberg in terms of Lockheed Martin's foreign sales. Attack helicopters and combat ships for Saudi Arabia and missile defense systems for European allies are the biggest moneymakers on the horizon.
Pushing costly, untested weapons systems and profiting from foreign conflicts is hardly innovative. If we are going to realign Pentagon spending with the realities of current challenges and rein in dangerous arms transfers to regions of conflict, Lockheed Martin will have to adjust its financial strategies accordingly. Explaining how it will do so would be an excellent topic for one of the company's future media days.
Support HuffPost
The Stakes Have Never Been Higher
Popular in the Community