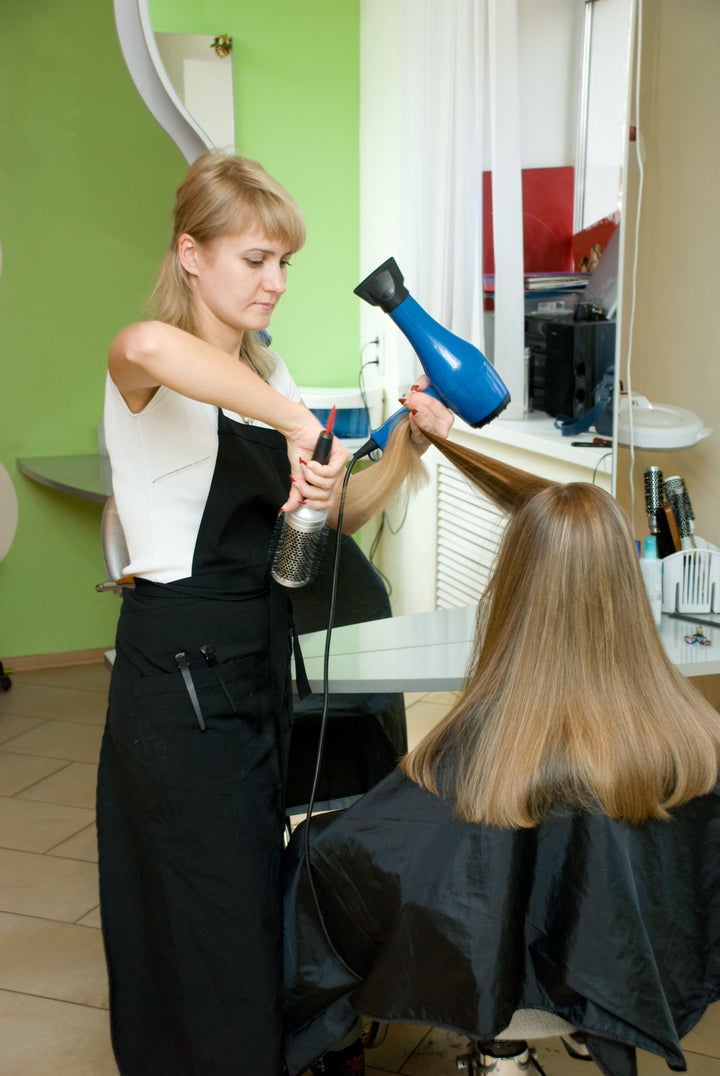 Me and Kris Levine in mock cutting. (Photo: Aloma Ichinose)
It's hard to be a hair rebel today. Today, we can have any kind of hair we want. Any style. Any color. And all are acceptable.
Even dated or ginormous hair (hellooooo Adele!) has a style-place.
Once, there was really bad hair. Now, it's called bed head. There used to be bad hair color. Now it's called beachy, thrashed or punk. And it costs more. The latest is the Ombre look, or the Fade, which is intended to look grown-out. But hairdressers deliberately create this by bleaching or painting a lighter shade all around the bottom half where hair ends. It's Madonna's black roots evolved into its extreme.
Want longer hair without growing it? No problem. Want just thicker hair that you will never have? No problem. Want wild colored streaks attached? What color? Add feathers and rhinestones! How about bald men that can go swimming and shower with their newly bought Bosely hair? Amazing.
Impossible hair dreams all can come true today. It wasn't like this in the sixties when I started doing hair right out of Hollywood High. We had clunky falls, ponytail clip-ons, and obvious-looking wigs. Remember all the fuss over that long-haired boy band called The Beatles?
But for some they don't have the luxury of hair decisions. There are illnesses that take that choice away.
I have taken part in my share of charity donations. I, along with other hairdressers, get to donate our talents to silent auctions, to raffles, and even once to a dental fundraiser when a pal couldn't afford braces. We have salons citywide that participate in Free Hair Days, where the client pays but all the proceeds go to assist AIDS or breast cancer foundations.
But there's another organization that has taken support to another level. It's called Locks of Love.
Locks of Love is a most wonderful organization that makes wigs for those with cancer or burn victims that have lost their hair. They achieve this through hair donations. Cut hair that would have gone into the salon trash bin instead can be transformed into a reason for joy for many.
Locks of Love began in the garage of a mom who knew the suffering of hair loss from her own child. Locks of Love is now one of the most recognized trailblazers making a difference and inspiring others today, even appearing on Oprah.
Unfortunately, not all hair is reusable for wigs. There have been critics, but Locks of Love doesn't use damaged, over-bleached, grey, or dreadlock hair. They have simple requirements: clean hair in a ponytail or braid, and 10 inches in length.
I get a thrill each time I can mail a ponytail to Locks of Love. And so do my clients -- from rocker guys to mothers, to children, who happily give of their hair for other children. In some cultures around the world, cutting of one's hair is a symbol of cleansing, of renewal. Locks of Love, I think, has taken this idea and created an opportunity for both sides to experience a rewarding new start -- the people cutting their hair and the ones who happily receive this gift.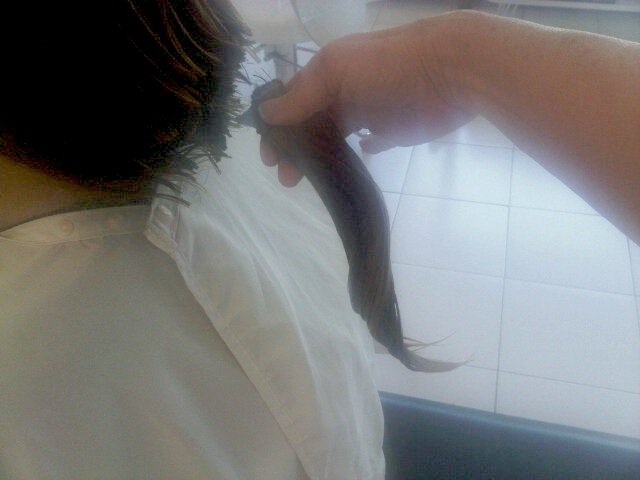 Calling all HuffPost superfans!
Sign up for membership to become a founding member and help shape HuffPost's next chapter