WASHINGTON -- As President Barack Obama is set to nominate former Sen. Chuck Hagel (R-Neb.) as defense secretary, the Log Cabin Republicans have released a full-page ad in the Washington Post opposing him.
The ad by the conservative gay rights group criticizes Hagel's record on issues of LGBT equality.
In 1998, Hagel called James Hormel, then President Bill Clinton's choice for U.S. ambassador to Luxembourg, "openly, aggressively gay." He characterized Hormel's sexual orientation as an "inhibiting factor" that would prevent him from doing "an effective job."
Hagel recently apologized, saying his 1998 remarks were "insensitive." Hormel has said the former senator's remarks seemed politically timed but accepted them as a "clear apology."
The Log Cabin Republicans' ad says Hagel's apology is "too little, too late," and includes a timeline of the senator's record on gay rights. It points out that in 1996, he said he would have voted for the Defense of Marriage Act, which prohibits federal recognition of same-sex marriages. In 1999, he also said he opposed repealing "Don't Ask, Don't Tell," the ban on openly gay men and women serving in the military that was repealed in 2010.
The group's stance against Hagel appears to be far stricter than it was against GOP presidential nominee Mitt Romney, whom it endorsed in the presidential race. Romney also opposed same-sex marriage and took hardline positions against gay rights during his campaign.
The group recently placed a similar full-page ad in The New York Times, although that one also went after Hagel on Iran and Israel policy issues.
Gregory Angelo, the interim executive director of Log Cabin Republicans, declined to give specific details about how much the ad cost or where the funding came from. He said, however, that it was "part of a broader communications strategy our Board of Directors has been developing over the last year."
"The next couple of years will be critical with regard to compelling the GOP to change its position on a number of issues relevant to the gay community, and we made strategic decisions to ramp up our sophistication and profile," he said to The Huffington Post.
R. Clarke Cooper, who recently stepped down as head of the organization, told The Huffington Post in December that they received a discount on the New York Times ad -- full-page placements can cost more than $100,000 -- and paid for it by soliciting donations from multiple contributors.
"Senator Hagel clearly has the military credentials and experience to do the job of running our nation's Defense Department -- at OutServe-SLDN, we have no doubt about that -- and we appreciate his apology for the anti-gay remarks he made in 1998 and the commitment he expressed to LGBT service members and their families," said OutServe-SLDN Executive Director Allyson Robinson in a statement. "It will now be incumbent upon him during the nomination and confirmation process to lay out demonstrable actions he will take to support that commitment."
Rick Jacobs, head of the Courage Campaign and a prominent LGBT activist, wrote on The Huffington Post on Monday that he was in full support of Hagel.
"And let's be clear about one thing: no one trying to derail his nomination attacks his qualifications," said Jacobs. "Instead, they seek to score political points and/or act at the behest of powerful special interests by denying the president his choice as defense chief. This sort of political jockeying disgusts the public, further erodes public faith in Washington and weakens our country."
Also on Monday, Chris Barron, co-founder of the gay Republican group GOProud, tweeted, "This Hagel is 'anti-gay' smear campaign is disgraceful and a damn lie."
View the Log Cabin Republicans' Washington Post ad (click here for larger view):
This article has been updated with comments from the Log Cabin Republicans, Rick Jacobs and Chris Barron.
Before You Go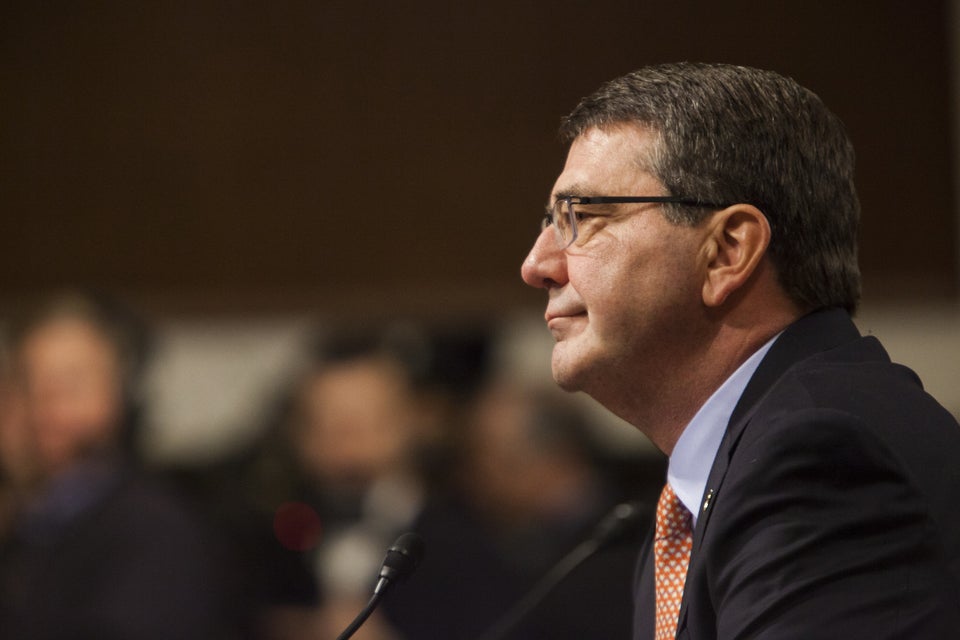 Secretaries Of Defense
Popular in the Community