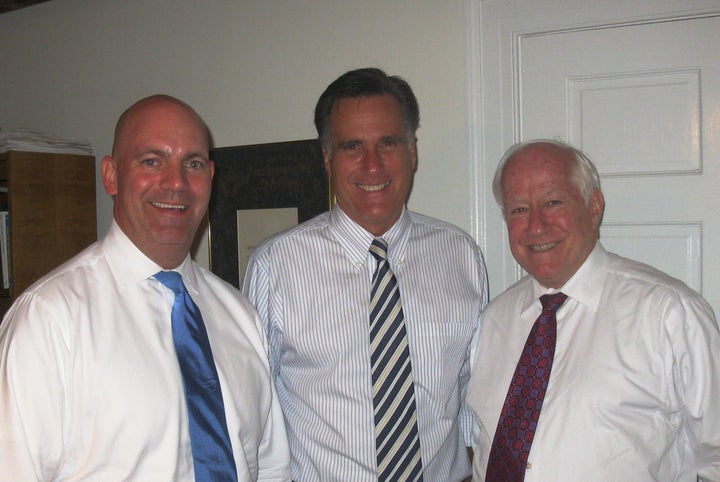 With just two weeks to go before the election, the Log Cabin Republicans, a gay rights group, endorsed Mitt Romney for president on Tuesday.
In a statement, Log Cabin said it supports Romney primarily because of the "gravity of the economic and national security issues currently at stake." It also expressed optimism that Romney would change his position on the Employment Non-Discrimination Act (ENDA), which he currently opposes. Romney has supported a version of the bill in the past.
The broader gay rights community widely condemned the endorsement on Tuesday, citing Romney's long record of "out and out hostility" toward gay rights causes and his pledge to support the Federal Marriage Amendment, a constitutional amendment that would reinforce the Defense of Marriage Act and define marriage across the United States as a union between a man and a woman. Many activists argue that he's worse on gay rights than George W. Bush, who has expressed support for civil unions. On more than one recent occasion, Romney said he opposes them.
Even though Log Cabin is a Republican group, it waited weeks to announce its endorsement, and some observers hoped it would never come. On two previous occasions, in 1992 and 2004, the group did not endorse a presidential candidate at all. In the latter case, it refused to support George W. Bush because of his position in favor of the Federal Marriage Amendment. But R. Clarke Cooper, the president of Log Cabin, said Tuesday that Romney's support for the amendment does not disqualify him from getting the group's endorsement because "times have changed."
"There's no appetite to pass or even consider that amendment," Cooper told The Huffington Post. In his statement, he called Romney's support for the amendment "an empty promise made to a vocal but shrinking constituency."
According to Cooper, the decision to endorse came after an extended back and forth with Romney's campaign and policy team, which culminated in a recent sit-down meeting with Romney in Virginia. Cooper said he came away from the meeting feeling confident that Romney would not roll back rights for gay people.
A spokeswoman for the Romney campaign said the governor is "pleased to have the support of the Log Cabin Republicans and looks forward to working together for the future of our country." She did not respond to a question about whether Romney continues to support the Federal Marriage Amendment or has decided to support ENDA.
In interviews with HuffPost over the past several months, members of Log Cabin have said that while they are troubled by Romney's positions on the gay rights issues of the day, they feel that deep down inside, Romney is a friend to gay people. As one Log Cabin Republican board member explained at the Republican National Convention this year, "We don't listen to what a candidate actually says. We try to feel where they seem to stand."
Perhaps unsurprisingly, this is not a view that is widely shared outside of a small circle of gay Republicans.
"Its simply not true," said Marc Solomon, national campaign director at Freedom to Marry, a nonpartisan group that advocates for same-sex marriage. Before Solomon worked at Freedom To Marry, he was a leader at MassEquality, a gay rights group in Massachusetts. "In my experience with Mitt Romney going back to 2002, he wouldn't listen, he wouldn't engage -- he just viewed gay people as an easy political target to score points."
During his 1994 Senate campaign against Ted Kennedy, in a letter to the Log Cabin Republicans, Romney said he would have a better record on gay rights than Kennedy. Since then, Log Cabin has repeatedly accused him of backtracking in his support for domestic partner benefits and "flip-flopping" on civil unions. In 2002, he promised Log Cabin members that he wouldn't champion a fight against a Massachusetts court ruling that later legalized same-sex marriage. But after the court's ruling, he seemed to shift again, when he wrote an op-ed in the Wall Street Journal describing the ruling as "wrongly decided" and "deeply mistaken."
In 2007, Log Cabin itself ran ads against Romney, again portraying him as someone who flip-flopped on important issues. "You just don't know what he really believes," Patrick Sammon, then the head of Log Cabin, said in a press release.
Julie Goodridge, the lead plaintiff in the Massachusetts court ruling on same sex marriage, was among the many gay-rights advocates who criticized the endorsement Tuesday. "I am 100 percent certain that if he is elected president of the United States, that our families will be one of the first to be thrown under the bus, and I wish that the Log Cabin Republicans could get a grip on that," she said.
Goodridge described a meeting with the governor back in 2004, when she and her fellow plaintiffs were trying to get him to support their case. She said that she and the other plaintiffs shared personal stories with him in an attempt to get him to understand why they wanted the right to marry, and that Romney sat there stone-faced, "like a mannequin." At the end of the meeting, as Goodridge was walking out, she said she asked the governor what he suggested she say to her 8-year-old daughter about why the state is trying to keep "mommy and ma from getting married."
According to Goodridge, Romney answered with scorn. "He said to me, 'I don't care what you say to your adopted daughter. Why don't you tell her whatever you've been telling her for the last eight years?'"
The kicker, Goodridge recalled, was that her daughter was not adopted, a fact she said Romney would have easily discerned if he had read any of the press materials about the case.

Before You Go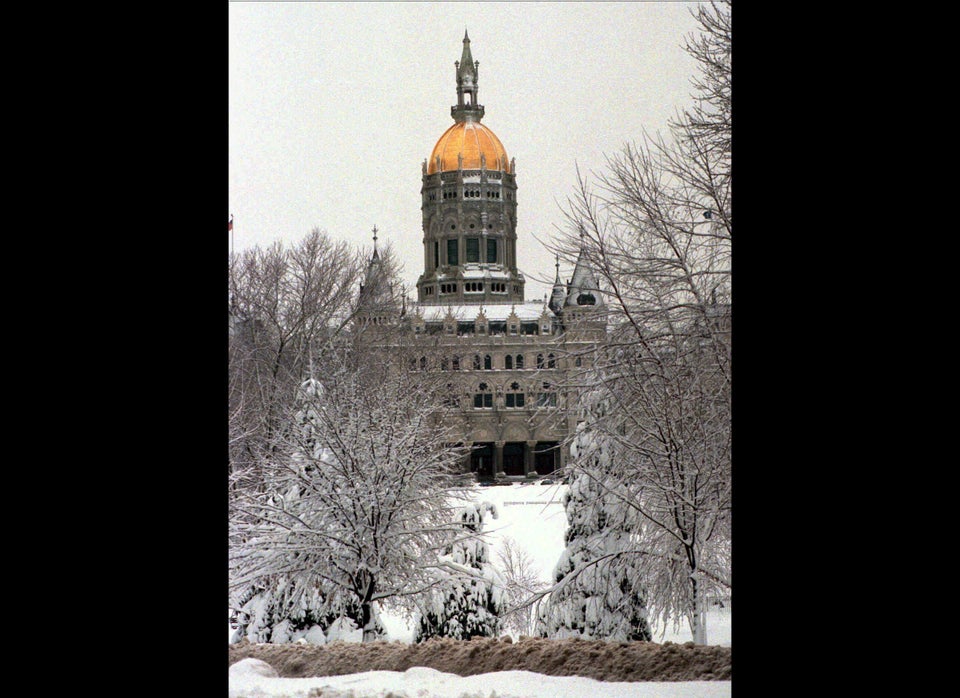 Gay Marriage In The United States
Popular in the Community