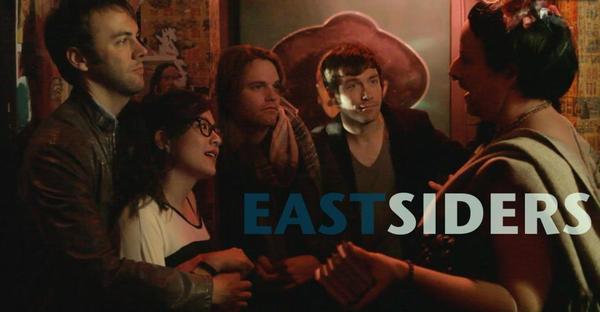 A few weeks ago, The Huffington Post announced that my independently produced web series "EastSiders" had been acquired by Logo to air on their website logotv.com. When we put the first two episodes on youtube in December I had no idea that the series would attract the kind of attention it did-- being featured by the likes of USA Today, The Advocate, Out, Film Independent, Towleroad, After Elton, Queerty and of course right here on Gay Voices-- much less the attention of a company like Viacom, which owns MTV and VH1 as well as Logo.
Having watched "Hunting Season" and "Vicky and Lysander," I knew that Logo was developing original web content for their site, but as the creator of an independent series I was surprised to find an email in my inbox from Charles Runnette, the Editorial Director of Logo Digital, while we were still in production on the first season.
The internet can be a dark and lonely place, a cavernous well littered with the corpses of unwatched web projects. I'm still amazed when someone emails me to tell me they enjoy the series or shares an episode on facebook or twitter. So naturally you can understand why it was such a shock to have Charles ask me if I was interested in airing the rest of the season on Logo Online.
Cut to last month and "EastSiders" is right there on the main page of logotv.com next to RuPaul's Drag Race. As quickly as things have developed for us, the climate for quality web shows is evolving even faster.
Time Magazine recently published an article about Amazon Instant's recent pilots (one of which, "Browsers," also stars "EastSiders" own Constance Wu as an intern at a Huffington Post-esque blog-- this is getting meta!) examining the crowdsourcing aspect of the project, where viewers are asked to rate the content to help Amazon decide which projects to order for a full season.
In many ways Amazon's selection process is analogous to "EastSiders" path to Logo. I can't think of many examples of an established network picking up a web series that has already premiered its first two episodes, but it makes sense as a model-- gauging viewer interest before committing to a full season of a series. Across the internwebs Blip.TV has also partnered with another web series I appear in, Shilpi Roy's Hipster Rom Com "Hipsterhood," to present a second season exclusively on their site.
Amazon seems primed to establish itself as the web's answer to Comedy Central or possibly Nickelodeon, depending on which of its pilots make the cut. With the launch of "House of Cards" and "Hemlock Grove," Netflix is positioning itself as the next HBO, creating slick cable quality content for a web audience. Hulu has also distinguished itself as a trailblazer in original web content, with several new original series announced for 2013 including an animated series from SNL's Seth Myers. I think it's incredibly exciting that Logo is jumping into the fray and providing opportunities for LGBT content creators online.
The quality of web shows has improved dramatically in the last few years, and with internet institutions embracing the art form, the bar has been raised even higher. We are experiencing a veritable web series renaissance right now, and viewers increasingly have a voice in what kind of content gets picked up for distribution. If this is the future of television, I can't wait to see what comes next.
Popular in the Community