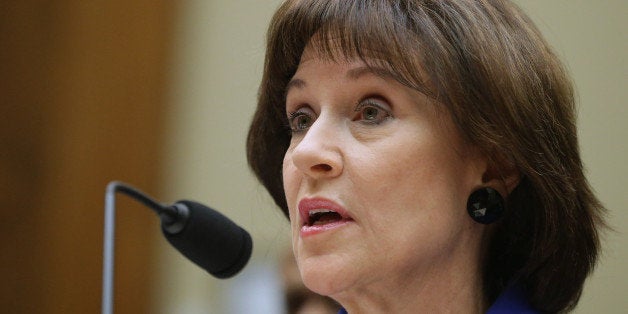 WASHINGTON -- Lois Lerner, the former Internal Revenue Service official at the center of the furor over the agency's alleged targeting of politically active nonprofits, will not face prosecution for refusing to testify before Congress, federal prosecutors announced Wednesday.
The House of Representatives voted last year to hold Lerner in contempt for refusing to testify before the House Oversight and Government Reform Committee, then chaired by Rep. Darrell Issa (R-Calif.). She had offered a short statement professing her innocence of any wrongdoing in the scandal and then twice invoked the Fifth Amendment. The contempt citation was forwarded to the U.S. Attorney's Office for the District of Columbia for prosecution.
But in a letter to House Speaker John Boehner (R-Ohio) dated March 31, departing U.S. Attorney Ronald Machen said that a team of veteran prosecutors had reviewed the referral and decided that while Lerner's refusal to answer questions was "willful," her short statement of innocence had not been enough to waive her right to not incriminate herself.
"The team also concluded that Ms. Lerner did not waive her Fifth Amendment privilege by making an opening statement on May 22, 2013, because she made only general claims of innocence," wrote Machen, who resigned his post effective April 1. "Thus, the Fifth Amendment to the Constitution would provide Ms. Lerner with an absolute defense should she be prosecuted under [Congress' contempt laws] for her refusal to testify."
"Given this assessment, we have further concluded that it is not appropriate for a United States Attorney to present a matter to the grand jury for action where, as here, the Constitution prevents the witness from being prosecuted," he wrote.
Lerner's attorney, William Taylor, said in a statement that he was not surprised by the decision.
"Anyone who takes a serious and impartial look at this issue would conclude that Ms. Lerner did not waive her Fifth Amendment rights," Taylor said. "It is unfortunate that the majority party in the House put politics before a citizen's constitutional rights. Ms. Lerner is pleased to have this matter resolved and looks forward to moving on with her life."
Boehner's office, however, saw the decision not to prosecute as the evidence of politics at work.
"Once again, the Obama administration has tried to sweep IRS targeting of taxpayers for their political beliefs under the rug," Boehner spokesman Michael Steel said in a statement. "But unaccountable federal bureaucrats using their power to attack the First Amendment strikes at the heart of our democracy, and the American people deserve the truth. The White House still has the opportunity to do the right thing and appoint a special counsel to examine the IRS' actions."
Issa's successor as chairman of the oversight committee, Rep. Jason Chaffetz (R-Utah), was even more direct in suggesting the prosecutor was exercising not prosecutorial discretion but, rather, partisanship.
"Today's announcement is disappointing and exhibits a disregard for the rule of law," Chaffetz said in a statement on Wednesday. "Mr. Machen attempted to absolve Ms. Lerner of her actions by substituting his judgment for that of the full House of Representatives. It is unclear whether the Administration directed Mr. Machen not to prosecute Lois Lerner, or whether he was motivated by an ideological kinship with IRS's leadership."
The White House has resisted suggestions to initiate a special counsel investigation, but Lerner and others at the IRS are not necessarily out of the woods. Federal prosecutors still have an open investigation into whether laws were broken in the agency's scrutiny of politically active nonprofits
The scandal erupted after the Treasury Department's inspector general reported that conservative groups seeking tax-exempt status had been singled out for greater scrutiny by the IRS, although it later emerged that liberal groups were targeted as well.
Chaffetz also pledged that the oversight panel would continue probing the tax agency and Lerner.
"The Committee will continue to pursue its ongoing investigation into the targeting of American citizens based on their political beliefs," he said. "Our goal is to ensure that the people responsible, including Lois Lerner, are held accountable, and that appropriate reforms and safeguards are put into place at the IRS to guarantee that the rights of Americans are not trampled on again by overzealous bureaucrats with political agendas."
This story has been updated to include comment from Chaffetz.
Michael McAuliff covers Congress and politics for The Huffington Post. Talk to him on Facebook.

Calling all HuffPost superfans!
Sign up for membership to become a founding member and help shape HuffPost's next chapter
BEFORE YOU GO
PHOTO GALLERY
The Second-Term Curse